Final take: A major wake-up call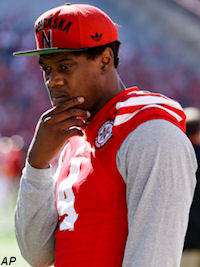 Click
Here
to view this video.
As
Ameer Abdullah
crossed the goal line to put Nebraska up 31-24 in the game's final minute on Saturday he was swatting his hand back and forth.
"There was a fly in my face," Abdullah said following the game.
That wasn't a fly Ameer. It was a pesky McNeese State team that wouldn't go away. Nebraska got all they bargained for, or in this case all they paid for from the FCS Cowboys, as they arguably outplayed the Huskers for most of the game's final three quarters of Saturday's 31-24 victory. This comes just a week after NU lit up the scoreboard against Florida Atlantic for 784 yards and 55 points.
In some ways, we should have seen this coming, because it was unrealistic to expect the Huskers to put up that type of yardage for a second week in a row. However, what I didn't expect to see was NU struggle to run the ball with Abdullah against an FCS front seven.
In fact if you take away Abdullah's final 58 yard touchdown play the Husker offense had just 82 yards and one first down on their previous 22 second half plays. Even in the first half though when Nebraska racked up 297 yards you sensed something was off.
"I kind of sensed (the poor preparation) as the week went on and I expected things to shift," Abdullah said. "I was reluctant to say something, but I promise that's the last time that will happen."
After hearing how good they were last week the thought was the Huskers could just show up and win by 40. McNeese State had different plans.
That's the sign of a young team, and without defensive end
Randy Gregory
and wide receivers
Kenny Bell
and
Jamal Turner
on the field this was a different looking football team.
"We can't take a week off," quarterback
Tommy Armstrong
said. "We prepared the right way I feel like, but we just didn't show it and it all starts with me. I take blame for our offense not doing what we are supposed to be doing. We had a bunch of plays that we left out there on the field. We had flags, false starts, over thrown balls - it all starts with me."
The positive spin on this game is even with how poorly the Huskers played they found a way to get the victory. Abdullah basically said in the fourth quarter I didn't come back for my senior year to go out like this.
By the end of the season this game will probably be looked at one of two ways. It will either be the "I told you so moment" or a possible "turning point" that helps this team learn a valuable lesson.
"When you put something like that on film and you go out there and play like that I just see 9-4 all over again," senior cornerback
Josh Mitchell
said. "I don't really want to do that much talking about it. We can either put up or shut up - plain and simple."
Now on to the post game grade out….
What I saw on Saturday
***The game clearly turned on Armstrong's interception in the second quarter. A couple of plays before that Armstrong was jawing back and forth with a McNeese State defender after he made a 24 yard run. On a second-and-9 he forced a ball into coverage and paid big time. To make matters worse he missed the tackle on the return and the Cowboys tied the game at 14. If NU goes up 21-7 or 17-7 I feel like it's a much different outcome.
***Offensive lineman
Jake Cotton
had two huge penalties on Saturday. He was nailed for a 15 yard tripping penalty that took away an Armstrong touchdown and an illegal man downfield that negated a brilliant 41 yard catch by Westerkamp.
***I feel for Jamal Turner, who went down with an Achilles injury on Saturday. The positive spin on it is Turner can redshirt the 2014 season and be back in 2015.
***Hopefully the "groin" injury to Bell is not serious. This offense needs his presence to compliment Westerkamp.
***The linebacker play has been suspect through two games. I'd like to see more drop zone coverage and less man-to-man in space. It's unrealistic to expect guys like
Josh Banderas
and
David Santos
to cover small scat backs in space.
***After the game was over with former kicker
Pat Smith
came up to me and said
Sam Foltz
had one of the best games he's ever seen from a punter. It's hard to argue that, as he was brilliant in all aspects.
***I thought they got rid of the Big 12 North. After Saturday they may give that name to the Big Ten West. Even with has poorly as the Huskers played, they still have to be considered a favorite to win the division after what we saw from the rest of the teams.
The final grades
Rushing offense: D-
Armstrong had a career day with 131 yards on 11 carries, but NU's running backs had a combined 64 yards on 22 carries. That was one of the more disappointing stats today, as the Huskers should never struggle to run the football against an FCS team. The day got off to a rough start on the opening possession when the Huskers failed to convert a fourth-and-1 and took a 5 yard loss. A lot of the struggles looked like they came from assignment and blocking errors up front.
Passing offense: C-
If you take away Abdullah's game winning play, along with what Westerkamp provided this grade would be much lower. The Huskers were just 1-of-7 on third down conversions in the second half and because of NU's struggles to run the football it put the passing offense in some very tough spots. With that said, you could see the pressure starting to mount on Armstrong and in the second half and he wasn't comfortable throwing the football after his interception.
Rushing defense: C-
McNeese State ran for 178 yards on 45 carries, which was good enough to put them in a lot of winnable second and third down situations. McNeese State quarterback
Daniel Sams
gave the Huskers problems with his running ability. I was a little surprised he wasn't in there on the possession where the Cowboys settled for a field goal late in the fourth quarter.
Passing defense: D
MSU was just 12-of-26 passing for 160 yards, but they were able to make two or three great catches in coverage in key moments. Most of their yards came on those three plays that went for 40, 32 and 27 yards.
Nathan Gerry
had a solid game on the back end leading the Huskers with 13 tackles and a huge pass break-up that saved a touchdown. However, the Huskers were bailed out by the Cowboys making three straight third down drops that really could have changed the game.
Special teams: A
This was really the biggest bright spot for the Huskers.
Sam Foltz
averaged 51.2 yards on six punts, putting four them inside the 10 yard line and two inside the 5. He was huge in so many ways in controlling the field position.
De'Mornay Pierson-El
also now gives the Huskers a legitimate punt return option, as he average 10 yard on five returns.
Sean Callahan can be reached at sean@huskeronline.com and he can be heard each day at 6:50 am and 5:05 pm on Big Red Radio 1110 KFAB in Omaha during the football season. He can also be seen on KETV Channel 7 TV in Omaha during the fall and each week he appears on NET's Big Red Wrap Tuesday's at 7 pm.
[rl]