Drive, tenacity have Utter vying for starting job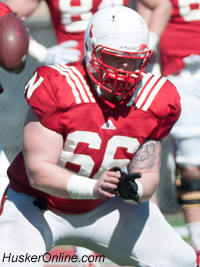 Just like Gangwish did as a walk-on from Woodriver, Neb., Utter - or "Dutter", as Gangwish likes to call him - is quickly establishing himself as a potential fixture in Nebraska's starting lineup. A walk-on from Papillion-LaVista (Neb.), Utter took advantage of a window of opportunity created by injuries last season to earn his first career start in the Holiday Bowl against USC.
Since then, the 6-foot-1, 285-pound junior has used tenacity, determination and pure grit to make himself a frontrunner to win the starting left guard job this season.
"Dutter is a butt kicker," Gangwish said. "That's a guy, he straps it up and it doesn't matter if it's a lift or a practice or whatever, that guy is ready to compete. Some people think he's downright mean, but that's probably because he's beating them."
"I love him," Riley said. "I think he more than fits in, and he's competing hard to start for this team. He absolutely is."
For Utter, he credits a great deal of his drive to prove others wrong to his label as an in-state walk-on who was largely overlooked coming out of high school in 2012. A second-team Super State selection as a senior, Utter's only scholarship offers were from Army and North Dakota.
Now, he's on the brink of making his childhood dream come true and becoming a starter for Nebraska.
"I guess being a walk-on, you come in with that chip on your shoulder," Utter said. "It kind of gave me an edge and made me want to prove myself even more."