Big Red Business: Measuring the Frost Effect
The "Frost Effect" is real. Very real.
Just ask Randy Farwell, the owner of CornBorn, an online retailer and a licensee of Nebraska sports apparel.
Four months ago, Farwell was forecasting a flat 2018 -- at best -- in sales at CornBorn, which would mark the first time without year-over-year growth since he started the business in 2011.
"By the time the 2017 season ended," Farwell said, "we had revised our 2018 forecast and planning down multiple times to flat. We also knew that was probably still too optimistic for 2018 if nothing changed."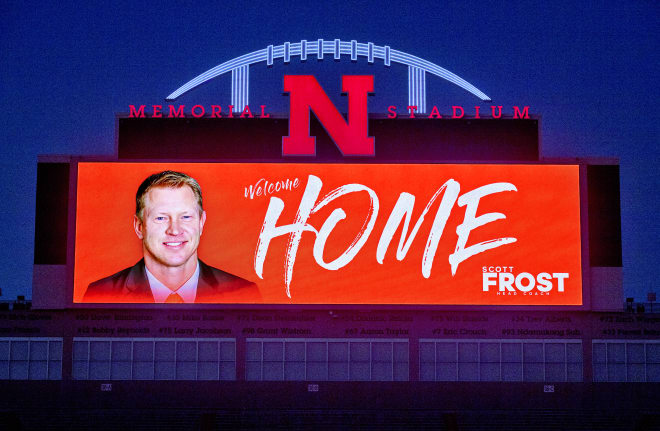 After the season-ending blowout loss to Iowa, change came in the form of what Farwell called a "home run hire" of Nebraska's new head football coach -- Nebraska native and former star Cornhusker quarterback Scott Frost.
Business for Farwell hasn't been the same since. In fact, a wide range of companies and organizations could make the same claim about business opportunities and dollars flowing into the coffers, including Nebraska's athletic department.
Farwell, for example, is now projecting a 22 percent year-over-year increase in 2018 sales, based on record results in January and February as customers snapped up a new line of Frost-inspired apparel and other merchandise.
Nebraska's athletic department is also seeing an increased demand for any available season tickets, new inquiries from companies seeking stadium and program advertising, a steady flow of donor contributions, and more requests for speaking appearances by the football coaching staff and athletic director Bill Moos.
Then there's the expectation of a possible record crowd of more than 80,000 filling Memorial Stadium on April 21 for the annual spring scrimmage. That creates much the same economic impact on the city of Lincoln as a regular-season home game, observers say.
Lincoln lodging operators and restaurant and bar owners interviewed by HuskerOnline say they're making upward revisions in 2018 sales forecasts.
For example, lodging operators, especially in downtown Lincoln, also report heavier than usual bookings for the spring game weekend, with some hotels already posting no vacancy signs all the way to Omaha. Reservations for home-game weekends, which can make or break the year, also have been stronger so far, some hotel managers said.
"No doubt about it, I have not seen this level of expectations and excitement in my (professional) lifetime," said Jeff Maul, executive director of the Lincoln Convention and Visitors Bureau and who has worked there for the past 16 years.
Or try 56 years ago, when a relatively unknown from the University of Wyoming was hired as Nebraska's head football and fans were encouraged to "get off your fanny and help Bob Devaney."
Ticket demand, donations 
The athletic department has felt a jolt since Frost was hired away from the University of Central Florida.
Count the ways:
*Season tickets. "We have seen a great response on renewals at this point in the process," said Keith Mann, an athletic department spokesman. The renewal deadline was in early March, and based on early data, ticket renewals are about 1.2 percent ahead of 2017, he said. Last year, the renewal rate was about 94.5 percent Mann said.
Mann said there also has been "tremendous interest" this year among fans interested in purchasing season tickets. The online seat selection process (huskers.com/requestlist) runs from May 1 to May 18, and Mann encouraged people to join the list by April 1.
Mann did not disclose how many people are on the waiting list compared to the Pelini and Riley era's, but he said, the ticket office has seen a "133 percent increase in the number on the tickets request list this year compared to last year.".
*Donors. Donations have been "very steady" this year, Mann said, and "we believe the hiring of Coach Frost has played a large role toward that success. So has the new tax law, which encouraged larger donors to increase contributions before the end of 2017.
*Merchandise. Sales monitored through the athletic department "generally stay strong and steady," Mann said. "However we have seen solid growth in sales since the hiring of Coach Frost and our numbers are up slightly compared to last year."
*Advertising and marketing. "There is always strong interest from potential sponsors and advertisers surrounding Nebraska football," Mann said, "and there have been some new companies and individuals inquire about opportunities."
*Speaking engagements."We have seen a big bump in requests for speaking appearances for football staff" this year, Mann said. "The requests for Bill Moos are about double over previous years, and he has specifically received a lot of requests in the agricultural community.
Follow the money
Football weekends are a big driver for Lincoln's economy. Just how big?
Try about $4 million per weekend, according to a study cited by the Convention Bureau and performed about five years ago by the University of Nebraska Bureau of Business Research. For a one or two day event, there's nothing that compares to it in terms of impacting the city's economy, Maul said
Multiply that by 7 home games --- make that 8 counting the spring game -- and the impact amounts to at least $32 million annually. That number covers overnight lodging, food and beverage sales, travel and a host of other spending categories.
"When the tide is high that number is a lot larger," Maul said.
Even if you take economic impact studies with a large grain of salt, as you should, the trickle down from Nebraska football unmistakably can make or break retailers, hotel operators, restaurants, bars and a host of others.
Last year, an eight-loss season meant that business on football weekends was down "substantially" across the board, Maul said.
And for 2018? From what Maul is hearing, retail, entertainment and lodging businesses are ramping up, hiring more staff, and expecting better days ahead.
For hotels and motels, he said, this could be "the first time we're close to truly selling out every hotel room in Lincoln on game weekends in the last seven or eight years." He counts about 5,277 rooms in the Lincoln metropolitan area.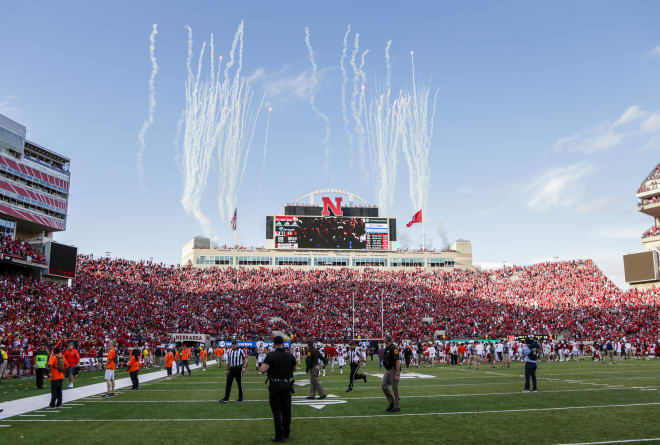 And that wedding weekend?  
Last season brought out "the lowest of moods (among fans) I've ever experienced, and I've been here 19 years," said Bryan Sullivan, director of sales and marketing at the Embassy Suites in downtown Lincoln.
Higher highs are anticipated this year.
Sullivan, for example, is anticipating a 10 percent to 20 percent lift in revenue over 2017 from room reservations, and food and beverage sales.
Put another way, football business accounts for up to 15 percent of the Embassy's total annual revenue -- business that is generated in only about 14 days over the final three-plus months of the year.
All 252 suites have been booked for the spring game, he said, and the hotel is filling up for regular season games, especially Colorado and Michigan State.
"We're definitely seeing a nice lift" from the hiring of Frost, Sullivan said.
The same goes for Selena Kugler, sales manager of the 155-room Courtyard Marriott in downtown Lincoln.
"We're completely sold out for the spring game," Kugler said. "It's everybody's first view of Scott Frost."
While she said the hotel typically has few vacancies on spring game weekend, once the date for this spring's game was locked in for April 21 "we booked really quickly."
Unfortunately, that also meant having to tell one guest -- who had already reserved a bank of rooms for a wedding that same weekend -- that more rooms weren't available. "She's having to scramble all over town," Kugler said.
As for football Saturday's this fall, Kugler said, the Courtyard expects to be "sold out or close to sold out" soon, especially for the prime home games on the schedule.
A new Husker spirit 
Not only will Frost make his regular season coaching debut in September, but the "Frost shot" will be unveiled as well.
That's the new signature drink that will be added for Cornhusker football Saturdays at Longwell's, said Lauren Marsh, comptroller of the popular game-day hangout in downtown Lincoln. She described it as a liqueur similar to Fireball or Jack Fire.
Marsh said she's optimistic that he upcoming season is shaping up to be the "best we've had" since Longwell's opened in 2014. That includes spring game business.
"We will be staffed like it would be for a regular home season game," Marsh said.
Last year, she noted, revenue declined as the season dragged on. "Early in the season people came out earlier and stayed later," Marsh said. And while fans still came out to the remaining games on the schedule, "they came later and left earlier."
Ryan Funke noticed the same trend at Gate 25 Bar and Restaurant in the Railyard entertainment district. "Game days were okay at times," except for the Ohio State game last year "which was the worst" for business, said Funke, a Gate 25 co-owner.
Football accounts for about one-third of Gate 25's annual revenue, Funke said, but last year football weekend business dropped 25 percent.
"There wasn't the excitement," Funke said. "We still filled it, but revenue was definitely down."
He was worried about 2018 until the news of Frosts' hiring. "It was like a giant exhale," Funke said. "It rejuvenated everybody….we're all thinking this is going to be fine. We will see (business) pick up."
Funke also senses there will be "more juice" in the Railyard district on Fridays and Saturdays during football season and not just because of fans who are looking for a gathering spot before heading into Memorial Stadium.
"On a game day, I've been told that there are 100,000 to 120,000 people who come downtown that don't even go to the game" but are there to tailgate, watch the game on a big screen, and soak up the excitement from the noise coming just blocks away at Memorial Stadium, Funke said. The Convention Bureau couldn't confirm that number.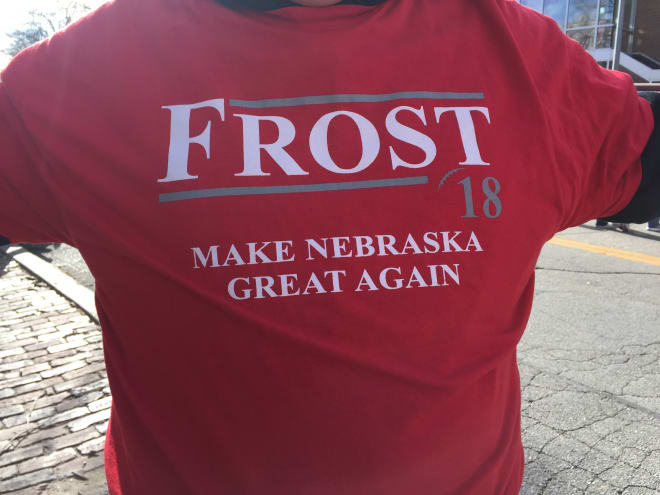 Frost gear in, "RiledUp" gear out
Randy Farwell is accustomed to moving swiftly to roll out new products to meet fan demand. The Frost hiring was a typical challenge, and a huge opportunity.
Cornborn has an entire line of "Frost gear" that includes three different design graphics that are sold on more than 20 items -- multiple T-shirt styles and colors, sweatshirts, tank tops, along with kids, women, men and unisex lines.
Because of the early online demand, Farwell said he has increased inventories of popular apparel, including old-school "Tradition Lives Here" designs of Memorial Stadium, the five national championship trophies, the three Heisman winners, and the Osborne/Berringer statue.
"We are also working with our local wholesale customers to ensure we can support them with the products they need in a timely manner. We're stressing the importance of getting their orders in earlier than previous years to avoid the backlog that typically happens right before the football season begins."
Farwell summed it up this way: "All indications point to significantly higher fan interest and demand for Husker apparel."And what about Cornborn''s 2017 "RiledUp" apparel line? Farwell said he's prepared to make "great deals."
Steve Rosen covers the business of sports for HuskerOnline. Questions, comments, story ideas? Reach Steve at sbrosen1030@gmail.com.