Armstrong practiced Monday, Fyfe expected to return Tuesday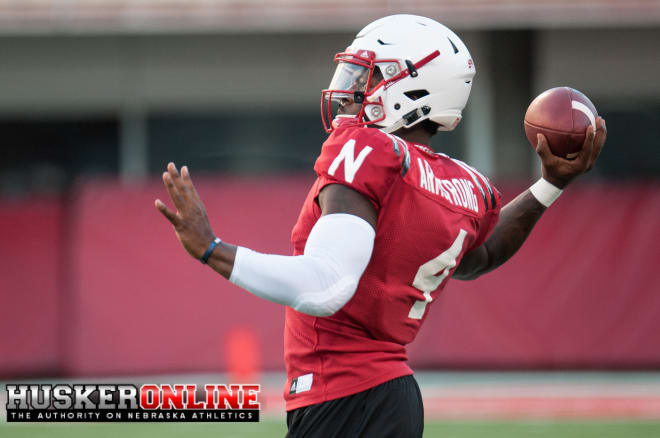 A little over 24 hours after Mike Riley tried to explain how Nebraska was going to handle a situation this week where its top-two quarterbacks were questionable with injuries, the Huskers' head coach had a much more positive update on Tuesday.
Riley said during the weekly Big Ten coaches' teleconference that senior Tommy Armstrong - who missed all of last week with a hamstring injury he suffered vs. Minnesota - was able to practice on Monday and would continue to get more work as week progressed.
While Armstrong still isn't back to 100 percent, Riley said it was definitely a big step in the right direction to get the fourth-year starter back on the practice field to open a short week heading into Friday's trip to Iowa.
"Tommy was actually able to practice," Riley said. "I would not say it was full speed for him, but it was encouraging.
Riley also said that senior Ryker Fyfe, who started in Armstrong's place in NU's win over Maryland on Saturday, was not able to practice Monday but was expected to return to action on Tuesday.
With Fyfe out and Armstrong limited, Riley said sophomore Zack Darlington essentially split first-team reps with Armstrong during Monday's practice.
"Ryker was a little too sore to take snaps and practice, but we anticipate him maybe doing some stuff later today when we practice," Riley said. "So it was pretty overall encouraging that way with both kids, even though Ryker didn't get to take any turns."
Riley said Fyfe broke the bone in his left (non-throwing) wrist on a fourth-quarter play against Maryland where he dropped back deep towards Nebraska's sideline. Fyfe threw the ball away out of bounds but was knocked to the ground and fell on his wrist.
The Grand Island, Neb., native was able to finish out the rest of the game, and it wasn't until Fyfe got an X-ray on his wrist that they found out it was actually broken.