10 things we learned from Nebraska's loss to Northern Illinois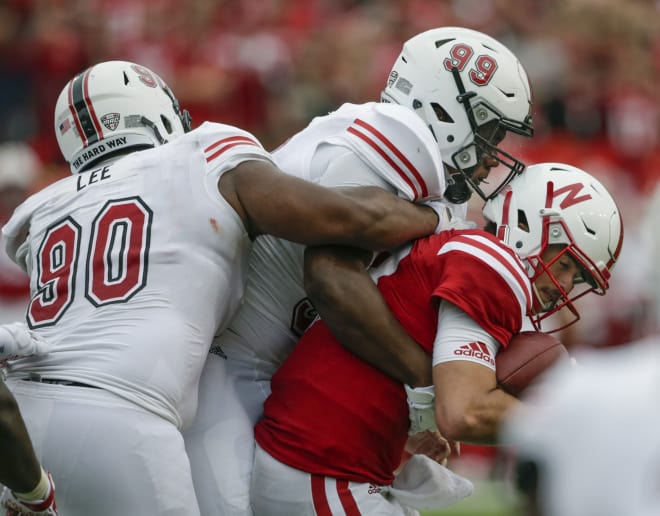 1. This season is at a crossroads
We're just three weeks into the 2017 season, and Nebraska has already reached a critical crossroads.

Now 1-2 on the year and having just suffered one of its worst home losses in more than a decade, the Huskers are almost out of time to find solutions to the variety of problems that have plagued them early on.
Whether its the defense getting torched or the offense suddenly incapable of sustaining any sort of rhythm, it's seemingly been one issue after another for head coach Mike Riley's team.
Non-conference play is officially in the books, and now Nebraska's only chance of turning this season around starts next week with the start of Big Ten play.
If the Huskers can make some massive improvements on both sides of the ball in a hurry, they'll still have a chance to go on a run.
If not, with a brutal second half of the schedule waiting ahead, this could just be the start of even more struggles to come.
2. Lee is struggling, but he needs help
The shine of Tanner Lee's star has definitely faded in a major way since the end of fall camp, and much of that is a result of his own doing.

The junior quarterback has now thrown seven interceptions in his past two games, which at the conclusion of Saturday's game were the most in all of FBS.
But as bad as Lee has been the past two weeks, Nebraska's woes haven't entirely been his fault.
That was definitely evident on Saturday, as NU's offensive line did little to prevent Northern Illinois' pass rush from hitting Lee early and often. The Huskies ended up with three sacks, but Lee was hit numerous other times.
His receivers had their problems, too, particularly in getting off the line against NIU's press coverage. Combine the delayed routes with Nebraska's inability to protect the quarterback and Lee's bad decisions, it all set up for the disaster of a day.
On top of all that, the Huskers' running backs ran the ball 26 times for a season-low 98 yards, which made the offense one-dimensional to the tune of a 47-to-36 pass/run ratio.
3. Offensive line took a major step back
For the past two weeks Nebraska's coaching staff has lamented that the offensive line had allowed far too much pressure on the quarterback, which was something that had to get fixed.

Well, there was no solution found on Saturday.
After the game, Riley chalked it up to a combination of linemen just getting beat in one-on-one matchups and confusion over blocking assignments.
For an o-line that had four players with significant starting experience take the field vs. NIU, that performance was pretty much inexplicable. Especially considering that the unit had actually played fairly well the first two games.
Redshirt freshman Matt Farniok really struggled in his second career start at right tackle, and Nebraska still has no clear timeframe of when senior David Knevel will be back from his ankle injury.
But even veterans like Jerald Foster, Tanner Farmer, Cole Conrad and Nick Gates had their share of mistakes as well. It was a major step back for the enter offensive line as a whole.
4. Defense is steadily improving
The irony of this loss was that after two weeks of the defense getting blasted for giving up a combined 78 points and more than 1,000 yards of total offense, the Blackshirts were the least of the problems on Saturday.

In fact, the defense did exactly what it was supposed to do against an inferior Northern Illinois offense, holding the Huskies to just 213 total yards and one offensive score all game.
The problem was that as well as the unit played, the defense had its worst drive of the day at the absolute least opportune time.
Needing to come up with a stop after NU finally took the lead at 17-14 early in the fourth quarter, Northern Illinois connected on a 47-yard pass on the first play of the drive to move right into scoring position.
Five plays later the Huskies were in the end zone for the eventual game-winning touchdown.
It's a small consolation that does nothing to ease the sting of the loss, but the incremental-yet-steady improvement of the defense since the start of the third quarter at Oregon is at least one positive.
5. Something isn't right with Pierson-El
It's hard to believe that a former Freshman All-American punt returner has almost become a liability at that role early in his senior year.

For whatever reason, De'Mornay Pierson-El just hasn't looked like his normal game-changing self in the return game, and Saturday was another disappointing effort.
Pierson-El fielded five punts on the day and managed just 13 total return yards. He again let a returnable punt bounce all the way to the NU one-yard line, briefly muffed another punt for a five-yard loss, and was stuffed immediately after catching one at his own seven.
For a guy who is being counted on to flip the field and provide instant sparks on special teams, Pierson-El looks far from the player who was so electric in that role as a true freshman.
6. With Bryant out, Ozigbo needs bigger role
Nebraska's offense was dealt a big blow when sophomore running back Tre Bryant was ruled out earlier this week with a knee injury.

With junior Mikale Wilbon taking over in his first career start, the Huskers didn't stray from their approach of a one-back workhorse in the running game.
Wilbon took 24 of NU's 36 total rushes, finishing with a respectable 90 yards and a 3.8 average per carry.
But when Wilbon had to temporarily leave the game in the third quarter, the window of opportunity finally opened for junior Devine Ozigbo to see his first action of the season.
Ozigbo only ran the ball twice for eight yards in one drive of work, but that one pounding eight-yard carry was enough to get a roaring ovation from the Memorial Stadium crowd, as he finally came off the milk carton.
It's unclear when Bryant will be able to return to action, but if must miss any further time there is no reason why Ozigbo shouldn't be incorporated more into the running game.
Wilbon did well in his first big chance, but the counter-punch of him and Ozigbo is something Nebraska has to utilize, especially in trying to establish a power running game to keep the pressure off of Lee.
7. No change at QB coming, yet
With Lee struggling the way he was, there were plenty of Nebraska fans debating whether a change needed to happen under center at some point during Saturday's loss.

Some argued that redshirt freshman Patrick O'Brien might be able to provide the offense with a spark while giving Lee time to sit out a drive or two and collect himself after admittedly pressing following his ugly start.
That thought never crossed the mind of Nebraska's coaches, however.
"Sometimes that can give you a spark at some point if you think that maybe in particular the (starter) is not playing very well," Riley said. "But when it's protection problems that are put in there, it's not like another guy is going to change the protection problems necessarily.
"So you have to be careful about that. I thought about that time in the fourth quarter our best chance to continue to try to win the game would be with Tanner."
8. Third downs are killing this offense
A week after going a dismal 2-of-14 on third downs against Oregon in a one-touchdown loss, Nebraska once again continuously failed to keep drives alive with third-down conversions.

The Huskers ended the day just 6-of-19 on third downs against Northern Illinois, including starting off just 3-of-15 before converting three of their final four attempts.
That inability to move the chains at even an average rate has killed NU's offense through the first three weeks, and maybe next to the turnovers, is something that has to be a top priority to correct entering Big Ten play.
A big part of doing that is improved offensive line play, but there were other third down failures that were results of dropped passes, missed throws, or runners not breaking tackles. It all must get better for the third down numbers to improve.
9. This team needs more offensive explosion
This may not rank as high as some of Nebraska's other pressing issues, but the Huskers' are noticeably lacking a big-play punch this season.

The offense only recorded five total explosive plays - gains of 20 yards or longer - all game, including just two in the entire first half.
Two of those plays came on one drive in the fourth quarter, a 21-yard pass to Stanley Morgan and then a 36-yard pass to J.D. Spielman. Not coincidentally, that was NU's only touchdown drive of the game longer than three yards.
Only one of those explosive plays came on the ground, a 25-yard run by Mikale Wilbon in the second quarter.
Nebraska can't continue to try and nickel and dime defenses to death with short runs and quick passes.
With playmakers like Morgan, Pierson-El, Spielman, and others, it's time to for the Huskers to take more shots downfield.
10. The fans did their part
Memorial Stadium often times gets knocked for its lack of fan enthusiasm for 11 a.m. kickoffs, especially against perceived lesser competition.
While that reputation has been earned in the past, it was most definitely not the case on Saturday.
Even on a cold, gray, and rainy day, Husker fans showed up and made their presence felt to create a strong home field environment at kickoff.
The problem was there wasn't a whole lot to cheer about, especially when two pick-sixes sucked the excitement right out of the stadium.
There were plenty of boos of frustration and the stands thinned out as the game wore on, but as far as bringing strong energy when their team needed it, the fans more than held up their end of the bargain.