10 takeaways from the Red-White game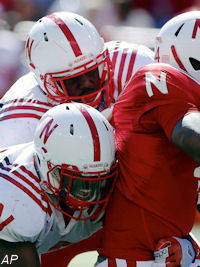 Another spring is in the books for Nebraska, and as the Huskers head into the summer here are my 10 takeaways following Saturday's Red-White game.
1 - The Quarterback depth looks promising
Probably the biggest thing I took away from Saturday's Red-White game was the overall depth at quarterback. I thought
Taylor Martinez
,
Ron Kellogg
and
Tommy Armstrong
all looked promising. It's always a concern that after Martinez you'll see a big drop-off, but you didn't get that feeling today. Armstrong and Kellogg looked more than serviceable.
2 - Defensive line still remains a question
The defensive line and their lack of depth are going to be a question all the way into the season. With
Thad Randle
and
Vincent Valentine
out today with injuries, the defensive tackle position was extremely thin. The defensive end position was also pretty quiet, as you didn't see a whole of explosion off the edge.
3 - Cross had a solid spring, but I still expect Newby and Taylor to play
I thought sophomore
Imani Cross
had a solid spring, but in all reality he's going to have his work cut out for him in August with the arrival of
Adam Taylor
and
Terrell Newby
. We know
Ameer Abdullah
is the main man right now, but I think both Taylor and Newby will see early carries and battle with Cross for the No. 2 job, along with walk-on
King Frazier
.
4 - Armstrong got better with every snap
By about week two of spring ball it became pretty clear that getting Armstrong some solid work was a major point of emphasis. Last Saturday he saw about 50 snaps in NU's 115 play scrimmage and in the Red-White game he saw plenty of action. He's come a long way and he's only going to get better with time. I love the leadership skills this kid brings to the field.
5 - Bondi has exceeded early expectations
I never knew what to expect from sophomore kicker
Mauro Bondi
because we saw very little of him the last two years. I came away on Saturday very impressed with his overall leg strength. I'll be real interested to watch how the battle with him and transfer
Pat Smith
plays out in the fall.
6 - Linebackers still need to show me something
There's a lot of potential at the linebacker position, but as of right now that's all there is. This group still has a long way to go, as of today I don't see any "for sure" starters.
Zaire Anderson
and
David Santos
appear the closest thing to that. I was also impressed with
Jared Afalava
and
Thomas Brown
's athletic ability. Don't sleep on
Trevor Roach
either. He had a game-high 10 tackles on Saturday.
7 - Tight ends were a pleasant surprise
Tight end was far and away the biggest question on the offense heading into the spring, but I thought they showed a lot of promise on Saturday.
Jake Long
had a solid day and I really like the potential of
Sam Cotton
. Right now I'd say he's almost ahead of where his brother was at this stage of the game.
8 - Alonzo Moore has a chance to be special
Redshirt freshman wide receiver
Alonzo Moore
has a chance to be special, but the key word is "chance." He showed some amazing flashes on Saturday during his two offensive touches, but he needs to continue to show that on a daily basis and learn from the veteran wide receivers in the program.
9 - Early start date worked better than expected
Going into the spring I wasn't quite sure how things would work by starting practice several weeks earlier than normal. Initially I didn't like the idea of cutting down winter conditioning three weeks, but I thought the set-up worked out really well. I also like that NU will have an extra two weeks after spring ball to work on some stuff before the players go home for a month in May.
10 - Jack Hoffman steals the show
20 years from now nobody will remember any of the key plays from Saturday's Red-White game, but what they will remember was 7-year old Jack Hoffman's 69 yard touchdown run. In my 14 seasons covering Nebraska football I can't think very many more touching moments. Hoffman, who continues to battle pediatric brain cancer is a household name around the state of Nebraska. His "Team Jack" foundation has helped raise awareness for pediatric brain cancer around the world. Saturday's moment with Hoffman in the Red-White game will only continue to help Team Jack's cause.
[rl]