Stringfellow considering Nebraska transfer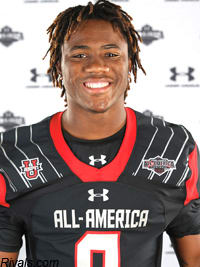 One of the nation's top receivers from the recruiting class of 2013 is considering transferring to Nebraska.
Former Rivals100 receiver
Damore'ea Stringfellow
was just released from his scholarship at Washington after catching 20 passes for 259 yards and one touchdown as a true freshman last season.
The 6-foot-3, 225 pound Stringfellow is now back on the market and the Huskers were one of his top choices coming out of high school. Stringfellow told HuskerOnline.com on Monday he's definitely giving NU a hard look this time around.
"Nebraska is definitely a team I'm considering," Stringfellow said. "I really liked Nebraska's coaching staff and the family environment when they recruited me in high school.
"Right now I have a plan, but it's not 100 percent. I'm just trying to finish off this last quarter here and then I'll be focusing on where I'm going. As of right now I'm just focusing on finishing school out."
Stringfellow played his high school ball at Moreno Valley (Calif.) Rancho Verde, where both former Husker wide receiver
Quincy Enunwa
and defensive end
Eric Martin
attended. Rancho Verde head coach
Pete Duffy
said the amount of interest he's received for Stringfellow in the last few days has almost been overwhelming. Obviously because Stringfellow is leaving a Pac-12 school, teams in that conference are the only ones not in play.
"Basically any big name team that you can think of has probably called me," Duffy said. "Some heavy hitters are calling, but I'd rather not talk about details until we know exactly what's happening."
Duffy added that he still keeps a very close relationship with Nebraska's coaching staff, and both Martin and Enunwa loved their experiences in Lincoln.
Enunwa was just drafted this past month by the New York Jets in the sixth round, while Martin was with the New Orleans Saints and the Cleveland Browns in 2013 as a rookie.
"(Martin and Enunwa) loved their time at Nebraska and speak very highly of it," Duffy said. "I think it's a great program. I really like the coaches - Coach Bo (Pelini) and Coach (Rich) Fisher and the other coaches l know like Coach (Ron) Brown. It certainly would be a great fit for (Stringfellow) and any of our guys always recommend them and have Nebraska up in the mix."
Right now Stringfellow is just concentrating on finishing out the final few weeks of the semester in Seattle, so it's hard saying what kind of time table a decision will be made.
Stringfellow said June 13 is when he'd like to know something for sure, but Duffy said hopefully in the coming days they will have a clearer picture.
"I can't really speak for Nebraska, but I know he has a strong interest in the Huskers for sure," Duffy said of Stringfellow. "Things will pan out one way or another in the next 48 to 72 hours for sure when I get a definitive answer on what's happening with a couple of these different deals."