Simmons finds x-factor feel at Nebraska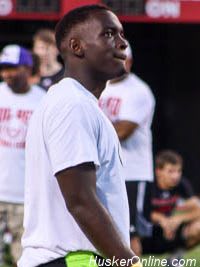 The 6-foot-2, 225-pound inside linebacker had been committed to Miami, but separated ways shortly after visiting Lincoln. Simmons said he knew he wanted to commit to the Huskers following his trip, but just wasn't sure when he would do it. At least not until a short time ago.
"Yes sir, I have committed to Nebraska tonight," Simmons said. "I knew I wanted to (commit) and I thought about waiting until my birthday in September, but I talked it over with my dad and decided to do it tonight so I could just focus on my senior season.
"You know, I had been to a lot of camps and visits, but they just didn't have that exact x-factor feel that I found at Nebraska. So I just talked it over with my dad and I was for sure that this is what I wanted to do."
"I really liked how Coach Riley basically moved his entire staff from Oregon State to Nebraska," Simmons said. "Coach Riley was all class when I was around him and he kept everything 100-peercent. He kept everything the truth and the way I am, I respect that as a man and as a person. Coach Riley didn't play around. He doesn't play games or anything like that.
"I just really like Coach Bray and his style," Simmons said. "He's pointed out to me that in his five years (of coaching) he's sent eight guys to the NFL. So he's basically gone 100-percent with his linebackers as far as putting them in the NFL. He takes young guys and makes them into men. He's just a great coach.
"I'll be a middle linebacker, also kind of a hybrid like coming off of the edge as an outside linebacker, but mostly middle linebacker. (Bray) likes how I run though tackles, how I play with energy, and how I have a high motor."
Simmons has changed his mind once during the recruiting process, but he says he has no intentions of that happening again. He may attend a few more camps this summer, but says they won't be for recruiting purposes and that he's shutting down his overall recruitment.
"I'll probably still be going to a couple football camps, but I'm shutting (my recruitment) down," Simmons said. "I don't see anything happening with (my commitment) because I just love Nebraska. The coaches and the players, I just can't wait to play with them."
Simmons says Nebraska fans can expect him to be an all-around defender once he gets to Lincoln and he's looking forward to taking NU to another level.
"I just play defense," Simmons said in terms of what fans can expect from him as a Husker. "We stop the run over here and it's a no-flight zone. I'm just ready to take Nebraska to the next level."
Nebraska now has 12 total commits for 2016 with the addition of Simmons whom is currently ranked as the No. 28 overall inside linebacker in the nation.