RojoBreakdown: Pelinis dismissal not about talent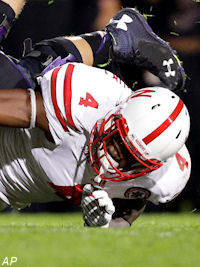 So why did the Huskers play in just one conference title game while Wisconsin and Michigan State had three and two, respectively, with less talent? Why does Minnesota have as many top two division finishes as Nebraska in the past four years? Why has NU finished better than third in its division just once?
That's why Eichorst's decision hasn't been met with great outcry. In the past four years, Nebraska has finished third in its division three times and got blown out in the one title game it did make. The Huskers have lost by at least 13 points 10 times since entering the Big Ten and are 2-7 against ranked foes over the past three seasons.
Pelini had talent and won a lot of games. But his inability get that talent to the next level is likely what cost him his job and made Eichorst's tough decision a bit easier to make.
size="4">Iowa receiving breakdown
It was a bit of a quiet day for the stars, but Bell made his three catches count. Two of his grabs went for scores, and two came in overtime. He made the type of big-time plays he was expected to in his senior campaign. Though Bell will again fall short of his goal to become Nebraska's first 1,000-yard receiver, his season has been nothing to scoff at. He's battled through a series of injuries, most recently a concussion, and still leads the team in yards and targets.
http-equiv="content-type">

Drops: Abdullah, Cotton
size="3">Season receiving breakdown
http-equiv="content-type">
Drops: Moore 7, Bell 5, Cotton 4, Reilly 3, Westerkamp 3, Allen 2, Abdullah, Hovey, Turner

[rl]