Riley not closing door on potential transfer quarterbacks in 2016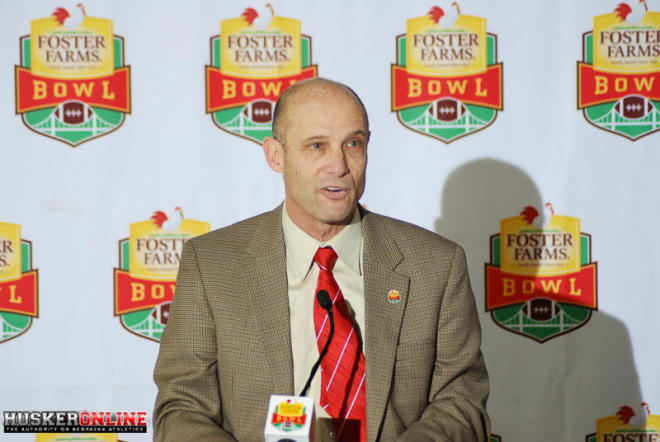 SAN FRANCISCO - As has been the case more and more each year, the transfer market in college football coming out of the 2015 season is already loading up with a number of high-profile players from programs across the country.
In particular, some notable names at the quarterback position have recently announced their plans to move on from their current schools in search of a better opportunity. Among those now available signal callers include Kyle Allen and Kyler Murray of Texas A&M, Trevor Knight of Oklahoma, and Will Grier of Florida.
With three-year starter Tommy Armstrong returning for his senior season next year and heralded four-star commit Patrick O'Brien joining the mix in the spring, Nebraska wouldn't necessarily appear to be a school looking to make any additions at quarterback going into 2016.
But according to head coach Mike Riley, the Huskers are always willing to listen if the right situation were to present itself.
"I would never say no right off the top," Riley said. "In a general question like that with some guys that are out there, I can't talk about any of them, obviously. Because I know that's how thing goes today in this world. Guys are often times looking for new opportunities. There will be guys on our team that will be looking - not quarterbacks, I don't think - but looking at other opportunities.
"So I would never say no. Now it has to be what I think would be the right fit for us in a number of ways. But those things have to go through the process before we could even talk about it."
In his response Riley noted that he expects more than one current NU player to move on after the bowl game as a transfer. He also said he doesn't think that would include any of Nebraska's four scholarship quarterbacks currently on the roster.
Riley later also hinted that the Huskers would soon be adding at least one transfer next season, though he still wasn't at liberty to reveal who it would be. The good news is that HuskerOnline.com solved that mystery last month, as former Fresno State wide receiver Keyan Williams will be joining his father, receivers' coach Keith Williams, in Lincoln.
"Let's soon talk about that," Riley said when asked if Keyan Williams' addition was official. "If indeed something like that would happen, it would be good."
Additional HuskerOnline links: