Riley must blend styles of past and present rosters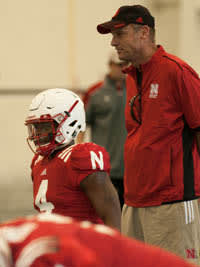 CHICAGO
-
Mike Riley
's first turn at the podium of Big Ten Media Days left little doubt at what Nebraska's most important objective is in fall camp - blending Riley's offensive philosophies from his previous stops with the skill sets of the current Huskers, particularly those of
Tommy Armstrong
.
Riley rarely if ever ran the zone-read at Oregon State, yet Armstrong is well-versed in the play and ran for more than 700 yards last season. Armstrong has also struggled with his accuracy during his first two seasons under center, while Riley's OSU passers were depended on to be on-target at all times.
So one of Riley's biggest jobs as fall camp begins is to find a way to blend what Armstrong and NU's other quarterbacks do well with what he's done in his previous coaching stops.
How well the Huskers accomplish that could go a long way in determining how successful Riley's maiden voyage in Lincoln goes.
"My experience has been with a lot of quarterbacks that have been good drop-back, in-the-pocket players, but we have a quarterback and quarterbacks in our program now that have different skill sets," Riley said. "So the blending of what we've done and what we intend to do with this team and establishing of the identity of what we want to do is going to be a huge point during fall camp. The transitioning part is not easy but it's also exciting."
Former offensive coordinator
Tim Beck
prided Nebraska's offense on being "multiple" over the past couple of seasons, yet the Huskers had so much on their plate that the playbook had to be pared down in the middle of the season to help avoid confusion.
Riley said that while it's exciting to look at all the possibilities he and
Danny Langsdorf
have with their new players, they must be careful not to get too outside the box.
"It's actually fun to look into some of these new things for us, but what we have to do is being very good at selecting what this looks like, then practicing like crazy in fall camp," Riley said. "We got a start with it in spring ball, and some of it looked like football, not all of it yet. We've got a long way to go, and that's the scary part about the transition."
Riley also made it quite clear that the new staff will not be rigid in the way they approach building the offense. He said that working with Armstrong,
AJ Bush
and
Zack Darlington
has made the coaches get outside of their box and look at what's best for the players.
"What you want to do all the time is not necessarily what's going to be best for your team," Riley said. "Discovering and selecting that is a big, big issue with how it's going to look this season.
"When you've coached for a long time and you've got all these thoughts and all these plays in your mind of what you like, you have to be very careful, and particularly in this situation. We want to go off into a different game for us and utilize the talents of the quarterback, so we've had to do a lot of studying about what that really is and how that looks. At the same time, we want to be selective about what we've done well in our past that would fit the skill set of the people that we have here."
Quick hits
***Riley said he doesn't try to perpetuate the "nice guy" persona that has become attached to him.
"Different kinds of personalities in our business have all been successful," Riley said. "You go from a personality like Tony Dungy to Jon Gruden - they're two different kinds of guys, but they're both very successful. My dad always just taught me to be yourself and enjoy what you do because players see through phonies."
***Riley and staff are entering fall camp with few preconceived notions of their new players and competition will abound at most positions.
"We don't have books on anybody," Riley said. "We're starting with everyone fresh."
***Riley said he's been very impressed with the players and the closeness they've had with one another and the feelings about the school.
"They really believe in Nebraska," Riley said. "They are a good, close-knit group, so it's a fun team to join from that standpoint."
***Riley said the new staff has already studied every Big Ten team to some extent and has talked to "friends around the country" to get a feel for what to expect from the new league.
***According to Riley, there is more "versatility and diversity" in conferences than ever before, so there isn't as much of a difference in styles between the Big Ten and the Pac-12 as there once was.