Recruiting checklist: Cornerback a position of need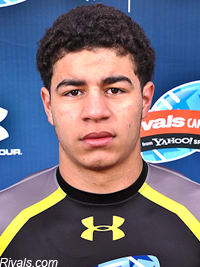 With approximately 200 Husker verbal offers confirmed, and with Nebraska's summer camps and Big Red Weekend fast approaching, HuskerOnline.com will be breaking down each recruited position to see where things currently stand for Nebraska's 2014 class.
It's still relatively early in the recruiting cycle, but programs are already adding early commitments and jockeying for position and visits for the prospects on their board.
The lay of the land will inevitably change as recruits pledge to schools, slots are filled, and new targets are identified. This is a snapshot in time and the process will be fluid right up until Signing Day. Today's evaluation covers the cornerback position.
1. How many is NU taking at this position?
So despite the fact that Nebraska will only have around 19 slots to fill in this cycle, it's a safe bet that the Husker staff will look to add at least three cornerback recruits to this class.
2. Who has NU landed so far at this spot?
Two safety prospects are the first verbal pledges for NU in this class, but there have been no verbal pledges to cornerback at this point.
There are some promising developments to date with Nebraska offering around 25 cornerback recruits thus far. Other names are sure to be added to the offered list over the summer months and throughout the coming season.
3. Who's already come off the board and committed to other schools?
Tennessee has added corner
D'Andre Payne
to their impressive collection of early commits.
The Huskers also didn't make the final five of Rivals100 cornerback
Jalen Tabor
.
4. Which prospects does NU stand the best chance of landing?
Fenstermacher attended the Red-White game in early April and the trip further solidified his interest in NU.
"You know, I'm still really open, but Nebraska is up there," Fenstermacher stated at the time. "They've been up there ever since they were my first big offer. I don't really know how to explain it, I'm just kind of blown away right now.
"I was surprised by how much the staff and the fans at Nebraska actually care more about the person than the athlete. They want to see you succeed in life after football, so that was really amazing. It was great, but I'm still pretty early in my recruiting process."
The border state Wingo said that Nebraska is one of the programs sticking out to him.
"I like their defensive tradition," Wingo said about NU. "I think I would fit in good as a corner with their defensive staff."
Hale is on the verge of adding several major new offers, but the Husker coaches have made some inroads with the three-star prospect and he is considering taking a trip to Lincoln.
In-state cornerback recruits
Makiah Slade
[Lincoln Northeast],
Trey Carr
[Omaha Burke] and
Kenzo Cotton
[Papillion Lavista] will all be thoroughly evaluated by the NU coaches at their summer camps, and if they perform up to standards one or two of them could eventually draw a Husker offer.
5. Who are the longshots they're still pursuing and trying to get?
Neither of the two five-stars NU tendered at this position, Texan
Tony Brown
and Californian
Adoree' Jackson
, have expressed considerable interest in NU at this point.
Florida four-star
Step Durham
attended one of Nebraska's Capital One Bowl practices, but it will be tough to pull him out of the Southeast.
Illinois four-star
Parrker Westphal
traveled to last year's Big Red Weekend and liked it very much, but his interest level in NU seems to have eroded since then. He has visited Michigan several times already this year and just completed a positive unofficial trip to the University of Florida.
6. How would you grade the overall result and effort so far, and how important is this position in this class?
As stated above, signing at least three quality recruits at this position is a must for the Cornhuskers' Class of 2014, and don't be surprised if one or two of them are from junior college prospects. Those JUCO targets should become known during the coming season after the top national prospects start to surface.
The Nebraska staff has offered five cornerback prospects in the state of Texas, four in California, three each in Florida and Louisiana, and two apiece in Pennsylvania and Washington DC.
This may be the recruiting cycle that Husker secondary coach
Terry Joseph
has the major impact of signing top defensive back recruits that NU fans were hoping for when he was brought onto the staff. Judging from the early comments by the players he has been working on, he is laying the groundwork to do just that come next February.
[rl]