Post-title era team: Tight end
Football season is closing in, but there's still some time before fall camp begins. To pass the time, HuskerOnline examined the top five players at each position in the post-title era starting in 2002. Any player who played from that point on is eligible for these lists except for current players because their careers are still ongoing.
Each member of HuskerOnline was asked to rank their top five at each position and points were given in reverse order. For example, if someone rated Zac Taylor as the best quarterback of the era, he received five points, the second-place quarterback received four and so on. The votes were all totaled at the end to form our lists.
We kick things off today by looking at the tight ends. Nebraska has seen a few standout players control the position much of the last 15 years, leaving limited opportunities for others. Here's the voting breakdown:
http-equiv="content-type">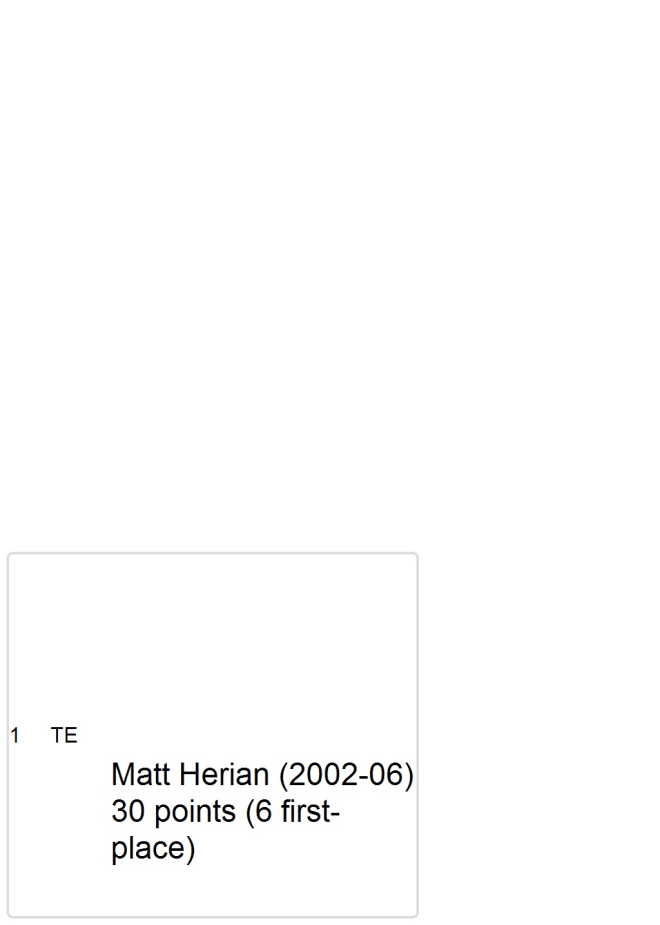 The skinny: No NU tight end has caught as many passes as McNeill (82) and only Herian and Tracy Wistrom racked up more career receiving yards. A second-team All-Big 12 pick in 2009, McNeill actually put together his best season as a sophomore, catching 32 passes (a single-season school record) for 442 yards and six touchdowns. Technically McNeill moved to wide receiver as a senior, but he spent the majority of his career at tight end.
3
TE
Kyler Reed (2008-12)
19 points (1 second-place, 5 third-place)
The skinny:
Reed exploded onto the scene as a sophomore, scoring eight touchdowns (a school record for tight ends) and serving as an explosive deep threat for Taylor Martinez, averaging 28.2 yards per reception.
Tim Beck
's curious aversion to utilizing tight ends hurt Reed's career marks, as he would score just three times combined in his final two years. But Reed was a match-up nightmare for linebackers and safeties alike and was always a threat to take the top off the defense.
4
TE
Ben Cotton (2008-12)
9 points (4 fourth-place, 1 fifth-place)
The skinny: Due to Reed's presence, Cotton never put up overly impressive numbers and finished his career with 40 catches for 505 yards and three touchdowns. But he was a willing and physical blocker, a perfect complement to the more finesse Reed, and managed to become a solid security blanket underneath for Martinez. His career highlight came in the 2012 victory over Northwestern when he snagged the game-winning touchdown with 2:08 remaining.
5
TE
Aaron Golliday (1998-2002)
5 points (1 third-place, 1 fourth-place)
The skinny: Holliday and Phillips tied for total points, but Golliday gets the nod for having the highest individual vote. His numbers are nothing impressive - he had just eight catches for 93 yards in his career. But Golliday was a tough blocker who helped keep the Huskers ground game humming. Unlike the other four names on this list, Golliday also never got to play in Nebraska's more passing-friendly offenses, limiting the damage he could do through the air.
Click
Here
to view this Link.
[rl]