Post-game notebook: Tackling problems remain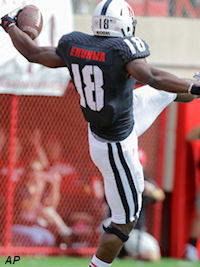 There was plenty of blame to pass around in every aspect for Nebraska's second-half debacle during Saturday's 41-21 loss to UCLA. But one area that cost the Huskers as much as any was the defense's inability to keep the Bruins out of the end zone in the third and fourth quarters.
After a strong overall showing for the most part in the first half, in which NU kept UCLA quarterback
Brett Hundley
in check and forced two turnovers that led to touchdowns, the Huskers suddenly couldn't find a way to stop the Bruins' offense from the final minutes of the second quarter on.
"When things started going the other way on us, we lost a sense of what our job was," head coach
Bo Pelini
said. "Some of the basic things that we were doing through one quarter, two quarters, two and a half quarters, we stopped doing. You have to be able to refocus and keep your composure to do your job and execute your football."
One of those basic things Nebraska failed to do in the second half was as fundamental as basic tackling. Just like they did in last year's loss in Pasadena, the Huskers struggled mightily in bringing down Bruin ball carriers in space, and numerous big plays came for UCLA as a result.
"The second half was a lot like it was last year," Pelini said. "We made the tackles in the first half. I don't know how many tackles we missed in that second half, but it is a lot. You can't play good defense that way. We missed tackle after tackle after tackle in that second half. It's disappointing."
Senior nickel back and team captain
Ciante Evans
took as much blame as anyone on the defense for the second-half collapse, saying he missed at least two tackles that could have changed the momentum of the game had he made them. He said it felt like the focus and intensity of the defense in the third and fourth quarters weren't nearly the same as they were early in the game.
"Guys just didn't have the same intention in the first half that they had in the second half," Evans said. "That's all I could see… I don't know, to be honest with you. I guess we just lost our step and our sense of urgency. Guys were unfocused. I don't know what happened. I'll just try to watch the film and reevaluate some things."
As one of the senior leaders of the defense, Evans said there was only one way the Huskers could prevent the types of mistakes they made against the Bruins from happening again.
"Finish," Evans said. "That's what it comes down to. You got to look yourself in the mirror and finish. Do your job and do your responsibility. Do what the coaches ask you. Ultimately just finish plays."
- Robin Washut
NU lacked intensity in game-changing second half
Nearly every player that was available for interviews after the game voiced a similar sentiment Saturday afternoon - the Huskers just didn't bring the same intensity to the second half that they did at the start of the game.
From senior captains like Evans and
Spencer Long
to freshmen such as
Josh Banderas
and
Nathan Gerry
, a common theme emerged. Nebraska got a bit too comfortable with its 21-10 halftime lead and failed to bring the same energy after intermission, during which UCLA outscored NU 31-0.
"I think needed to come out the second half the same way we did in the first half," Long said. "I think we lost a little bit of our intensity and we can't let that happen. We came out on fire, but it needs to be that way for four quarters, not just two."
"Everybody was over their head thinking that we've got the game won," senior cornerback
Stanley Jean-Baptiste
added. "We were thinking that they were going to give up and lay down."
The Bruins certainly didn't go away. UCLA gained 157 yards on the ground in the second half (compared to 53 in the first) and held the Huskers to 135 second-half yards.
It was the second time this season that Nebraska has let an opponent make a game-changing run. After building a 37-21 lead early in the fourth quarter against Wyoming, the Cowboys scored 13 straight points and had a chance on their final drive to tie or defeat NU.
"Hopefully we'll learn now that we can't let a team come back," Long said. "I just hope that we learn from it. I hope we can watch that film and realize what happened and never let it happen again. The only thing we can do now is learn from it, move on and come back next week and give it our best every game.
"We talked about it, but you can't just talk about it. You have to do it."
- Dan Hoppen
Martinez in protective boot, says he's OK
If it looked like senior quarterback
Taylor Martinez
wasn't quite himself on Saturday, especially while running the football, there may have been a reason for that. However, neither he nor Pelini would actually admit it.
When Martinez walked up to the podium for his post-game press conference interview, he was wearing a protective walking boot on his left foot. When asked about his injury status, Martinez said he was "fine" and that the boot was for a pre-existing injury.
Pelini also said Martinez was "healthy" during the game and was not limited in his running or passing by any sort of injury. His stats at the end of the game would suggest otherwise, though.
Martinez rushed 10 times for -13 yards on the day, though he lost 20 yards on a deflected pitch late in the second quarter and was also sacked twice for a loss of another 15 yards. Even so, he still only actually gained 29 yards on the ground overall and was just 10-of-19 passing for 87 yards with no touchdowns in the second half.
"He says he is (healthy)," offensive coordinator
Tim Beck
said. "We're going on his word. He wasn't real effective today running the ball."
Martinez only rushed the ball four times in the third and fourth quarters, but Pelini said that was a result of play calling and circumstances and not because of any injury limitations.
"Obviously, Tim (Beck) didn't feel that was there or we had opportunities and they took the read away," Pelini said. "When that happens, if they try and take the quarterback out of it, you've got to block them up front. You've got to make yards with the running backs. Rushing yards hasn't been our problem. I just feel like we have not been in a rhythm for three straight weeks. It's disappointing. We're gonna sit down and figure it out and get this thing turned around. I know we're capable of a lot more offensively than what we're doing."
- Robin Washut
Beck points to clock management failure as turning point
Beck did a fair deal of beating himself up after the game and much of his angst stemmed from the Huskers' clock management during one of their final drives of the first half.
Nebraska got the ball back at its own 29-yard line with 3:24 remaining in the second quarter. On first down, Beck said there was miscommunication that led to a missed block and a two-yard gain from
Ameer Abdullah
. A second-down draw to Abdullah picked up four yards, but a false start by
Quincy Enunwa
set the Huskers up with a third-and-nine. Martinez rushed for one yard and NU punted. UCLA scored six plays later and would score the game's next 38 points.
"The worst case scenario is we ate the clock up and went in up 21-3," Beck said. "We were playing well defensively and we played well enough offensively and we were going to get the ball in the second half. It's hard to overcome those (mistakes) consistently. Most times, you don't overcome them. We did a lot of that today and I take responsibility. That was a debacle in the second quarter. I think we gave them life."
The Huskers had a chance to make amends for that miscue as they received the second-half kickoff. But after gaining three first downs, Nebraska stalled at UCLA's 41-yard line and punted.
"That's all on me. It was just bad," Beck said. "You could feel the mojo leave a little bit there. We had a chance to get the ball in the second half and rectify it, but we didn't. The second half was just a bungle of self-inflicted wounds, from penalties to dropped passes to sacks to all kinds of things. We got rattled a little bit and lost some composure at times. We just didn't play very well in the second half, and I don't know why. It's hard to tell you why.
"We let the avalanche continue… we helped the avalanche. We might have even started it."
- Dan Hoppen
Captains: Huskers must move on
As could be expected, the mood in Nebraska's locker room after the game was a mixture of anger, confusion and disappointment about how things fell apart for the Huskers in the second half.
While Saturday's outcome wasn't exactly a new experience for NU in recent years, this time was a bit different in the sense that the team had four full-time captains to look to for leadership after the game.
Martinez, Evans, Long and Enunwa knew they would have to be the ones to help pick their teammates up and make sure the Huskers went into next week focused and determined to avoid a repeat performance.
"Learn from the film," Long said about what he told his teammates in the locker room. "Learn from the feeling. Don't forget about it. Just remember to never give a team life and let them come back. Learn from it and move forward. It's done. Like I said, learn from it and come back."
Like Evans said of the defense, Martinez said Nebraska's offense needed to find a way to finish teams off when they get out to big leads like they did at 21-3 in the second quarter. He said the Huskers did the same thing in the season opener against Wyoming when they took their foot off the gas after getting up by 16 in the second half.
"We just need to finish games," Martinez said. "The first game we didn't do a very good job of that. I think the last game we did a pretty good job of it and this one we didn't. We had an 18-point lead, but we just have to go out there and finish games. You see how good our team could be, but we just have to be able to go out there and finish the games."
- Robin Washut