Post-game notebook: Abdullahs memorable day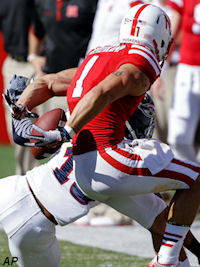 Click
Here
to view this video.
Ameer Abdullah
's career-high 232 rushing yards in Saturday's 55-7 victory over Florida Atlantic went down as one of the better individual performances ever by a Nebraska running back. So of course, in typical Abdullah fashion, the senior Heisman Trophy candidate didn't even feel the need to talk about his big day with reporters after the game.
That didn't keep Abdullah's coaches, teammates and even his opponents from gushing over him after posting the 15th-most rushing yards in school history and the second-highest total by a Husker in a season opener.
"He's special," NU head coach
Bo Pelini
said. "I've been saying it. He's really good. He can run inside, he can run outside. He's a special player. He's a really good back."
Abdullah was on his game from his very first carry, as he touched the ball on six of Nebraska's first nine plays during the opening possession. He would end up with 21 carries in the victory and had 178 yards in the first half alone en route to positing his 18th career 100-yard rushing day, the third-most by a Husker and the most of all active FBS players.
"He is a tremendous back," FAU head coach Charlie Partridge said. "He is a back that is going to break tackles against any defense in the country. Whether it is someone in the Big Ten or someone in Conference USA, it doesn't matter. He is one of the best backs in the country. At times he was certainly what I expected today, and that is what he has been here for several years now. He was a class player today."
It's been no secret that Abdullah had a chance to etch his name among the greatest running backs ever to play at Nebraska by the end of the season, as he came into the year on the cusp of breaking nearly every storied school record at his position. Saturday was one heck of a start in that regard, as the Homewood, Ala., native became the eighth player in NU history with 3,000 career rushing yards (3,209) and passed Husker legends Ken Clark (3,037) and Calvin Jones (3,153) to jump to No. 6 on the school's all-time list.
He's now just 120 yards from cracking the top-five on Nebraska's career rushing list, and it just so happens that the next player ahead of him is Rex Burkhead (3,329), the one who took Abdullah under his wing when he first came to Lincoln back in 2011. If Abdullah continues to run like he did against Florida Atlantic, those school records will only continue to fall by the week.
"He went out there to prove something," quarterback
Tommy Armstrong
said. "(To prove) that he is the best running back in the nation. I truly believe that. I believe they have him as the No. 1 or 2 back in the Big Ten. I just think he is taking that to heart and he is going out there and proving to everyone why he should be one of the contenders for one of the best running backs in the country."
- Robin Washut
Gregory's injury not thought to be serious
Eight plays into Saturday's game,
Randy Gregory
looked to the sideline and began frantically tapping his helmet, signaling he needed a sub.
He played one last snap, then spent the rest of the day on the sidelines and was in civilian clothes during  the second half.
Pelini said the Huskers aren't sure what Gregory's injury is, but it's thought to be a day-to-day sort of thing.
"He probably could've went back in the game, but we decided not to," Pelini said. "Probably day-to-day. It's hard to say right now."
Walk-on
Jack Gangwish
received most of the snaps in Gregory's presence, and defensive coordinator
John Papuchis
was very encouraged with what he brought to the table. Papuchis actually liked the opportunity to test his defense without the massive pass-rushing force Gregory brings.
"Obviously I want Randy to play," Papuchis said. "He's certainly one of our best players. But there's also something to be said about finding an opportunity to find out about some of your other guys, especially early in the year."
- Dan Hoppen
McMullen makes strong starting debut
Much has been made of the potential of
Greg McMullen
over fall camp, but his limited playing time left questions of whether the sophomore could translate that to Saturdays. Coming into the FAU game, McMullen had made just 16 tackles in 11 career games.
But McMullen was dominant against the Owls, playing nearly every meaningful snap and registering four tackles (two for loss) and half a sack.
"He, as much as anyone maybe, made as big advancement from where he was on August 30, 2013, to where he is now, just in terms of his technique and his physical presence out there," Papuchis said. "He's pretty athletic for a big guy. It's hard, because people love to compare and contrast with Randy on the other side. He's not that, but in some ways he brings a great completeness that you don't always see."
- Dan Hoppen
Westerkamp's catch one to remember
In Pelini's 27 years of college football and NFL experience, it's rare to find something he's never seen before on a football field.
However,
Jordan Westerkamp
's highlight-reel behind-the-back catch on Saturday was definitely one of those instances.
It only went down as a 15-yard completion in the final stat book, but Westerkamp's no-look grab on a tipped pass all while managing to keep his feet in bounds was immediately tabbed a potential catch of the year.
"I've coached a lot of football, and I've never seen that one," Pelini said. "I don't know if you guys have, but I've never seen that. It's one that's hard to explain. Even to have the wherewithal to throw your hands back there. I've always said, he catches everything that's near him. He showed that right there."
Westerkamp, who posted a career-high seven catches for 125 yards and a touchdown in the win, dismissed the play as just pure luck.
"It was a crazy play," Westerkamp said. "I ran a corner route and I saw the ball get tipped, so I put my hands back and the ball just landed perfectly."
Of course, that play wasn't the only unforgettable catch Westerkamp has made in his career. After the game he was asked where Saturday's grab ranked compared to his tipped Hail Mary touchdown catch to beat Northwestern last season.
"I try to not look too much into that stuff," Westerkamp said. "It was a great team win today. We came out and played well. I just want to contribute as much as possible to the team for our success."
- Robin Washut
NU still working out kinks in two-minute drill
Nebraska didn't have many struggles offensively, but its execution in the two-minute drill at the end of the first half left something to be desired.
The Huskers went three-and-out on three passes after receiving the ball with 1:59 left. After the defense held, Nebraska got the ball back. This time they had limited success, but the half ended with ball on FAU's 27-yard line without a score.
"I wanted to really work our two minutes," offensive coordinator
Tim Beck
said. "Again, Tommy is young and our o-line is young. We've got some young receivers even. You don't always get those opportunities, so early in the season, you have to use them. You have to take advantage of them. That's something we can get better at."
- Dan Hoppen
[rl]