Post-game notebook: A familiar story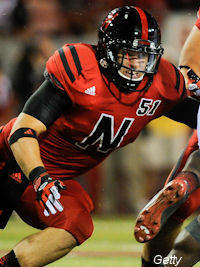 If you thought Saturday night's 17-point come-from-behind victory felt eerily like last season's school-record comeback over Ohio State, you certainly weren't the only one.
In fact, when Nebraska went into the locker room trailing by 10 and even on the sideline after Wisconsin made it 27-10 in the third quarter, the rallying cry for the Huskers' players and coaches was that the game was far from over.
Just like they proved against the Buckeyes a year earlier with their 21-point rally, the Huskers maintained full belief that anything could happen. Turns out they were right.
"Just that we've been in this situation before against Ohio State," quarterback
Taylor Martinez
said when asked what was discussed prior to the comeback. "Pretty much the same exact point. We knew that we had done it before and we could do it again."
The shift between the first and second halves actually started after Nebraska marched 93 yards for a touchdown to make it 20-10 with just over three minutes left in the second quarter.
It was at that point, the players said, they realized they were more than capable of turning the game around just as long as they stopped shooting themselves in the foot with turnovers and mental mistakes.
"The coaches kind of talked about that at half time and they said we've been here before, last year," running back
Rex Burkhead
said. "In the locker room at half time, the guys weren't down. They were upbeat. They were hooping and hollering. We were ready to go. We were confident. Our confidence wasn't down. We knew what we were capable of and we showed them in the second half."
In that win over Ohio State in 2011, the Huskers overcame a 27-6 deficit in the second half, with one of the biggest plays of the game coming on a strip and fumble recovery by linebacker Lavonte David.
On Saturday, the similarities were striking. It just so happened that senior linebacker
Alonzo Whaley
came up with the big defensive play on Wisconsin's final drive, jarring the ball loose from running back
Montee Ball
, which was recovered by safety
Harvey Jackson
to seal the deal.
Once again, the offense was also able to bounce back from costly early mistakes and play at its best when it had to.
"It kind of happens," Burkhead said. "Bad start, you never want it to start out that way, especially when you start out with an opponent like Wisconsin. It was a rough start, but it shows the character of this team. Bouncing back, not getting down but staying positive and upbeat on the sidelines and in the locker room."
- Robin Washut
Defense comes up big on game's deciding play
As the Huskers and Badgers lined up for what would end up being the game's deciding play on fourth and one from midfield, defensive coordinator
John Papuchis
had one thought running through his mind.
It had nothing to do with the scheme Nebraska was running or the individuals match-ups of the play. For one of the few times during a game in which his defense pulled a complete 180 in the second half, Papuchis' thoughts were uncomplicated.
"Oh, please stop them," he said with a smile. "It's that simple."
And stop them Nebraska did. The defensive line got a strong push and linebacker
Alonzo Whaley
shot through to meet
Montee Ball
in the backfield. The senior forced a fumble, which
Harvey Jackson
pounced on to put the game on ice.
That played followed a review of the third-down play, which the officials originally awarded the Badgers a first down for. But the review showed the ball carrier went down short of the first-down marker, setting the table for Whaley's play.
"It was such a swing of emotions," Papuchis said. "There was disappointment when we thought they converted the third-and-11 and then we were pretty fired up when they changed it to fourth-and-one. Our guys got off blocks and made a play. I can't say enough about the heart and determination that our defense played with. We were put in some bad situations today and they were resilient and kept fighting."
The defensive coordinator suspected that Wisconsin would run the ball, likely with Ball. But the Huskers had already been torched for a couple long passes on the outside, so he said he caught his call for the play very conservative.
"We were thinking they would run, but my concern is they would go play-action and throw it down the field," Papuchis said. "It's not always about the X's and O's. Sometimes it's just about a guy getting off a block and making a play."
Cornerback
Ciante Evans
had a different recollection of what was called. He said the players committed to stopping the run, leaving Evans one-on-one with the ever-dangerous
Jared Abbrederis
on the outside, a obligation he relished.
"We were going to load up the box and we were going to bring it," Evans said. "We knew they were going to run it. Our safeties loaded the box and it was me against him."
After the play, the sideline erupted as the offense took the field to kill the rest of the clock. At that moment, Papuchis didn't remember feeling pleasure. Just as they were before the play, his thoughts were quite simple.
"Total and utter relief," Papuchis said. "It's not joy until later, but then it's just relief that we survived."
- Dan Hoppen
Whaley makes the most of second chance
After the UCLA game, Whaley had to have a conversation with the coaching staff that no player desires to have, and quite frankly, most don't have the guts to.
But earlier this week, linebackers coach
Ross Els
said the senior approached him and told him that he thought there might be other players on the team that could do his job better, and they should get that opportunity.
The coaches took his suggestion to heart and Whaley watched mostly from the sidelines over the past two games as
Zaire Anderson
and
David Santos
manned his position. But Els said Whaley would be a factor again once Big Ten play started, and that prediction held true Saturday.
Whaley had nine tackles, two of which went for loss, and picked up a sack. But no play was bigger than his final one when he knifed into the backfield and stripped Ball on a fourth-and-one play that killed any chance Wisconsin had of coming back.
"I was really proud of Alonzo," Papuchis said. "I told him in the locker room, I know he took some heat over how he played against UCLA. He took it to heart and he played his tail off today. He made a lot of plays where he was in command and in control. He's a senior and he plays hard and today, he reaped some of the rewards of all of his hard work."
The Badgers' rushing attack, which gouged the Huskers in last year's blowout loss, was nullified by the Nebraska defense and Whaley played a big role in that. Papuchis said the senior's skill set is better suited for base defenses and Big Ten play and if he continues to play like this, his role will only increase.
"He's a true base defense linebacker," Papuchis said. "You want him on the field, but he didn't always fit. Maybe he'll be back out there in nickel situations later in year depending on what the offense is doing. The spread offense just wasn't his fit. We started to go a different direction, but he did a great job tonight."
- Dan Hoppen
Injury brought reinstated Rome back into the fold
Two weeks ago,
Chase Rome
was just another UNL student, gone from the football team after his playing time dwindled against UCLA.
Saturday night, he found himself playing nose tackle in the game's biggest moment. The Badgers faced a fourth-and-one situation near midfield. After NU came up with the crucial stop, Rome was reminded exactly why he couldn't go on without football.
"I was nervous. I'm can't sit here and say I wasn't," Rome said. "I think we all did a good job of doing our job and not trying to play outside of ourselves. Everybody hit who they were supposed to hit and it went in our favor."
Rome wanted to avoid talking about the events that led to his brief absence from the team. He was reinstated on the team before the Idaho State game but was only one of a handful of Huskers to not see the field against the Bengals.
But when
Thad Randle
went down with an injury in the first half, Rome knew he would get an opportunity to step up. He failed to record a tackle but was part of the effort that limited Wisconsin to just 56 rushing yards on 41 carries.
"There's nothing like Nebraska," Rome said. "I'm sure you guys have heard all kinds of stories about what went on. You know how that goes. That's all I'm going to say about that side of it."
It was the camaraderie that reminded Rome of what he was missing. He said the mood at halftime was similar to that of the Ohio State game last year and the oneness of the team fueled the comeback.
"I think everyone was lighthearted and ready to go and they knew if we turned it on, there wasn't much they could do to stop us," Rome said. "It was just us missing one thing here or one thing there. We were all excited and we believe in each other. I think this is the most team-oriented I've seen us and this game was very 'I'm playing for the guy on my left or the guy on my right.'"
- Dan Hoppen
'12th Man' comes up big for Huskers
Nebraska needed all the help it could get to pull off the second-biggest comeback in school history, and the atmosphere at Memorial Stadium played a big role in helping get it done.
Pelini and nearly all of the Husker players who spoke to reporters after the game credited the 85,962 fans in attendance - which marked the fifth-largest crowd in Memorial Stadium history - for providing an emotional lift all night.
"It's up there," senior linebacker
Will Compton
said when asked to rank Saturday night's crowd. "Me and a couple seniors were comparing it to the Oklahoma game when it was 10-7. That was a long time ago. It was hard to remember that. This is definitely the highlight for me. I didn't get to play much in the Oklahoma one. Doing it with these guys and the environment we were in and the fans and stuff, man it was awesome."
As much as the players fed off the electricity of the crowd, Compton admitted things almost got a little too loud on the field to where he had trouble calling out defensive adjustments over the noise.
That, however, was a problem he was more than happy to deal with.
"It was wild a couple of times," Compton said. "It was just kind of annoying. The guys would come out there and they'd just start doing this and I'd be like 'Oh my God'. But, yeah it's hard. I have to stand up by the linemen because they did a bunch of shifting, so we had to switch sides and get in the different checks. I had to let those guys know and tap 'em or whatever, but I had to yell a lot."
The game was Wisconsin quarterback
Joel Stave
's first experience playing in an atmosphere of that level in his young career, and the redshirt freshman and the Badgers' offense definitely had to adjust.
"Yes, that is the loudest crowd I have ever played in front of," Stave said.
- Robin Washut
Martinez gets last laugh over Gilbert
Wisconsin certainly added a little fuel to the fire earlier this week when defensive end
David Gilbert
called Martinez "soft" and described his passing abilities to if he were "out there skipping rocks."
While Gilbert came up with a huge strip of Martinez that led to a Badger touchdown, it was the Husker quarterback who walked away with the win and got the last laugh.
Martinez was relatively non-committal about Gilbert's comments after the game, but hinted that may have used them as motivation leading up to the game.
"That's football," Martinez said. "Anyone can talk smack. I'm glad he did."
Martinez said he didn't say anything to Gilbert on the field, though in retrospect he may have liked to share a word or two with him.
"I wish I did," Martinez said. "I should have."
- Robin Washut