Pierson-El ready to return with a bang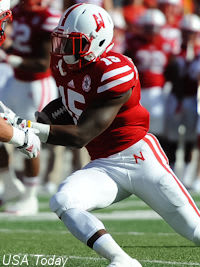 "It's like seeing your gifts at Christmas and not opening them yet," he said. "You know you have them but you can't get to them quite yet. I just had to wait my time."
Now Pierson-El doesn't have to imagine it. The sophomore receiver returned from a broken foot to play a very limited role against Illinois, but his workload increased this past weekend and Langsdorf has said his responsibilities will only continue to expand as he becomes more comfortable in the offense.
That's music to Nebraska fans' ears. Pierson-El was expected to be one of Nebraska's most dynamic weapons coming into the season. But a misstep during an August practice put those plans on hold.
Pierson-El was running a corner route and felt his foot give out when he pivoted. It was sore, but he could still run just fine in straight lines, so he didn't think much of it and continued practicing. He got an X-ray after practice and was told by the trainer that there was a problem, but he wasn't sure if surgery would be required.
"Well if it doesn't require surgery then we don't have a problem," Pierson-El told him.
Unfortunately, there was a problem. It was revealed that Pierson-El had broken the fifth metatarsal in his foot and would be out for six to eight weeks, cutting him out for at least the first month of the season.
"Of course I was pissed off and angry, but it happens," Pierson-El said. "It sucks, but I had to make a decision on how I was going to come back. Things happen for a reason. I can't control it. I can't dwell upon it. I've got to push to be better and come back stronger."
Pierson-El rehabbed like a mad man, but his first game action showed just how rust can affect even the most talented of players. After leading the nation in punt return yardage in 2014, Pierson-El muffed his first opportunity against Illinois and hasn't been back on returns since. He said he's hopeful to resume those duties this weekend, but that will ultimately be determined by the coaches.
"I just need more practice at it," Pierson-El said. "It's seeing things, catching the ball, getting a feel for how the ball drifts. There are certain things you can't simulate at practice - you can't simulate the wind, you can't simulate the rain. It's just getting back into it."
And now Pierson-El gets to finally see how he fits in Langsdorf's offense, and the early returns are encouraging. After catching just one pass against the Illini, Pierson-El saw five targets Saturday, the second-highest total on the team. That included a beautiful screen pass that Pierson-El caught with space and blockers in front of him, resulting in a 19-yard gain.
Christmas has arrived. Time to open the presents.