Notes: Final pass spoils Huskers record rally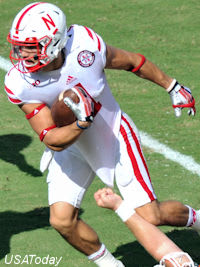 [rl]
MIAMI GARDENS, Fla.
-
Tommy Armstrong
saw receiver
Taariq Allen
running open across the back of the end zone, and the junior quarterback pulled the trigger and fired the ball off for what he thought would be the potential game-winning touchdown in overtime to beat Miami.
Instead, the ball fell short of Allen and into the arms of Hurricane defensive back
Corn Elder
, essentially sealing the Huskers' second gut-wrenching loss in the past three weeks.
Looking back on NU's final offensive play of the 36-33 overtime loss on Saturday, Armstrong didn't have any regrets about deciding to pass the ball to Allen instead of throwing it away or trying to scramble for yardage. He was more upset with himself for not hitting his mark like he knew he could.
"He was open," Armstrong said. "I should have got the ball to him. I under threw it, and it cost us the game. I've got to get the ball up and get the ball there. He's running free in the end zone, and I should have gotten the ball to him."
Head coach
Mike Riley
said the final call was a play-action "throwback" pass that had tight end
Cethan Carter
as the No. 1 option running a delayed route down the left sideline. But Miami's secondary immediately covered Carter and took him out of the equation, and the pass rush flushed Armstrong away from the play to his right. That left Allen as the only available receiver coming across the end zone.
After the interception, Miami was able to march the ball inside the Nebraska 5-yard line and kick a chip shot field goal to seal the win and spoil the Huskers' impressive 24-point comeback.
Despite starting the fourth quarter down 33-10, Armstrong helped rally the Huskers by completing 11-of-20 passes for 184 yards and gaining more than 200 total yards with four touchdown passes and two two-point conversions. But the lingering image of all that work will be Armstrong's one big mistake on his very last throw.
"I feel like we had all the momentum, we just had to make sure we made plays," Armstrong said. "Throwing a pick on the first play is a not a way to have it go."
- Robin Washut
Flat start puts defense in early hole
Defensive coordinator
Mark Banker
couldn't have drawn up a much worse start for his unit than the way Nebraska's defense kicked off Saturday's game.
Led by quarterback
Brad Kaaya
, who was 25-of-42 passing for 379 yards, two touchdowns and an interception on the day, Miami's offense jumped all over the Blackshirts from the opening drive and took a 17-0 lead in the first quarter before the Huskers could even catch their breath.
In all, the Hurricanes out-gained NU 179-49 in total offense in the opening quarter, including a 141-12 advantage in passing yardage.
"This was a big time opponent on a big time stage, and we came out flat - offensively, defensively, special teams," linebacker
Michael Rose-Ivey
said. "It hurt us in the end. We couldn't get out of our own way."
The lone saving grace for Nebraska was that after Miami's initial two quick touchdowns, the defense was able to keep the Hurricanes out of the end zone all but one more time - a 41-yard touchdown run by
Joseph Yearby
in the second quarter - for the rest of the game. By holding the Hurricanes to five field goals on the day, the Huskers were able to linger around long enough to make their impressive second-half rally.
"Those guys could have gone in the tank, but I'll tell you what, those guys stayed with it," Banker said. "They believed. They took it personal. Everybody wanted to do their job and do it well, and they fought to the end. It just didn't work out. But it's not acceptable, and we correct it."
Rose-Ivey said the poor start didn't have as much to do with the Hurricanes catching Nebraska off guard than it did the Huskers just not coming out ready to play.
"We just didn't execute," Rose-Ivey said. "No disrespect to what they did tonight, because they played a great ball game… but it was all on us tonight. We didn't execute, myself included. I'm disappointed in the way I played and the way I led the team today. I have to put a lot of that on me."
- Robin Washut
Davie 'fighting it' after another tough game
One of the obvious issues for Nebraska early on was its pass defense, particularly yet another rough outing by senior cornerback
Daniel Davie
.
On Miami's first three scoring drives of the game, the Hurricanes went after Davie early and often and picked up big chunks of yards as a result. In fact, Kaaya's first three passes of the day were to Davie's man, and two of those were caught for 44 yards.
It got to the point where NU's coaching staff had no choice but to bench Davie and put senior
Jonathan Rose
in his place in the base package and redshirt freshman
Chris Jones
as the other corner in the nickel for the rest of the game.
"He's fighting it," Banker said. "I don't know, he just came off after that first series and had a bad look on his face, and then he gave up another deep inside route. We just shut him down, let him gather himself together, because it doesn't make him a bad person, he's just struggling a little bit right now, and you hate to see that. We just need to go back to the drawing board and work on that in practice."
- Robin Washut
Foltz makes no excuses for off night
The Nebraska special teams figured to get a boost with the return of
Sam Foltz
, who missed all of the South Alabama game with an injury sustained during the season opener.
But Foltz was clearly rusty, and his left ankle seemed to affect his ability to plant and boot the ball. Foltz did have a 56- yard punt and placed one inside the 20-yard line, but his seven punts averaged just 39.7 yards.
The All-Big Ten candidate had several duds, including punts of 36, 10, 38 in the first half that allowed Miami to seize control of the field-position battle and establish a dominant lead.
"I was really relieved to be back out there, but I'm so frustrated," Foltz said. "That wasn't me out there tonight. I'm so embarrassed at my performance out there tonight. I feel terrible, but there are no excuses."
- Dan Hoppen
Quick hits
***Rose-Ivey and fellow linebacker
Josh Banderas
will undergo MRIs on Sunday for groin injuries they suffered during Saturday's loss. Banderas had been nursing a previous groin injury that occurred last week vs. South Alabama.
***Nebraska fell to 8-2 all-time in overtime games. The Huskers had won three straight overtime games dating back to a loss at Texas Tech on Oct. 11, 2008.
***Nebraska fell short of what would have been the largest comeback in school history. The Huskers trailed by 23 points (33-17) with less than nine minutes remaining in the fourth quarter before scoring three consecutive touchdowns and converting a pair of two-point conversions to tie the game at 33-33.
***The record for the largest comeback in school history is 21 points vs. Ohio State in 2011, and the Nebraska record for largest fourth-quarter comeback is 12 points, accomplished three times.
***Armstrong accounted for 358 yards of total offense in today's game. With the 358 yards, Armstrong moved past Jerry Tagge, Jammal Lord, Joe Ganz and Tommie Frazier to climb to fourth on the NU career total offense list. Armstrong now has 5,521 career total offense yards and six career games with 300 yards of total offense.
***Armstrong passed for 301 yards today, giving him six straight games with at least 200 yards passing. It was his third career 300-yard passing game - all in Nebraska' last four games, including twice in three games this season.
***Receiver
Jordan Westerkamp
finished with five receptions for 95 yards. With his 95 receiving yards, Westerkamp increased his career yardage total to 1,263 and moved up two spots to 11th on the Nebraska career receiving yardage list. He passed Irving Fryar (1,196) and Matt Herian (1,243) in today's game.
***Nebraska dropped to 1-2 for the first time since 1981. The Huskers won their final eight regular-season games that year to finish 9-2.