Notebook: Armstrong brushes off critics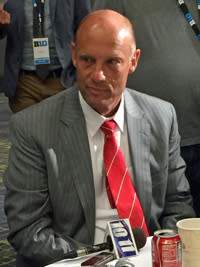 In Athlon's 2015 college football preview magazine, it had a feature where it ran a quote from an anonymous opposing coach within the conference discussing a certain player for each team. For Nebraska, the anonymous coach broke down Armstrong, and his comments weren't exactly complimentary.
"Tommy Armstrong is just a guy," the coach said. "He's probably better than Taylor Martinez, but I don't think he's great. His skill set doesn't really fit the system they want to run because he's so limited throwing the ball. They may have to get creative and mix in some zone-read stuff to keep him comfortable unless they want to start over at quarterback, but I don't see that happening to a guy who's started two years there.
"It's going to be a square peg in a round hole until they can bring in guys who fit their offense."
Until Friday, Armstrong said he hadn't heard about the remarks. When informed about them during his roundtable interview at Big Ten Media Days, the third-year starter responded the same way he's been doing since people were telling him he wasn't good enough at Steele (Texas) High School.
"They make those comments all the time," Armstrong said. "It motivates me a lot, just because in high school people told me I wasn't going to play quarterback. They told me I was going to be a safety or a linebacker. Right now, I'm still a quarterback, and I'm going on my third year of being a starting quarterback. Obviously I'm doing something right if I've got the trust of my teammates and I've got the trust of my coaches to believe in me to be out there leading those guys.
"I take that as motivation. There really isn't anything that I can say about that. I'm just putting it out there by doing it, by being that quarterback, by being the guy that's leading my team to win eight or nine games a season. We're going out there, we're doing everything that we can, and that's what we're gong to keep doing."
The former four-star prospect from St. Augustine (La.) who was ranked the No. 28 wide receiver in the 2015 class has already earned a reputation as one of the Huskers' best young playmakers, especially with his work in 7-on-7 drills this summer.
Westerkamp said he hasn't gotten to see Morgan in action all that much because the veteran receivers generally work separately from the underclassmen during 7-on-7's, but Armstrong has definitely watched the 6-foot, 185-pound New Orleans native make play after play against NU's talented secondary.
"He's been doing great," Armstrong said. "I'm looking forward to working with him. He's been doing great versus our corners and our first-team defense, and he's making huge steps… I like how he runs his routes. He gets off contact. He's that type of guy that likes to learn, and he learns fast. He listens to what you say and he fixes it right away. He's the type of person that talks to you about whether he did it the right way or how can he fix it.
"That's how you can tell a great player from the rest, is he wants to be better, even when he runs a route the right way. He's been doing great this summer working with all the receivers and quarterbacks, and he's been giving our DBs some trouble here and there. He's doing a great job."
"Trai has done a tremendous job," Gerry said. "He's a short guy, but he uses his skills to his advantage. He knows what he can and what he can't do, so he's not going to try and do anything he can't do. He's just going to perfect what he can do best.
"He's quick enough and he knows when he can take his shot with his hands and when he can't. He just uses what he has really well and he's perfected what he has."
Nebraska's great depth in secondary - Gerry said it's the best since he's been in Lincoln - is an absolute asset, but it also means the Husker coaches might have to get creative to get players like Mosley consistent playing time.
"Trai is on the rise to being a great cornerback. We're trying to figure out what we're going to do with him now and where we're going to put him, because he is short. But he can play football so you just have to find a spot for him."
After several seconds, Armstrong called an audible and compared Collins to another Nebraska great.
"Man… I call him Baby Suh," Armstrong said with a smile. "That man… I don't know how he does it, but he gets out there and works his tail off."
Collins has always been more of the quiet sort, but he's apparently working some trash talk into his game now. Armstrong said the tackle will commonly tap the center on the head before the play begins, taunting him with chants of, "I'm coming! I'm coming! Snap the ball!"
While illegal during game play, Armstrong believes this type of intimidation will serve the linemen well. And even if he'll have to tone it done during real contests, Collins' play does more than enough talking.
"We're just sitting there (in practice) like, 'Man, we're just going to have to run away from him for a while,'" Armstrong said. "And he gets upset."
***Gerry said new strength coach Mark Philipp is helping the team get more athletic with Olympic-style lifts, but his greatest impact might be how he interacts with the players.
"He sees himself as one of us, and I think he's done a big part in bringing this team together," Gerry said. "He's done more than show us how to move weights. He's brought the team together."
***Both Gerry and Westerkamp said they have yet to see Riley get angry and have no idea what that will look like when (or if) it happens.
[rl]