Newell makes it official for Nebraska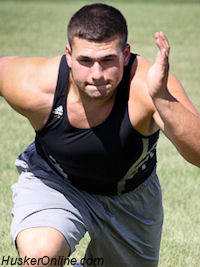 Click
Here
to view this video.
HIAWATHA, Kan. --
The recruiting process has been a long road for defensive lineman
Peyton Newell
.
The 6-foot-2, 280-pound athlete has been on the recruiting scene ever since making a name for himself as an eighth grader where he impressed during FBU camps. But in a matter of seconds, he put an end to his recruitment that had been years in the making.
"It's definitely been a fun process," Newell said. "It's a process that very few people get to go through. I'm very blessed and fortunate to be in the situation I was in. I think I'm most thankful for that I was able to have options as far as the schools.
"Nebraska was that one school that I've always kept in my mind. It's a good fit and I'm glad that I'm going to be a Husker."
While Newell had 34 offers from schools all over the country, he said it was a relatively easy process as Nebraska had been there with him since the beginning. He credited his relationship with the Husker coaching staff.
"Honestly, it was easy," Newell said about his decision. "It was one of those things from the very beginning a lot of people knew that I was going to be a Husker. They assumed that and they were right. Nebraska is in my heart and I'm glad to be a Husker.
"The biggest thing was the relationship with the coaches. A lot of schools, maybe one or two coaches reached out to me, but Nebraska had their entire offense and defense coaches reaching out to me and trying to convince me to be a Husker. That makes me feel special. It takes a lot for all of those coaches, especially as busy as they are, because they are taking time out of their day to reach out to me."
Newell also mentioned Nebraska's Big Red Weekend as factor in his decision. The annual recruiting event allowed him the opportunity to form some great relationships with other Husker commits.
"Big Red Weekend was a big week for me, for all of us," Newell said. "Meeting
Luke Gifford
,
D.J. Foster
, and
Mick Stoltenberg
. We were all playing X-Box throughout the day and we were just kind of sitting there and we formed a really quick bond."
Although Newell plays defensive end for his high school, Nebraska sees him fitting in perfectly for what they want out of a three-technique defensive tackle.
Now that the recruiting process is over, Newell plans to focus on his senior season and becoming a recruiter for the Huskers.
"I'm going to focus in on my (recruiting) class and my senior season at the same time," Newell said. "My class is the future of Nebraska so I'm going to do the best that I can to make sure that our class is legit.
"I have a few guys in mind. I've talked to the coaches and I have an idea of who they want so I'm going to do everything that I can to get them to be Huskers. Right now we're planning on going to all of the home games and to the bowl game at the end of the season as well."
Now that he's officially committed to Nebraska, Newell had a statement for all of Husker Nation.
"I'm excited and I'm going to work hard and be the best that I can be," Newell said. "I'm proud to be a Husker."

[rl]