New DBs coach Stewart making an early impact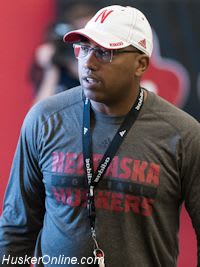 When
Brian Stewart
was a young defensive back at Northern Arizona in the mid-1980s, he idolized then-Chiefs cornerback Albert Lewis and tried to pattern his game after the two-time All-Pro.
But Lewis stood 6-foot-2, while Stewart is under 6-feet tall. This was bluntly pointed out to him by his position coach, who recommend checking out some tape of Frank Minnifield, who at 5-foot-9 and 180 pounds, had a body type similar to that of Stewart.
That tip helped Stewart and he's carried it with him throughout his 23-year coaching career. Cornerbacks come in a variety of shapes and sizes - lumping them into one group and teaching them all to play the same way makes little sense.
"If someone has the same body structure as one of my guys, I say, 'Hey, let's grab that tape and look at him and some of the techniques compared to what we do,'" Stewart said. "I've always felt that if you can look at somebody doing the best at what you want to do, you should look at the person.
"If a kid is looking at Deion Sanders and he's fast and he's quick, he's got a pretty good chance of being halfway decent, right?"
Each member of the secondary has been given an NFL player to watch tape of and study.
Daniel Davie
has been tasked with watching New York's Antonio Cromartie, while
Trai Mosley
takes in film of former NFL corner Aaron Glenn, whom Stewart coached during his time in Houston.
"He's kind of compared everybody to somebody, and that makes guys feel good and want to learn and want to be out here," Davie said. "Whether we truly compare to those guys or not we'll see, but it forces you to listen and want to be out here and do well for the team."
At 6-foot-1, Davie's frame is similar to that of the 6-foot-2 Cromartie, a four-time Pro Bowl cornerback. The Huskers could rely on Davie to lock down the opposition's top receiver, much as Cromartie has for the Cardinals in recent years, and Davie has taken his studies to heart.
"(I watch) just how physical he is in his press," Davie said. "They kind of put me out there on that island with the No. 1 guy, and that's what they ask out of me. I look at his footwork, his eyes. I think it's paying off because we've been practicing really well the last couple of days."
That tactic and others immediately earned Stewart the respect of his players, some of whom are working under their fourth secondary coach. Davie can't quite put his finger on why, but he says this secondary group is the tightest he's played with at Nebraska. He just knows it starts with Stewart.
"We love coach Stew," Davie said. "He's brought a lot of different things to the room, stuff to look at when we're studying offenses and things like that. It's kind of just trickled down to everybody. He doesn't treat anybody differently - he kind of groups us all together and we do everything together. Us being so tight as a unit has paid off on the field.
"(Stewart) has been around the game a long time. When you look at his resume it just forces you to listen to him and pick up all the information you can."