Nebraskas Mount Rushmore: Specialists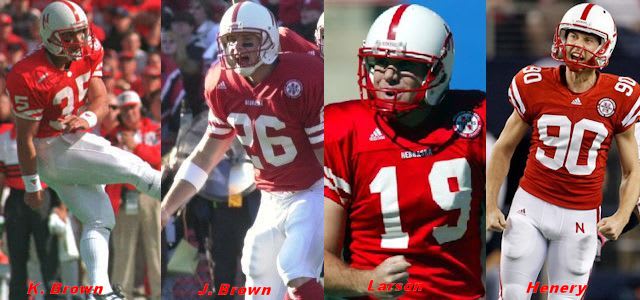 Over the past few weeks, HuskerOnline.com has introduced a new feature called "Mount Rushmore Nebraska."
Similar to the legendary Mount Rushmore monument in South Dakota, HOL will recognize the "four faces" for each position in Husker program history. These are the four players Nebraska would choose to put on a monument for each position.
As you can imagine, narrowing it down to four players at each position is not an easy task. We also wanted to make sure that all eras in the program's history were included in this, so you will see players from as early as the 1920's included in our Mount Rushmore lists.
We conclude the series with HOL's Mount Rushmore for the school's top specialists.
Kris Brown - 1995-1998
A two-time national champion and a semifinalist for the Lou Groza award in 1997, Brown kicked off Nebraska's recent run of success at the position. Brown scored 97 points in 1995, still a school record for freshmen, and left NU with 388 points, which was a program record until Alex Henery broke it in 2010. He made 57 of his 77 careers kicks.
Brown played 10 seasons in the NFL and made an All-Pro team in 2007. He made 252 of 326 career field goals in the pros, including a 57-yarder, before retiring in 2010.
Josh Brown - 1999-2002
Brown's career got off to a great start in 1999, when the freshman scored 88 points and missed just six total kicks all season long. He would make all 60 of his PAT attempts as a sophomore before earning first-team All Big 12 honors as a senior. Brown was best known for stepping up in big moments, as he was 16-for-22 on field goals against ranked teams.
Drafted by the Seattle Seahawks in 2003, Brown revived his seemingly-dying career with a great season on the Cincinnati Bengals in 2011 and is currently the kicker for the New York Giants. Brown has made 235 of his 290 career field goal attempts, and in 2008 received a five-year, $14.2 million dollar deal with the St. Louis Rams, at the time the largest contract ever for a kicker.
Kyle Larson - 2000-2003
Larson took home both first-team All-American and first-team All Big 12 honors with his dazzling senior season, setting the school record by averaging 45.12 yards per punt. That included an 80-yard bomb he had against Texas in 2003, the third-longest punt in NU history. Larson's 195 career punts are the most in program history, and he placed 66 of those boots inside the opposition's 20-yard line.
Larson signed with the Bengals as a free agent and played five seasons in Cincinnati, even scoring a touchdown on a fake field goal as a rookie. He averaged 42.0 yards on his 379 career punts.
Alex Henery - 2007-2010
The most prolific kicker in school history, Henery holds program marks for career scoring (397 points), field goals in a season (24, 2009), consecutive extra points made (116), overall field goals (66) and consecutive field goals made (18). Henery connected on an NCAA record 89.5 percent of his career kicks, and kicked arguably the most famous field goal in school history, a 57-yard moonshot against Colorado in 2008. A first-team All-American, Henery also served as Nebraska's punter, setting the school record for punts in a season (77 in 2009) and making first-team All-Big 12 at the position that season.
Henery was drafted in the fourth round of the 2011 draft by the Eagles and has spent all three of his pro seasons in Philadelphia. He set the NFL rookie record for accuracy in 2011 and set a franchise record by making 22 straight field goals in his sophomore campaign. Henery has missed just 10 of his 73 field goal attempts in his young career.

Just missed the cut
Darin Erstad - 1994: One of the best baseball players in school history, the No. 1 overall pick in the 1995 MLB draft and the current coach of the baseball team, Erstad is much better known for his exploits on the diamond. But he made his one year on the football squad count, serving as the team's kicker and punter to help Nebraska win the national title. Erstad averaged 42.6 yards per punt in 1994, the 14th-best mark in the nation that year, and made all 10 of his extra point tries.
Jesse Kosch - 1994-1997: The punter for two national champions, Kosch left NU as the school's leader by averaging 41.9 yards yards per kick and put the opposition inside their own 20-yard line 47 times. Kosch was named the punter on NU's All-Century team.
Bill Lafleur - 1995-1999: Lafleur backed up Kosch for three seasons, but finally got a chance to show what he could do in 1999. He averaged 44.9 yards per punt and pinned opponents inside the 20 -yard line 17 times. Lafleur played two seasons for an NFL Europe team then spent two years in the NFL before retiring in 2004.
Sam Koch - 2002-2005: Koch's average punt in 2005 traveled 46.51 yards, a school record and the second-best mark in the country that year, and his career average of 44.04 is second-best in school history. An All-American in his senior season, Koch has been the Baltimore Ravens' punter since 2006 and won a Super Bowl in 2012.
Brett Maher - 2009-2012: One of many walk-ons on this list, Maher followed in predecessor Henery's footsteps and served as NU's kicker and punter during his final two seasons. He scored 119 points in 2012, the most by a kicker in school history and the fifth-most in a single season overall.