Nebraska lands linebacker Dedrick Young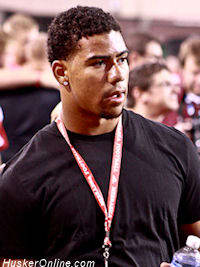 Nebraska could not have started the dead period off any better as Peoria (Ariz.) Centennial linebacker
Dedrick Young
announced his decision to play for the Huskers this morning at a press conference.
The 6-foot-1, 220-pound Young took two official visits during his recruitment with the last one being to Lincoln in late September and had narrowed his decision down to Arizona, Michigan State, and Nebraska before making his decision public at a press conference held at this school this morning.
"First off, I would like to thank God for giving the talent that he has given me," Young said. "I would like to thank the coaches, teachers, teammates, friends, and family that have gotten me this far in life. I would also like to thank all of the universities that have given me the opportunity to play for them.
"After a hard decision, I've decided that I'm going to go attend the University of Nebraska."
Prior to today's announcement, Centennial head coach Richard Taylor talked about what Young has meant to his football program.
"It would take the rest of the day to talk about Dedrick and everything that I would like to say about him so I'm just going to make this brief," Coach Taylor said. "Dedrick has been a really important part of our team the last three years. Offensively he's accounted for over 4,400 yards of offense and 55 touchdowns. Defensively he is the second leading tackler in the school's history.
"But those are just statistics, it doesn't begin to talk about the kind of player and person and student-athlete that he really is. He has one of the most rare qualities that I have ever been around in 44 years of coaching and that is he is humble, but confident at the same time. That is a rare breed right there."
Young becomes Nebraska's 15th commit in this year's class and is ranked as the No. 6 player in the state of Arizona for 2015.

Click
Here
to view this Link.