Monday notebook: Armstrong feeling good after injury
During an interview with a national sports talk radio show last week, Nebraska head coach Mike Riley said that if his team had to play a game this past Saturday, he wasn't sure if senior quarterback Tommy Armstrong would be healthy enough to suit up.
Armstrong suffered an ankle sprain when he was horse-collar tackled in NU's win over Illinois two weeks ago. He sat out of practice all last week and was seen wearing a protective walking boot on his left foot.
However, Riley had some good news on Monday as the Huskers get back to work for their trip to Indiana. Not only is Armstrong no longer wearing the protective boot, he was able to participate in the team's walk-through practice on Sunday without any setbacks.
Armstrong confirmed that his status would have been questionable at best had Nebraska played this past weekend, but said he's ready to return to action.
"I was kind of banged up a little bit, but I got a lot of treatment this week and had like three or four days off," Armstrong said. "Just making sure that I got better. I'm feeling good now and am ready to go."
While Armstrong is expected to play, Riley noted that the staff would have be very careful in how they use him against the Hoosiers in order to not re-aggravate the injury. In NU's win over Illinois, Armstrong only ran the ball eight times for 12 yards, both season lows.
"Simply, he is a big part in what we do overall, running and passing," Riley said. "I think that we have been very selective about what we do, but we've also been making good choices about how to use him where he can be most effective for our team.
"We will certainly keep all that in mind as we go forward, but so far that part of it for us has been what's best for the game plan, what do we need to do to beat this team, and we don't look too much past that."
Armstrong is definitely no stranger to playing through pain, and he said he planned to give everything he had to help Nebraska continue its undefeated start to the season.
"You're only as strong as your quarterback," Armstrong said. "A lot of people say if you have a tough quarterback, you have a tough team. So I just want to be a tough S.O.B. and have those guys follow me and get out there and no matter what let those guys know I'm going to work my tail off to win games for them."
- Robin Washut
Riley updates several other Husker injuries 
The timing of Nebraska's bye week couldn't have been much better, as the week off allowed a laundry list of injuries some extra days to heal up before the next game.
Along with Armstrong, Riley updated the statuses of several other key Huskers who were nursing injuries.
Only two look to be all but ruled out for Saturday's game at Indiana, as senior receiver Jordan Westerkamp (back) and tight end Cethan Carter (elbow) are both considered doubtful at best this week. Neither player was even listed on the team's depth chart this week.
The other big concern is sophomore running back Devine Ozigbo (ankle), who Riley said was still not ready to return to practice and was currently listed as doubtful.
Things are a bit more optimistic on the offensive line, as Riley said right tackle David Knevel (ankle) should be OK to play this week after being pulled in the first quarter against the Fighting Illini.
Right guard Tanner Farmer, who missed the Illinois game with a high ankle sprain, was able to get some work in last week and is questionable for Indiana.
"I think tomorrow (Tuesday) will tell a big tale about Tanner being ready or not," Riley said.
While NU will likely be without Westerkamp, they should get back senior wide receiver Alonzo Moore, who sat out against Illinois with a lingering shoulder injury. Moore practiced with the team on Sunday, but Riley said they would continue to limit his workload through the week.
"I'm still going to be careful because of his shoulder," Riley said. "I don't want setbacks there, but it was good to see him practicing."
While the injury situation still certainly isn't ideal, Riley said having the bye week to recharge was a huge boost as the Huskers get ready for a difficult second half of the schedule.
"I think we for sure got some guys healthier," Riley said. "I don't know if that means the guys that were hurt in the last game are going to play yet, but they certainly got closer, and they didn't miss a game yet, so that's a good thing. We'll see as we go."
- Robin Washut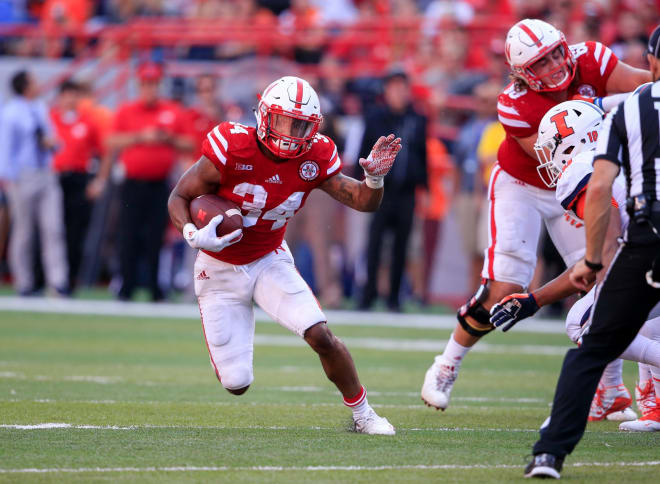 NU must figure out running back rotation this week
With Ozigbo listed as doubtful by Riley on Monday, it means Nebraska will have to lean heavily again on senior Terrell Newby, along with sophomore Mikale Wilbon and freshman Tre Bryant at Indiana.
However, Ozigbo told HuskerOnline.com on Monday in passing that he is hopeful he can go this week in Bloomington.
"If Devine is not yet ready, then we feel good about our depth," Riley said. "I think that Mikale has shown some good stuff and improvement all the time, and I think Tre Bryant is a good player.
"I even made note of the fact not knowing about Devine, that we probably needed to get Tre back more involved. It's hard to play four running backs. We've played three sometimes pretty effectively, so if that's the case I still think we have three guys that can go in the game and play."
The other area of emphasis for the backs this week will be ball security. The Husker backs have three lost fumbles the last two games - all inside the red zone - where the previous 16 games under Riley they lost just one.
"We talk about it a lot," Riley said of ball security. "We try to pay attention to it and focus on it. It has really hurt us. I think in the last two ball games we've had three red zone fumbles that just absolutely takes pretty sure points off the board.
"That is definitely a reason that we've put ourselves into tighter games longer than we've had to be. We've been our own worst enemy because of that. That part of it, we've got remedy. We've got to take better care of the football with our runners."
-Sean Callahan
Improved tackling an emphasis over bye week
Over the last three games Nebraska has allowed opponents to rush for nearly 6.0 yards per carry on the ground against Oregon, Northwestern and Indiana.
It's been an issue and something that has gotten the attention of the staff.
Riley said the Huskers spent a lot of time over the bye week addressing the open field tackling problems, which have led to some of the bigger runs the last few weeks.
"That is a little bit unusual for us," Riley said. "We started out in the Illinois game not tackling well. We spent more time in individual periods than we would during a game week.
"We just about tripled the time in induvial work. A good part of that time was spent on tackling and tackling drills and open field drills and all those parts that go into it."
Riley added it's even been something they've worked on with their special teams units.
"A lot of it has been missed tackles," Riley said. "That was a big emphasis. We even spent some time with our offensive players that play on special teams on tackling drills last week."
-Sean Callahan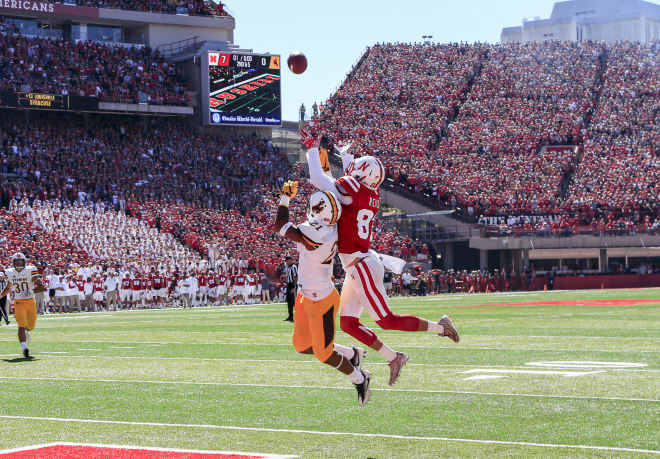 Quick hits
***Nebraska came in at No. 9 in the USA Today Coaches Poll and No. 10 in the Associated Press Poll on Monday. Riley said the rankings were obviously good things for the Huskers were not things they were going to pretend to ignore. He said NU's goal was to be high in the rankings, so it was something they needed to embrace.
***Riley said Knevel will return to his staring right tackle spot if healthy, but Cole Conrad did a very good job against Illinois and will continue to be a factor in the rotation.
***Riley said with Westerkamp likely out, senior Brandon Reilly will be a factor inside at the slot receiver slot. Stanley Morgan and Gabe Rahn are others who can play there, Riley said.
***In recruiting, Riley said "everyone that we are involved with is excited" about Nebraska's 5-0 start. The staff definitely felt that excitement when they went on the road recruiting this weekend.
***Armstrong said Westerkamp was just resting and recovering this past week. He said Westerkamp is taking the right steps to get back out there, even if he doesn't like having to miss practices or especially games.
***Armstrong said Indiana's ability to force turnovers (they have 9 on the season) was something that stood out right away while watching film. He said protecting the ball would be key this week.