Mizzou looking foward to prime time match-up with NU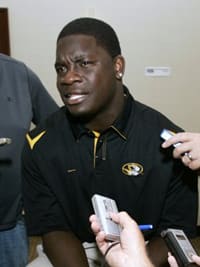 Nebraska hasn't played a Thursday night conference game since 1995, when they beat Oklahoma State 64-21 in Stillwater.
This year, the Huskers will travel to Missouri for a Thursday night showdown on ESPN, and Mizzou's players said you can bet the place will be rocking.
"I think the place will be even crazier if there's one of those big orange harvest moons," Gregory said. "It's going to be unreal. I don't even know how to talk about in words other than that. I know all the hotels are booked solid. I'm just trying to figure out what it's going to be like on campus. Kids are going to skip class on Wednesday, Thursday and Friday."
Weatherspoon said when the Huskers come to town, it's always a big deal to Missouri fans and a night game setting makes the atmosphere even crazier.
"In pregame you couldn't even hear your coach in position drills," Weatherspoon said of the 2007 game with Nebraska. "It was just a gold rush and everybody was already at the game two hours before the game started. That obviously tells you how big that game is. If you go around town, a lot people will tell you right now we can't wait until that Thursday night game when you guys play Nebraska."
Another thing that has Missouri motivated for their match-up with NU is the fact the Huskers were picked to win the Big 12 North, despite the fact the Tigers have beat NU three out of the last four years and won the north both in 2007 and 2008.
"I didn't know some people had us picked fifth or sixth in the North and I didn't know Nebraska was picked to be No. 1. I think we beat KU two years in a row before last year and we beat Nebraska two years in a row and then we get thrown in the back of the pile while they still move forward."
Baston said this year's game against Nebraska will mean as much or even more to Tiger fans, mainly because they feel like they still don't get the respect they deserve for what they've accomplished the last two seasons.
"Nebraska, for years and years and years beat Mizzou down," Baston said. "I think these last couple of years we got a little bit of respect back, but we still haven't gotten that respect back. Nobody really ever says Mizzou is better than Nebraska. Nobody is really going to say that.
"History proves that at times Nebraska was better than Missouri, but this is a new day in age and we all have talent and we all want to win. You just got to wait until Thursday night to see who the best is."