Many questions still remain for Northwestern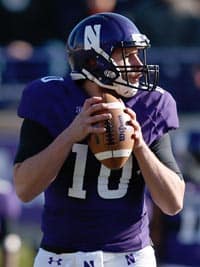 With spring practices finally all wrapping up around the country, HuskerOnline.com continues our look at where each of Nebraska's 12 opponents in 2015 currently stand coming out of spring ball and heading into the summer. Today, we check in on the Northwestern Wildcats, who come to Lincoln on Oct. 24.
To get a feel for where the Wildcats stand heading into their 10th season under head coach
Pat Fitzgerald
, we spoke with
Louie Vaccher
of WildcatReport.com to get his thoughts and perspective on the team and what to expect once the season gets underway in a few months.
Spring overview
For the first time in Fitzgerald's decade-long tenure in Evanston, Northwestern decided to close spring practices to the media this year. But Vaccher said they were still able to get a good sense of what they could expect from the Wildcats heading into 2015. First and foremost, the competition to replace Trevor Siemian at quarterback was the primary focus over the course of spring ball, and the starting job remains unsettled going into fall camp.
Along with Siemian, who was selected in the seventh round of the 2015 NFL Draft, the Wildcats must also replace standout safety and fourth-round pick Ibraheim Campbell in the secondary as well as two starting linebackers - Chi Chi Ariguzo and Jimmy Hall - who both signed on as undrafted NFL free agents.
Sophomore
Justin Jackson
returns after an impressive freshman campaign to lead a strong running back group, and Northwestern's secondary should be pretty good despite losing Campbell. Maybe the biggest concern facing Fitzgerald's squad is in the trenches on the offensive and defensive lines, and both groups are filled with inexperience.
Returning starters
Along with Jackson, Northwestern features a fairly deep running back room with sophomores
Solomon Vault
and
Auston Anderson
both returning to give the Wildcats an explosive and speedy trio in the backfield. Wide receiver is a different story, though, as it hasn't shown much progress after severely underachieving last season. The offensive line returns three starters, but loses a four-year starter at center in Brandon Vitabile.
On defense, the secondary is without question the overall strength. Senior
Nick VanHoose
and junior
Matthew Harris
give the Wildcats two of the best cover cornerbacks the team has had since the mid-1990s, and sophomore
Godwin Igwebuike
will replace Campbell at safety along with senior
Traveon Henry
. Defensive tackle is a question mark, as two of the top returners are coming off of injury.
Offensive star: RB Justin Jackson
Had it not been for the fact that the Big Ten featured some of the best running backs in all of college football last year, Jackson might have earned a few more postseason accolades after what was very productive freshman season in 2014. He ended up rushing for 1,187 yards and 10 touchdowns on the year, making him just the second freshman in program history to eclipse the 1,000-yard mark.
Jackson underwent a minor knee surgery after the season and sat out of spring practice, but he's expected to pick up right where he left off a year ago and be the face of the Wildcats' offense in 2015. Given how unsettled the rest of the offense is around him, Northwestern will likely rely on Jackson early and often.
Defensive star: CB Nick VanHoose
Entering his fifth season at Northwestern, VanHoose gives the Wildcats a veteran cornerback who has seen it all over the course of his career. Though he missed the final two games of last season with an ankle injury, VanHoose played well enough over his 10 starts to earn second-team All-Big Ten honors by the league's media.
He ranked second in the conference and 26th nationally with 1.20 passes defended per game, and he also was just one of six FBS players to block three kicks last year (one field goal and two PATs).
Spring surprise: RB Auston Anderson
While the running back job is clearly Jackson's, Anderson played well enough this spring to emerge as the likely No. 2 this season. After redshirting last year, Anderson showed the type of speed and explosiveness with the ball that Northwestern backs have become known for in recent years.
A native of Plano, Texas, Anderson turned down a slew of other Power Five offers - including one from his home state Texas - and chose the Wildcats. With Jackson sitting out, the former three-star prospect took full advantage of his increased reps in practice, and his college career looks to be getting off to a very nice start.
Best spring position battle: Quarterback
The competition to fill Siemian's shoes remains a three-man race coming out of spring practice between senior
Zack Oliver
, redshirt freshman
Clayton Thorson
and sophomore
Matt Alviti
. The trio split reps with the first-team offense three ways all spring, but no one was able to emerge as the clearcut No. 1.
Maybe the player who came the closest to taking the lead coming out of spring ball was Thorson. A former four-star prospect at Wheaton (Ill.) North High School, Thorson may have the most complete quarterback skill set of the group and has a good mix of size (6-4, 210) and speed. Vaccher said many around the program are hoping Thorson takes the reigns at QB and gives the Wildcats a potential four-year starter under center.
Biggest question: Will the offense take shape?
Given that Northwestern still has so many glaring questions remaining at quarterback, receiver and on the offensive line, it's hard to know what to expect from the unit at this point. Whichever quarterback ends up winning the starting job, the bigger issue might be how the players around him - outside of running back, of course - develop over the course of the rest of the offseason.
The worst part for the Wildcats' receiving corps is that senior
Christian Jones
could be the impact player they're looking for, but after missing all of last season with a torn ACL, Jones tore more cartilage in the same knee this spring and isn't expected to even start running again until July. That leaves guys like seniors
Miles Shuler
,
Cameron Dickerson
and
Pierre Youngblood-Ary
, junior
Mike McHugh
, and sophomore
Macan Wilson
to pick up the slack.
Early outlook on Northwestern vs. Nebraska
Vaccher: "I'll tell you what, that's been such a great game over the last four years now. They've had three barnburners and three great games, and last year was close at half until the Huskers kind of turned it around in the second half and pulled away. So I think they're two teams that match up pretty well. I think Northwestern matches up pretty well with Nebraska, and I expect it to be another entertaining game. I'm sure Nebraska will be favored, but I think it'll be kind of a similar game. Looking at it from the Northwestern perspective, Northwestern looks at those four games (against Nebraska) and thinks it should probably be 3-1. Last year was the first time Nebraska really beat them flat-out. They had the Hail Mary the year before and then they beat (Northwestern) by one point in Evanston the year before that. I think Northwestern fans think they should have at least one more win, and maybe two in the series. I think it'll be another tight game again."
Overall 2015 win-loss expectations
Vaccher: "You know, last year was such a funny year. They went 5-7, yet they beat Wisconsin and they beat Notre Dame, and they had some pretty good wins in there. It was a bizarre kind of season. I think with the question marks on offense, it's going to be a 5-7 to 7-5 kind of year. I think if things go well for them and the offensive line comes together and the quarterback back comes in and looks pretty solid, I think they could get to a bowl game. But I don't see them doing much more than that, honestly."
Click
Here
to view this Link.
[rl]