Lindsey's potential continues to shine in fall camp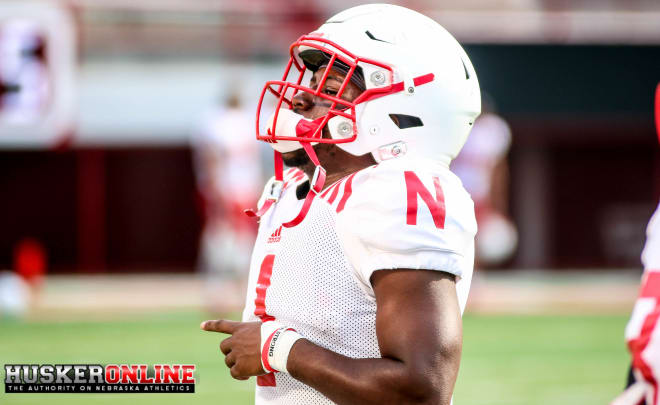 If there was a Most Valuable Player award given out at the end of Thursday's practice, true freshman wide receiver Tyjon Lindsey may have been the unanimous recipient.
Whether he was burning a starting cornerback on a deep route for a touchdown, leaping over two other first-string defensive backs for a long reception, or lining up as Nebraska's No. 1 punt returner, Lindsey was making plays all over the field during the Huskers' latest round of situational scrimmages.
It was that type of performance that offensive coordinator Danny Langsdorf and the rest of NU's coaching staff hope become the norm from the heralded former four-star recruit out of Corona, Calif.
"Better today," Langsdorf said of Lindsey's Thursday practice. "Like most true freshmen, it's trying to get up to speed, and I think probably thinking too much, trying to maybe overthink stuff rather than just play.
"I think today was a little bit better example of what he can do and what he can show. There's been some days where he's maybe not played as fast because he's probably thinking, but I liked what I saw today. He had a better day."
Langsdorf's comments marked the latest hints of the staff's optimism that the 5-foot-9 Lindsey could be an immediate factor for the Huskers this season.
The biggest hurdle standing in his way at this point is how quickly he can grasp Nebraska's offense and execute his responsibilities at the Power Five level.
"Tyjon just can't get hampered by not knowing the assignments," head coach Mike Riley said. "When he knows what to do and can play fast, he's exciting. But when you play tentative because you're not sure, then that takes away all that ability that you have to be good."
Wide receivers coach Keith Williams knows as well as anyone what Lindsey is capable of when he's at his best, which he put on display during Thursday's impressive practice.
Williams said getting the talented yet inexperienced Lindsey up to speed to let his confidence match his ability will be an ongoing process, but the good news is Lindsey has been more than willing to put in the work to get there.
"It's hard," Williams said. "You can't make a guy learn faster than he can or make a guy feel more comfortable than he physically or mentally can, but you just keep pushing the envelope.
"You make him know how important it is to learn it and be comfortable as fast as he can, and he understands that. He tries hard, he takes notes in the meetings. He's focused, he doesn't goof around, he's engaged. So he's pushing himself."
Based on what he's seen thus far, junior quarterback Tanner Lee is already looking forward to having a player like Lindsey at his disposal.
"I think you can tell right away he's a natural football player," Lee said. "Just kind of gets it. He has soft hands. He's anxious to learn… He doesn't want to be behind because he doesn't know something. I think he wants to be able to impress the coaches and go full speed and get on the field."