LB Barry makes the call for Nebraska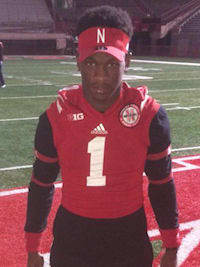 Nebraska landed a key 2015 target tonight as Loganville (Ga.) Grayson linebacker
Mohamed Barry
flipped his commitment from Kansas State to the Huskers.
The 6-foot-1, 210-pound linebacker's recruitment has been a wild one as he originally committed to Wisconsin in June then switched to Kansas State in early November. Barry recently took official visits to Miami and Nebraska this month before ultimately announcing his commitment to NU tonight via Twitter.
Barry said it wasn't an easy decision but there were certain factors that put Nebraska over the top.
"First relationship with the coaches," Barry said. "I had a great relationship with all of the recruiting coaches, but my relationship was Coach Bray was great. I really respected what he did and his methods. He sat me down when I went up there and went over tape on how he is going to use me. You could see how much he really loves the game.
"Second, just the college town vibe. I feel like I was born to play in a college town. To be that guy that everyone looks up to and to play in an environment with great fans and a great atmosphere. Then the other stuff like academics. You know about the countless Academic All-Americans they have, team GPA and things like that.
"All-in-all I really just liked Nebraska because I go there and be focused. It just fit. It fit my dream school."
Barry had a message for Husker fans and what they can expect out of him in the coming years.
"They can look forward to exciting football from me," Barry said. "They look forward to hard-hitting play from me and to someone who is going to give them what they want. Most importantly they can look forward to me giving them what the team wants and to championships."
Barry capped off his career at Grayson High School by being named "Linebacker of the Year" by the Gwinnett County Touchdown Club. The addition of Barry now gives the Huskers 16 commits for 2015 and he becomes the second prospect from the Atlanta, Georgia area in NU's class.

Click
Here
to view this Link.