Kondolo gives Nebraska commit No. 24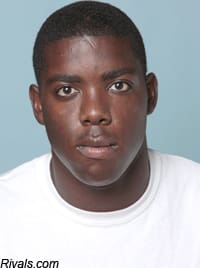 Fresno (Calif.) City C.C. offensive lineman
Chongo Kondolo
played his cards pretty close to the vest the entire recruiting process.
However, after a strong in-home visit from four Nebraska coaches this week the Dallas native officially gave head coach
Bo Pelini
his commitment on late Thursday evening and made the news public on Friday. Kondolo is the 24th known commitment in NU's 2013 signing class and the junior college lineman will have three years to play two.
"It was very hard, because I had a good relationship with each coaching staff," Kondolo said of his decision to pick NU over Tennessee and Utah State. "They were all good people and that's an important part of the decision. That made it hard. I just really look at the pros and cons and it just came out - Nebraska was the best place for me."
Kondolo said during the in-home visit this week he was able to really bond with the NU coaching staff.
"All four of the offensive coaches came out this week," Kondolo said. "They were all cool, laid back coaches. They are good people and care about their players. That left a big impression on me. Talking to my mom and just what's best for me and what would help me out the most."
The Huskers are recruiting Kondolo as a guard/center. NU graduated both their starting center and one of their two starting guards this past season.
Kondolo feels like there's a "real good opportunity" for him to make an impact this fall.
"Just my effort and finish are my biggest strengths," Kondolo said. "I play with effort and I go to the whistle."
As for Pelini, Kondolo said he was impressed with the direction he had the program heading and excited about the 2013 season.
"He's a good guy, a laid back coach that cares about his players and doing things the right way," Kondolo said.
"I knew about Nebraska from growing up in Texas. I knew that Coach Pelini recruited JC players and they are trying to get to a national championship and they have a realistic chance."
Earlier in the week there was talk Kondolo committed to Tennessee after one recruiting service reported it without quotes or attribution.
Kondolo said he didn't even acknowledge calls or texts about it, because there was no truth to the report.
"I just ignored it," Kondolo said when asked about a report he committed to Tennessee earlier this week. "I never committed to Tennessee, so I just ignored all the interviews and phone calls this week until I knew where I was going.
"Everybody was calling and asking questions - the same questions. It got real stressful. It's very relieving to have it done. I just kind of handled it by only talking to coaches. I didn't do interviews. The only interviews I did were in person."
Kondolo is now the second junior college offensive line commit in the Huskers 2013 recruiting class and the fourth overall.
Kondolo graduates in May and plans to be in Lincoln for summer workouts this June.
[rl]