Jones chooses Huskers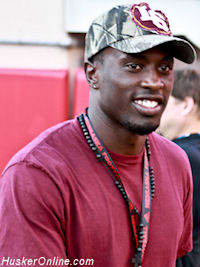 Nebraska has needed to add another defensive end to their 2015 class and they had narrowed their focus down to just a couple of players. Today they landed the guy they wanted most as Lakeland (Fla.) Lake Gibson's
Reuben Jones
officially became a Husker.
The 6-foot-4, 225-pound defensive end had visited Nebraska back in September and had also taken official visits to UCF and most recently to Michigan State. In the end though he said he knew Nebraska was the best place for him.
"Yes sir, I've committed to Nebraksa," Jones said. "I called Coach Kaz (
Rick Kaczenski
) up and I said, 'I'm ready to be a Cornhusker.' It was almost like he didn't know what to say. He said, 'Are you serious? Man, that's awesome. That's awesome. Man, that's awesome.' He was just all stuttering and stuff. He was so excited I was like, 'dang!' He was really, really excited. He was he was going to take care of me and he was ready for me to be a Blackshirt."
Jones had well over 20 offers to his name and had narrowed things down to Nebraska, Michigan State, and UCF taking official visits to all three schools. His first visit was to Lincoln and he said the other trips he took just reaffirmed to him that he needed to become a Husker.
"As far as Nebraska goes, I love how they are going to be using me," Jones said. "I love the atmosphere, I love the school, I love the coaches, the players, just everything is just perfect. I had to go to other places to realize what I had going on with Nebraska you know?
"After all of that I just realized that Nebraska was my home. I realized that's just where I needed to be at. Plus, my mom loved it too."
The Huskers currently have an extremely talented and athletically gifted defensive end in
Randy Gregory
and the coaching staff thinks that Jones has the ability to come in and be used in a similar fashion as Gregory.
"They're talking about using me as a rush end," Jones said. "I'll be a rush end that could drop back into coverage sometimes. They want me to get after the quarterback you know. I could get down in a three-point and get after the quarterback or be in a two-point. Basically, a lot of how they use Randy Gregory right now. Basically a hybrid linebacker and defensive end that can rush the passer."
Now that Jones has officially committed to Nebraska he says that he is shutting his entire recruitment down.
"Yeah I'm done," Jones said about the recruiting process. "I'm done with the visits, I'm done with the visits. I'm committed to Nebraska. They're committed to me so I'm going to be committed to them, you know what I'm saying?"
Jones wanted to pass along a message to all of the Nebraska fans now that he's committed to NU.
"I'm glad to be a Blackshirt and y'all have found yourselves a new great pass rushing defensive end," Jones said.
Jones gives Nebraska 14 commits in their 2015 class and he was ranked as the No. 27 overall defensive end in the nation.