Impact on Huskers OL as Nouredin Nouili ruled ineligible for 2022 season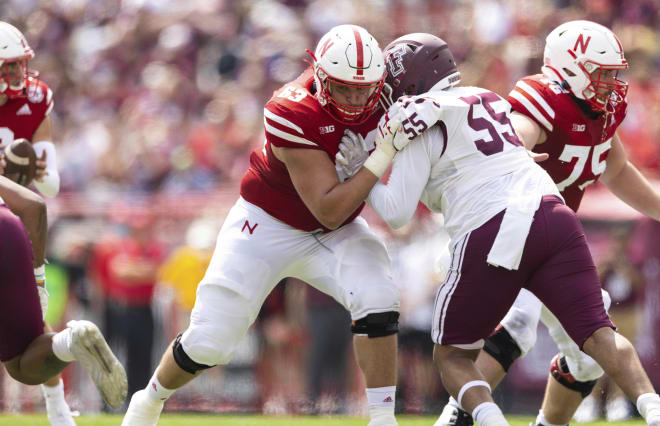 Nouredin Nouili will not be suiting up for the Huskers this season.
The junior offensive lineman played in all 12 games for Nebraska last year and started the final seven games at left guard. But the Huskers will be without his services after he was ruled ineligible by the NCAA for the 2022 season following a failed drug test.
Nouili announced the news himself via Twitter on Saturday afternoon, and he says that he does not have plans to leave the Nebraska football program.
"This spring I was informed by the NCAA that due to a failed drug test I am ineligible for the 2022 season," Nouili wrote on Twitter. "I would like to apologize to my family, teammates, coaches and Husker fans for my error in judgement. It is an honor to be a part of this football program and represent this University, and I do not take that responsibility lightly.
"Thanks to Coach [Scott] Frost, our athletic and university administration for allowing me to continue to be a part of this program in 2022. I look forward to returning to the field to represent Nebraska in 2023. Go Big Red!"
Nouili entered the Huskers' program as a walk-on but earned a scholarship last season. He will be a fifth-year senior in 2023.
Frost statement
In addition to Nouili's public announcement on Saturday, Frost followed up by releasing a statement of his own on the offensive guard's situation.
"We will fully support Nouredin Nouili as continues his academic and athletic career at the University of Nebraska," Frost said. "He is an outstanding young man who made a mistake that will force him to miss the 2022 season and forfeit a year of eligibility. Noure will be a full participant in practice this fall, and we look forward to him resuming his playing career in 2023."
Impact on Huskers OL rotation
Losing Nouili is a pretty big setback for the Huskers' goal of a turnaround season.
Offensive line was arguably the biggest question mark for the Huskers prior to Nouili's suspension. Now those question marks grow stronger as they lose a core part of the unit who provided sustainability and a flare to the offensive line when he was inserted into the rotation as a starter in 2021.
Nouili's first start at left guard last season came in Week 6 against Northwestern. He was an integral part of the Huskers' 56-7 win as he helped pave the way for season-highs in rushing yards (427), total yards (657) and points, which was their highest point total in a Big Ten game.
Nouili provided a spark to the Huskers' offense, though their run game and passing game production, numbers-wise, was fairly similar during Big Ten play compared to the non-conference slate when he was not starting.
Here are the averages in the Huskers' rushing and passing game, plus their total yards, in the four games Nouili did not start, which excludes the matchup against FCS opponent Fordham:
Rushing: 167.3 yards/game and 1.75 touchdowns/game
Passing: 266.3 yards/game and 1.0 touchdowns/game
Total: 433.5 yards/game and 2.8 touchdowns/game
Here are the averages in those three categories in the seven Big Ten games he started:
Rushing: 168 yards/game and 2.6 touchdowns/game
Passing: 261.1/game and 1.3 touchdowns/game
Total: 429.1/game and 3.9 touchdowns/game
Nouili, however, was the No. 189-ranked offensive guard in college football for the 2021 season with a 66.8 offensive grade, according to Pro Football Focus, out of 617 offensive guards who qualified for those ratings among 130 FBS teams. Nouili's 67.1 run block grade ranked No. 135, and his 63.5 pass block grade ranked No. 187 in the country.
That 66.8 offensive grade had Nouili rated No. 16 among offensive guards in the Big Ten (out of 33 qualified players), and that mark had him rated as the Huskers' second-best offensive lineman behind third-team All-Big Ten center Cam Jurgens (71.4 offensive grade).
So that's the spark the Huskers will need to replace. The Huskers' starting lineup could be a contingent of left tackle Teddy Prochazka, left guard Turner Corcoran, center Trent Hixson, right guard Broc Bando and right tackle Bryce Benhart.
Much of Nebraska's offensive line success, especially with Nouili now out for the season, may hinge on the health of Prochazka and Corcoran as each works his way back from injury.
Sophomore Ethan Piper appears to be the top candidate to replace Nouili none of the five mentioned above take his place. Piper has played in 13 games, including 10 starts, in his two seasons in Lincoln. He started the final seven games of the 2021 season and started the first three games in 2022.
The other seven scholarship players on Nebraska's offensive line:
– Junior Hunter Anthony: 23 total games, five starts in three seasons, excluding his redshirt freshman year at Oklahoma State. He started at right tackle for the Cowboys as a sophomore in 2020 before missing the next eight games due to injury.
– Junior Kevin Williams Jr.: 19 starts in three seasons at Northern Colorado, excluding his redshirt freshman year and the 2020 season in which Northern Colorado did not play due to the COVID-19 pandemic.
– Sophomore Brant Banks: Nine games played, one start in 2021 (against Illinois last season).
– Sophomore Michael Lynn: Two games played in 2021.
– Redshirt freshman Henry Lutovsky: Two games played as a true freshman in 2021 before redshirting
– Redshirt freshman Alex Conn: Did not play in a game in 2021.
– True freshman Justin Evan-Jenkins: Three-star signee in the Huskers' 2022 class, ranked as the state's No. 18 overall recruit out of Irvington High School in New Jersey.
First-year offensive line coach Donovan Raiola will now be faced with one of his toughest tasks in finding a replacement for Nouili's production. Raiola's philosophy is to find the "best five" to start on the offensive line. So he is open to shuffling the line and moving tackles to the interior. It's certainly possible we could be looking at those types of moves as the Huskers begin fall camp.