Huskers will add former Auburn DB Rose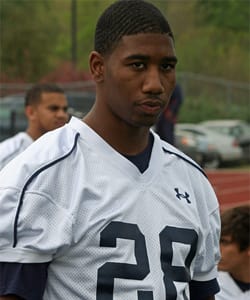 Nebraska landed their second Alabama defensive back prospect in the last 24 hours.
Head coach
Bo Pelini
and his staff will accept the transfer of former Auburn and U.S. Army All-American defensive back
Jonathan Rose
. On Thursday night they also received a verbal commitment from Spanish Fort (Ala.) defensive back
Jonathan Cook
in their class of 2013.
Charles Rose, the father of Jonathan confirmed to HuskerOnline.com that his son officially plans to be a Cornhusker and they signed the paperwork this morning. Nebraska has yet to officially announce the news, but Pelini is scheduled to meet with the media following Saturday's practice.
"It's going to end up being a good fit for him," Charles Rose said. "We had to make up our mind early on whether he was going to go D-I or if he was going to go small school and play right now. We talked for a couple of days and he decided that he wanted to stay D-I, so we started focusing in more on Division I schools. He thought sitting out a year would be good for him, because he can redshirt and still have three years left. It will give him time to learn the system, get in the weight room and focus on his studies.
"Nebraska expressed interest in him. We didn't have a chance to see campuses first hand on site, because of time restraints, but we talked to a lot of coaches on the phone and Nebraska just seemed like a good place for him."
Charles said his son will probably play cornerback at Nebraska. While at Auburn the 6-foot-2, 185 pound defensive back played in nine games as a true freshman.
The plan right now is to get up to Lincoln sometime in the next few days before fall classes officially begin on Aug. 20.
"Nebraska said they like him because he's a power cover corner," Charles said. "I know a lot of people have said something about safety, but at Auburn he never played safety. He was strictly a corner. You guys have some tall corners there right now, but it's still kind of rare to find guys like that who can keep their speed and center of gravity. Most guys like that move to safety, but I'm think Nebraska was looking for a 6-2 corner with speed that can cover."
Charles added the fact that Jonathan will have to sit out this season and redshirt shouldn't be a problem. If anything it will help him get used to his new surroundings.
"I think sitting out a year will end up being good for him because it will give him time to get used to school and the way they do things up there," Charles said. "It shouldn't be a hard transition from the football side of it because college football is college football. Sitting out though will help him get used to everything with his academics."
With the addition of Jonathan Rose, the Huskers currently sit at 81 scholarships, but still have not received official word on linebacker
Jared Afalava
's status.