Huskers run through South Dakota State 59-20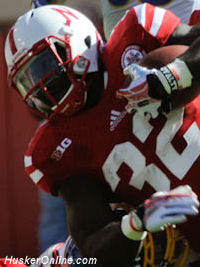 In a game which no one had any idea what to expect from a Nebraska team that had gone through an emotional grinder the past week, the Huskers desperately needed to come out and play well against a scrappy but under-matched South Dakota State squad on Saturday.
In fact, Nebraska (3-1) ended up with its best overall offensive performance of the season, racking up 645 yards of total offense, including 335 on the ground, along with a staggering 34 first downs, both of which marking the most ever under Pelini. Despite a rough start for the defense, the Huskers eventually buckled down and held SDSU (3-1) to just three points in the final three quarters.
The day marked the first time in school history the Huskers have eclipsed 300 yards in both rushing and passing.
"I'm obviously glad for the win," Pelini said. "I'm really happy for those two quarterbacks. I thought they did really well. That was our best rhythm, offensively. I thought we came out and got done what we needed to get done."
It was only fitting that the wild week for the Huskers continued right on through the opening kickoff, as they got a mix of both highs and lows through the first two quarters.
By the time the opening quarter finally came to a close, the Jackrabbits had put up 186 total yards with nine first downs, including 123 yards on 10 carries by Zenner. Zenner finished the day with 21 carries for 202 yards and two touchdowns.
"We've seen what they did," Pelini said. "They didn't do anything fancy. They didn't have to. When you don't line up right, they didn't need to do anything fancy. It wasn't anything magical that they did."
"It all goes back to this summer when coaches were saying we have to capitalize," Armstrong said. "When our number is called, we always have to set the tone. That's the one thing we did. We set the tone for the defense. We went out there and capitalized on whatever we could do."
"I thought they played fast and aggressive," Pelini said of his offense. "On the offensive side of the ball, we had an attack mentality, which is kind of the opposite as what we played defensively. We played on our heels and indecisive deffensively, where as offensively we had an attack mentality. A big part of this game is your mental approach. It's a huge part of this game. I think that our offensive coaches did a lot better job. I think that we condensed what we were doing. I thought it helped us. I thought we played fast offensively."
With the win, the Huskers will have some good vibes going into the bye week next week before kicking off their Big Ten Conference schedule at home against Illinois on Oct. 5.
"We have to work on consistency," Pelini said. "It's an interesting mix of youth and experience on this team. The potential's there. As I say and will continue to say, every day we walk out onto the practice field for this team, it is important. We've got to continue to grow and we've got to continue to work better. That's all we can do. It's not about where you are, it's about where you're gonna be two weeks from now and then the next week after that.
"We keep progressing each week, we'll be fine. There can never be a sense of complacency with this team in any regards. That's not how we're going to reach the goals that we want to reach. We're nowhere near where we want to be. I bet you coaches across the country are saying the same thing I am. I don't know if they say it in public the way I do. At the end of the day, we've got a lot of work to do. All you can do is roll up your sleeves, go to work and try to make each day better."

[rl]