Huskers eagerly awaiting freshman Roby's debut
Senior guard Tai Webster has never actually seen Isaiah Roby play a full game of basketball.
Because Webster was off competing with the New Zealand national team earlier this summer, he wasn't around Lincoln when Nebraska's freshman wing first arrived on campus.
Shortly after Webster returned, Roby would end up being sidelined for nearly three months while recovering from a stress reaction in his pelvis.
Despite having yet to be able to watch the former four-star Rivals150 standout from Dixon, Ill., in person, though, Webster already has lofty expectations for when Roby finally does make it back onto the court.
"I've yet to see Roby, but I'm really excited about him," Webster said. "I've heard nothing but good things about Roby."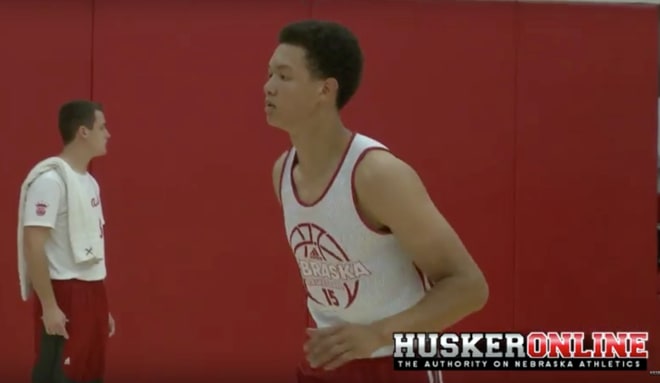 Webster isn't the only one around Nebraska's program eagerly awaiting Roby's official debut.
The 6-foot-8, 214-pounder was the most decorated member of NU's 2016 recruiting class in terms of star rankings. That group included a major addition at center in Jordy Tshimanga as well as fellow Rivals150 prospect Jeriah Horne.
After committing to Nebraska just before the start of his sophomore season back in 2014, Roby emerged as one of the top players in the loaded state of Illinois by his senior year. Last season he averaged 19.7 points, 10.5 rebounds, 5.5 assists and 3.9 blocks per game to lead Dixon to a 25-4 record.
Roby was named 2015-16 second-team all-state by the Chicago Sun-Times and a first-team Class 3A all-state by the Chicago Tribune, and he finished eighth for the Illinois Mr. Basketball award this past season.
"He's got versatility, he's got great length, one of the best passers that I've probably seen in a long time, and just a tremendous kid with high character," head coach Tim Miles said. "He can shoot it, he can rebound, he do a little bit of everything."
When Webster looks at Roby's long list of accolades, he can't help but remember when he was an incoming freshman surrounded by plenty of hype in his own right.
Webster admittedly struggled to try and live up to those outside expectations, and when he looks at NU's latest batch of highly-touted freshmen - with Roby in particular - he knows part of his role as the team's lone senior will be to help guide them through their transition to Big Ten basketball.
"I've had words with a couple of guys, especially Roby," Webster said. "He came in here with the same kind of hype I came in with. I see a lot of him in myself when I was younger. I probably haven't talked to him as much as I should have with all the stuff that I went through."
What will be Webster's top piece of advice?
"Just don't have any expectations at this level," Webster said. "Coming in as a freshman, all you can expect is to give everything you've got every day. That's it."
As far as the timetable for Roby's recovery, the good news is he's been able to shoot, lift weights with his upper body, and recently started running on Nebraska's anti-gravity treadmill.
He's expected to be cleared for full basketball activity within the next few weeks, ideally in time for NU's "secret scrimmage" with Iowa State on Oct. 29.