Huskers continue dominance in series finales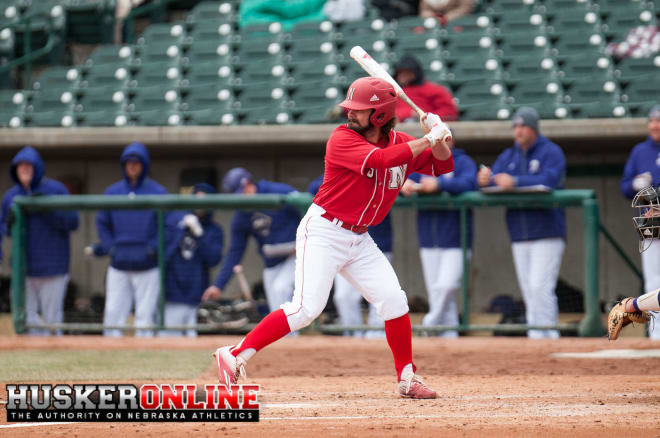 True freshman Connor Curry threw 3 2/3 innings of no-hit ball, Husker hitters pounded out six extra-base hits for the second straight game, and Nebraska (12-10) held off another rally to take game two of Saturday's doubleheader 6-4 over Cal Poly (8-15).
The win secured a victory in the Huskers' first road series of the season and improved their record in series finales to 7-0 on the year with Sunday wins over Utah, Arizona, Western Carolina, and Charleston, a Friday win over UC-Riverside, a Wednesday win over Northern Colorado, and Saturday's win over Cal Poly.
In those wins, starting pitching has been the x-factor. No starter has allowed more than two earned runs in a series finale, and the latest display of dominance was shown by Curry, who struck out four and allowed just three baserunners in a flawless performance in his first career start.
"What a great job by a young man," Erstad said of Curry's performance in his postgame radio show on the Husker Sports Network. "In a tough place to play where fans are ragging you, to be able to stay in there … what a huge boost for us to get those zeroes on the board."
Curry played with a lead for his entire start after Mojo Hagge hit a leadoff triple in the first inning and was brought home on an Angelo Altavilla sacrifice fly. The Huskers added a second-inning run in similar fashion when Luis Alvarado hit a leadoff triple and came in on an RBI groundout by Jesse Wilkening. Nebraska's two triples in the game were the most this season after having one coming into the game.
The Huskers' approach was methodical until the fifth inning, when three straight RBI doubles by sophomore Mike Waldron, freshman Joe Acker - in his first career hit - and Hagge extended the lead to 5-0. Kyle Marinconz got the first hit of the game for the Mustangs in the bottom of the fifth inning, blasting a home run down the right field line.
Nebraska added an insurance run in the top of the ninth when Scott Schreiber extended his 13-game hitting streak with an RBI single to bring in Waldron. That made it a 6-1 game, and the Huskers would once again need every bit of insurance they had.
For the third straight game, Cal Poly rallied furiously in the bottom of the ninth inning. A Scott Ogrin home run took Nebraska reliever Nate Fisher out of the game and an RBI single by pinch hitter Kevin Morgan forced Erstad to pull Jake McSteen before he could record an out. With the score at 6-4 and runners at the corners, Robbie Palkert took the mound and forced a game-ending 6-4-3 double play.
"Dealing with some of the elements here, you're not going to get a lot of things to go your way when you're playing true road games," Erstad said. "Not to mention, a team that's coming at you tooth and nail all the way to the end, we found a way to not let it snowball and get the job done. Taking a series here, I'm very pleased with our effort to come out and get two in a doubleheader."
With the win, Nebraska secured a winning California road trip and a winning record in the month of March. Heading into Friday's loss, the Huskers sat at 88 in the RPI rankings, but will likely make up some ground following Saturday's wins and could climb even higher with a home win over Kansas State Tuesday. The Huskers open Big Ten play at Indiana next weekend.