Huskers add former Rivals100 WR Stringfellow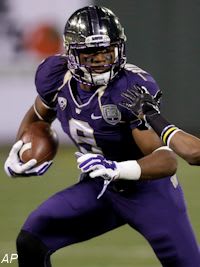 The Nebraska football team added perhaps their most high profile transfer player in recent history on Friday.
HuskerOnline.com has confirmed with former Rivals100 and Under Armour All-American wide receiver
Damore'ea Stringfellow
that he signed transfer papers Saturday evening to NU after being released from his scholarship at Washington earlier this month.
"The process was pretty simple," Stringfellow said. "When I got my release to talk to schools my first school that I called was Nebraska to talk to Coach (Rich) Fisher. The decision was pretty easy for me, because it was my second choice out of high school other than Washington.
"Nebraska is a great place to go to fulfill your dream to focus on football and school. It's a great environment with Coach Bo Pelini and Coach Fisher. They create a great environment there for athletes to succeed and it's a great place to be, along with all the fans out there. That's the type of support any student athlete would like from not only family, but outsiders, which is really good."
The 6-foot-3, 225 pound Stringfellow was the No. 6 rated player in California back in 2013, and the No. 85 ranked players in the overall Rivals100. As a true freshman at Washington he caught 20 passes for 259 yards and one touchdown.
Stringfellow chose to transfer to Nebraska, over Alabama and Ole Miss. He expects to officially arrive in Lincoln for the second summer school session that begins in mid-July.
"I kind of knew from the jump I was going to Nebraska," Stringfellow said.
However, before Stringfellow could officially sign his letter to Nebraska, he had a series of meetings with NU officials to answer questions about his situation at Washington and a recent off-field issue he dealt with in February. It was a situation he was completely prepared for.
"The process was I wouldn't say was difficult, but I did have to talk to a couple people, which was completely fine," Stringfellow said. "I could see what their concerns may be. It's been good to hear from higher ups than just football coaches like the Dean and hearing their input on how I should come in and how my focus should be. That's really good to hear that from not only the coaches, but the academic people and all those guys."
Stringfellow resides from Moreno Valley (Calif.) Rancho Verde - the same high school as former Husker wide receiver
Quincy Enunwa
and defensive end
Eric Martin
.
Enunwa was just drafted this past month by the New York Jets in the sixth round, while Martin was with the New Orleans Saints and the Cleveland Browns in 2013 as a rookie.
In a previous interview, Rancho Verde head coach Pete Duffy had high words of praise about his two former players' time in Lincoln. Coming out of high school Stringfellow nearly committed to Nebraska, but chose the Huskies instead.
"(Martin and Enunwa) loved their time at Nebraska and speak very highly of it," Duffy said in a previous interview. "I think it's a great program. I really like the coaches - Coach Bo (Pelini) and Coach (Rich) Fisher and the other coaches l know like Coach (Ron) Brown. It certainly would be a great fit for (Stringfellow) and any of our guys always recommend them and have Nebraska up in the mix."
The addition of Stringfellow could serve as a possible replacement as well for 2014 wide receiver recruit
Monte Harrison
, who's been invited to attend the Major League Baseball First-Year Player Draft in New York on June 5. Harrison is projected as a first round pick by most baseball experts at this point.
As of right now Stringfellow would have to sit out the 2014 season, but would still have three years of eligibility remaining starting in 2015. NU loses veteran wide receivers
Kenny Bell
and
Jamal Turner
following the 2014 season.
"It's a great opportunity as you can see Nebraska produces good receivers like Quincy Enunwa, who actually went to my school and Kenny Bell, who's one of the best receivers in the Big Ten," Stringfellow said. "It's just up to me now to go there and take full advantage of the opportunity."