Husker Buzz: Owning the 500-mile radius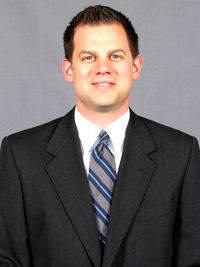 At a Big Red Breakfast a couple of years ago former offensive line coach
John Garrison
delved off to a side story about recruiting.
He told a story about being in Florida driving down Gator Alley asking himself the question why Nebraska is going all the way down here to recruit an offensive lineman when there are plenty of talented linemen in the Midwest.
As a group of eight reporters sat and listened to Director of Player Personnel
Ryan Gunderson
and Director of Recruiting Operations
Andy Vaughn
speak on Wednesday morning, it was pretty clear you won't see
Mike Riley
's staff chasing recruits in far corners of the country unless it's absolutely necessary.
Their recruiting game plan going forward is pretty simple - own the 500-mile radius. Address your needs by recruiting Nebraska, Kansas City, St. Louis, Minneapolis, Colorado, Oklahoma, Chicago and Indianapolis.
"Our goal is going to be to get the top players in the 500 mile radius," Gunderson said. "We need to do a very, very good job in that area. We have to get the guys that we want in that area, but we aren't going to get them all. We need to go outside of that area and find the guys that will fit here at Nebraska and have an understanding of what this place is about. They're committing to Nebraska, not just the name."
Location is ultimately the No. 1 factor for most recruits. When you look at the history of Nebraska most of their winning has come by recruiting the 500-mile radius and then supplementing the rest of your class with players from the power states.
"I think the biggest thing is if we can't find it inside that first area, then we'll go look for it," Vaughn said. "There's no reason to go across the country to find a position or a talent that we have close by."
As I heard that, players like Iowa starting defensive end
Drew Ott
or Stanford defensive end
Harrison Phillips
immediately come to mind. I'll even throw Ohio State quarterback commit
Joe Burrow
in that mix because of his strong Husker connections. Or what about four-star Ohio State offensive line commit
Grant Schmidt
from Sioux Falls, who also wanted to be a Husker at one time.
When you have location advantages or former player ties, you have to use that to your advantage. It doesn't make sense to spend a lot of time and resources to essentially go after a similar player that has to buy an airline ticket to get here.
"Plus those kids that are in your area know more about you," Vaughn said. "They are more of a fit and you've got less risk involved. They aren't going to get homesick. Looking back at the past track record of success when this place was rocking and rolling they've gotten the gems out of this place and the (500 mile radius) - the close to home guys. We have to be in on the fight with those guys. We can't get them all, but if we want them we have to be in there fighting for them."
I can understand bringing players on the defensive line from the power states if they were making an impact, but they were not the last few years. Both of Nebraska's current starting defensive tackles came from St. Louis and Kansas City. Randy Gregory was from the Indianapolis area. Meanwhile all those last ditch efforts to find late commits in states like California or the south rarely work out because you don't know the players that well or have a relationship with them. There's usually a reason why they are still available.
It would be like meeting a girl in Las Vegas and getting married in one week. After that one week you find out a lot more about that person you didn't know before. Recruiting is the same thing. You have to target and recruit players you are familiar with that can make it to your campus for routine visits so you can build a relationship.
"You look stupid when you are playing against kids you could've gotten," Gunderson said. "So we need to do our homework and at least recruit them and give them a shot. See them, have them to camp and have them to games, because I don't want to play against good players that we could've got.
"We laugh at a lot of schools that came on the West Coast to recruit. We'd say 'what are they doing out here?' They just flew over a ton of talent to get here. You don't want to look stupid looking at kids when you are passing up a kid in your backyard that's the same player."
Going forward Gunderson said they will divide the 500-mile radius into eight areas. Each coach will man one area, along with manning one outside area. If you do this properly, you are going to be able to uncover a lot of prospects that might get overlooked early. This is a very lightly recruited part of the country, but history shows there are players here, especially if you develop them into the right system.
"Every coach on our staff will have an area within the 500-mile radius," Gunderson said. "That's our primary area. Every coach on our staff will have an area outside of the 500-mile radius, which is our secondary areas.
"It's primary for a reason because that's where we need to know every single player and every single BCS level talent and go to every top level school in that area."
Click
Here
to view this Link.
This and that
***This staff has clearly bought into the notion of feeding the Husker monster vs. fighting it.
"We want to share what we are doing and I think you see that on social media a little bit," Gunderson said. "We are not just trying to lock the door and close the blinds. We know that what we are doing people are interested in and its fun and it's exciting and for six or seven months of the year this is what people are interested in - the recruiting portion of it."
You also get the sense they really appreciate the passion of Husker fans.
"It's really, really kind people here that just want to feel a part of it and want to feel a part of the family," Gunderson said. "They are fanatic about football and love football - that's awesome. I'd much rather have it that way then people that just come to the game and sit there and watch."
***At first Gunderson said he thought they would be able to recruit by position here, but he soon realized they need a different strategy.
"Initially when I got here I said 'we are going to be doing position recruiting, that's all we are going to do,'" Gunderson said. "Coaches are going to be flying around the country just recruiting their position. The big thing is I want guys to coach players that they want to coach at their position.
"You are too far away from major talent pools to just be position. You have to have an influence and a presence in (the 500-mile radius)."
***Look for Nebraska to sign a class of 19. Big Ten rules only allow NU to have a total of 88 players listed on scholarship by signing day, which allows you to over sign by three.
Sean Callahan can be reached at sean@huskeronline.com and he can be heard each day at 6:50 am and 5:05 pm on Big Red Radio 1110 KFAB in Omaha during the football season. He can also be seen on KETV Channel 7 TV in Omaha during the fall and each week he appears on NET's Big Red Wrap Tuesday's at 7 pm.