How will NU approach two-quarterback class
"One is the loneliest number that you'll ever know."
Those lyrics helped create a hit for recording artist Three Dog Night back in the 1968, but they hold true today. In almost every part of life, it's better to have someone by your side to help share the load.
One area where it might fall flat is with quarterbacks.
There are very few positions in sports where just one player takes the overwhelming majority, if not all of, the playing time. Basketball has essentially become position-less. Baseball players rotate, catchers get days off and pitchers take the bump just once or twice a week. Backups see playing time at nearly every position in football. Other than a soccer or hockey goalie, there is truly no job like a quarterback's in all of sport.
The good ones only come out of the game when the defense is on the field, and even then they are expected to be a leader on the sidelines. Teams that use two signal callers interchangeably are seldom successful, spawning the adage, "If you have two quarterbacks, you really have none."
Nebraska has two quarterbacks in its 2016 class, and they both look like keepers.
Terry Wilson
is a rising star who will soon visit Oregon, though
he says he "bleeds red"
. And
Patrick O'Brien
is now an elite 11 finalist. Both are currently three-star prospects, but it would surprise no one if one or both got a bump in the next update.
Nebraska's "problem" (and it feels odd to call depth a problem) is that only one can play at at a time, provided they are able to come in and beat out NU's current quarterbacks. Eventually one may win the starting job, but they cannot share the field.
The Huskers' first dance with this issue in the modern recruiting era came in 1997, when it inked a pair of highly decorated quarterbacks in Millard North star Eric Crouch and Bobby Newcombe of Highland HS in Albuquerque, N.M. Both were standout high school performers, but only one could thrive at football's most important position. We all remember how this battle played out (and if you don't, hang on for a few paragraphs).
Eight of Nebraska's last 18 recruiting classes have included at least two quarterbacks. Here's a case-by-case examination of how the situation played out.
1997
The quarterbacks: Eric Crouch, Bobby Newcombe
http-equiv="content-type">
How it played out: Crouch redshirted in 1997, while Newcombe was deemed too athletic to keep off the field. The latter was used as a wingback and punt returner in Scott Frost's senior year, but moved back under center once Frost graduated. Newcombe started the first six games of 1998 before suffering a knee injury that forced him to split time with Crouch. Newcombe won the job out of fall camp in 1999, but he turned the ball over three times against Iowa in the season opener while Crouch rushed for 92 yards and a trio of touchdowns. Crouch was essentially the main signal caller from that point on, setting a litany of records and winning the Heisman Trophy in 2001. Newcombe still carved out an impactful career as a receiver and a returner, but he was never again a threat to Crouch for the starting gig.
1999
The quarterbacks: Carl Crawford, Jammal Lord
http-equiv="content-type">
How it played out: Lord was a prep All-America quarterback at Bayonne High in New Jersey, while Crawford was one of the top option quarterbacks in the country and chose Nebraska over USC, Oklahoma, Florida and others. But the Tampa Bay Rays picked Crawford in the second round of the 1999 MLB Draft (No. 52 overall) and Crawford chose baseball. That decision made the NU coaches' jobs easy - once 2002 rolled around, Lord was the team's full-time starter and put together two solid seasons at the offense's helm. Crawford became a four-time All-Star and currently plays for the Dodgers.
2001
The quarterbacks: Mike McLaughlin, Mike Stuntz
http-equiv="content-type">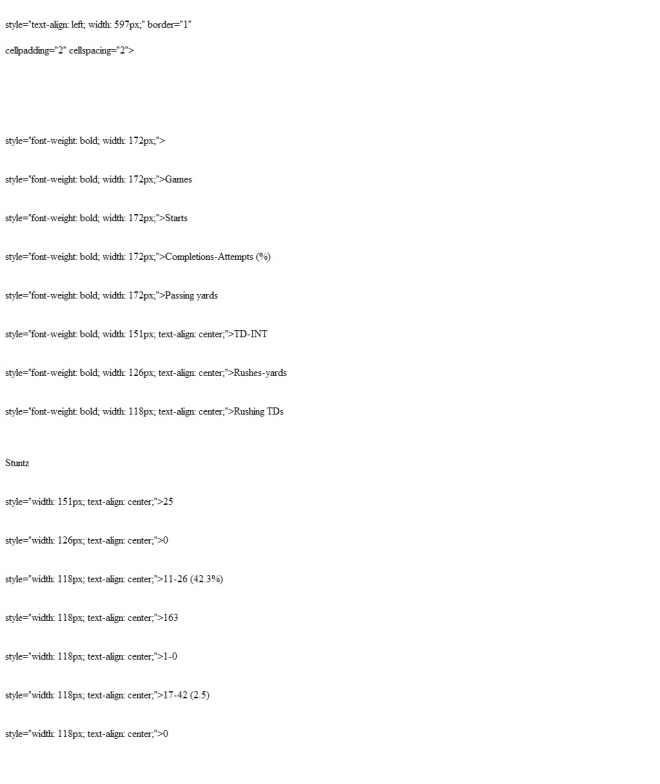 How it played out
: Neither of these two ended up sticking under center. Rivals ranked McLaughlin (Millard North) as the nation's No. 20 quarterback, but he moved to wingback/receiver after redshirting and never recorded a statistic. Stuntz (St. Alberts HS, Council Bluffs, Iowa) was Rivals' No. 32 quarterback, but he too switched positions, moving to receiver. He did get to throw
one of the most famous passes in school history
on a trick play that helped the Huskers beat Oklahoma in 2001. He switched back to quarterback after that season but never saw more than mop-up duty.
2004
http-equiv="content-type">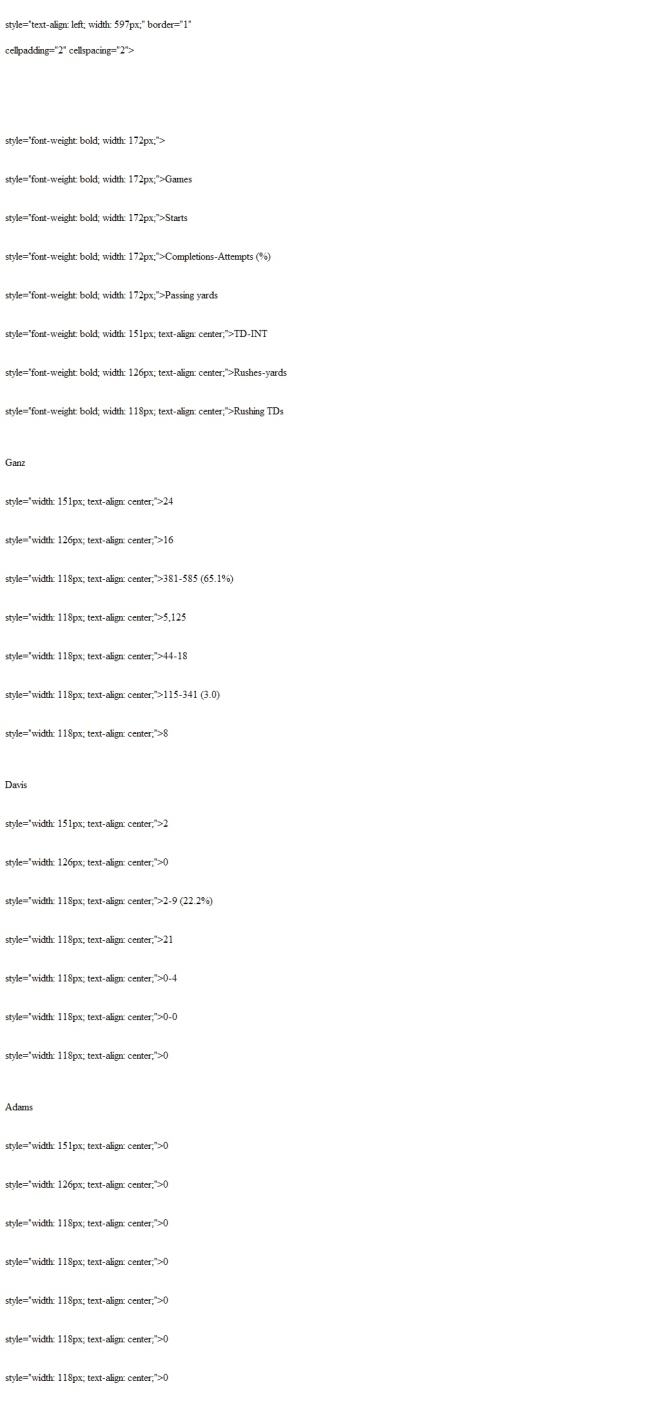 How it played out: Rivals wasn't overly impressed with any of this trio, rating them all as two-star prospects. A junior college transfer, Adams redshirted in 2004, was a backup in 2005 and moved to defensive back as a senior. Davis played in just two games, including a four-interception performance in relief of NU's 70-10 loss to Texas Tech. Ganz proved to be a late bloomer - after Sam Keller was injured near the end of 2007, Ganz stepped in and played brilliantly. He was the starter for all of 2008 and set several Nebraska records.
2005
http-equiv="content-type">
How it played out: A four-star recruit, Beck was the more adored catch of the 2005 class. But it was Taylor, a junior college transfer, who started every game the next two years, set several Nebraska passing records and won the Big 12 Player of the Year award in 2006. Taylor's toughness and leadership defined the program for his two seasons under center. Beck completed a 21-yard pass to Nate Swift to help Nebraska come back and beat Kansas State in 2005 after Taylor was knocked from the game, but it would prove to be his only completion. Beck transferred before the beginning of fall camp the following year and played at both North Carolina State and Northern Alabama.
2007
http-equiv="content-type">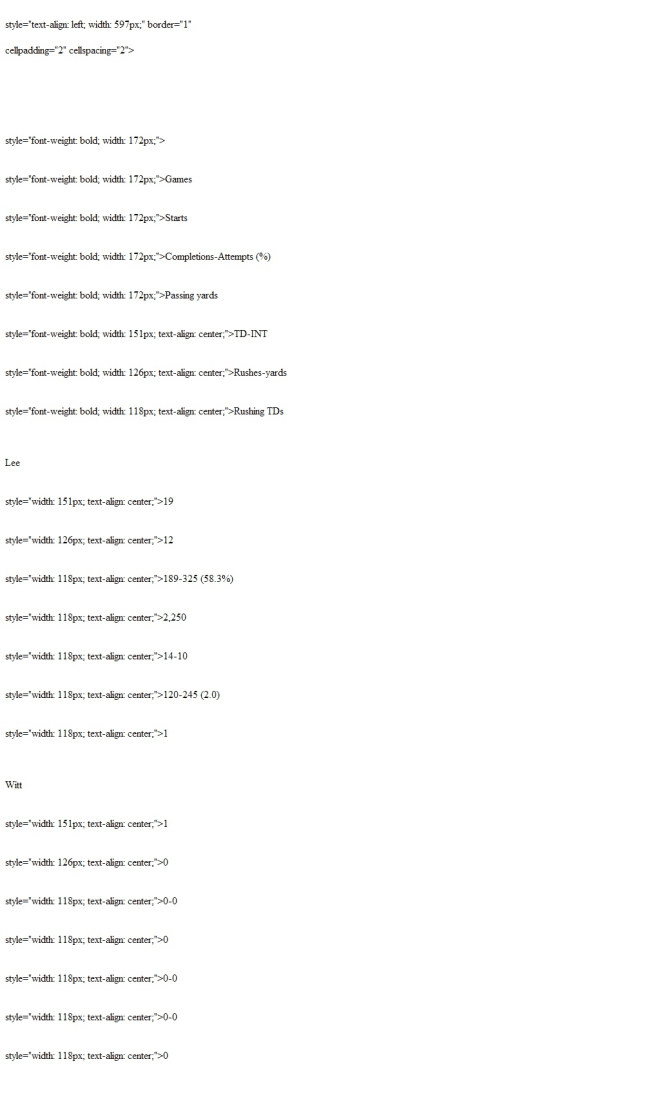 How it played out: Lee was expected to be the second coming of Taylor, a JUCO product who could come in and immediately lift the program. That vision never materialized - he was NU's starter for most of 2009, but was always a backup otherwise. However, he still made far more of an impact than Witt, who played just one snap for the Huskers (a fumble during the 2009 Gator Bowl). Witt then transferred to Yale instead of battling Lee for the starting gig in 2009.
2009
http-equiv="content-type">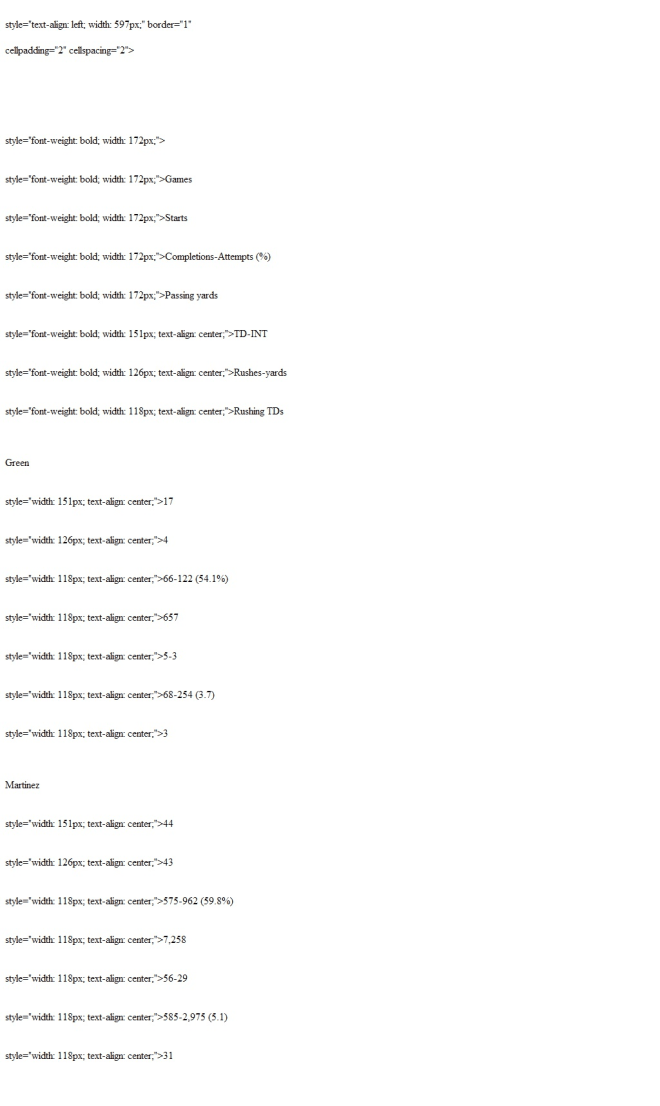 How it played out: Technically Martinez came to Nebraska as an athlete, but seeing as how he ended up being essentially a four-year starter, he has to be included on this list. He was basically an afterthought in 2009, while Green was one of the gems of the class. Green started two games in 2009, the most by a freshman since Tommie Frazier, and appeared to be NU's future at the position. But his production never matched his hype, and Martinez beat out Lee and Green for the job at the start of the 2010 season. Green served dutifully as the backup, even stepping in for spot starts against Iowa State and Colorado, before transferring to Tulsa. Martinez went on to break nearly every quarterback record at Nebraska despite missing much off his senior year with injuries.
2011
How it played out: Optimism ran rampant when Nebraska inked this pair of four-star prospects, but neither ever took a snap under center. The Royals took Starling No. 5 overall in the MLB Draft and he has been a member of Kansas City's organization since. With Martinez under center, Turner moved to wide receiver almost immediately and has labored through an injury-riddled career.
The lists above are riddled with big names and top prospects, but few of them actually panned out. Getting contributions out of both quarterbacks in one class is nearly impossible - Crouch and Newcombe both made an impact under center, but every other group had either one or two forgettable careers. Of the 17 above names, only six earned at least one start under center at Nebraska. Two never even made it to campus, five changed positions and three transferred out early. Just seven of the 17 started and finished their NU careers as quarterbacks.
Crouch, Lord, Taylor, Ganz, Lee and Martinez were the only members of the group to hold down the starter's role for at least one year.
This doesn't mean that Wilson and O'Brien can't make it work. Every situation is unique, and
Mike Riley
might have a plan in place in which each could have a solid career in Lincoln. But the nature of the position suggests that one quarterback tends to thrive while the other rides the bench or moves on. Should Wilson and O'Brien both stick to their commitments and make it to campus next fall, their case will make an interesting study for years to come.
Maybe they'll prove Three Dog Night's lyrics don't always apply to quarterbacks. But history suggests that while one may be a lonely number, it's an ideal one for quarterbacks.