How does Rileys first recruiting class stack up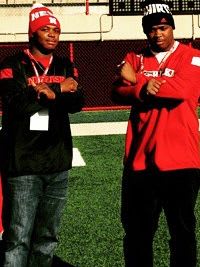 When
Mike Riley
was hired on Dec. 4 as Nebraska's new head coach, he barely had time to even introduce himself before he hit the road to begin recruiting. The dead period began Dec. 15, shutting him off from any potential recruits until Jan. 14.
So Riley, who hadn't even been contacted about the Nebraska gig until Dec. 1, had just ten days to familiarize himself with his new school, evaluate the prospects that remained committed from Bo Pelini's tenure and try to entice them to stay, all while building new relationships with recruits that he could bring in.
And all this had to be accomplished without having the full coaching staff assembled.
Tom Cruise has faced easier odds in some of his Mission Impossible movies.
Yet that was the reality facing Riley and several other new hires across the country, many of whom had even less time than Riley did to cobble a class together. Finding a way to piece that first group together is a whirlwind for coaches, and some handle it better than others.
Riley has much left to accomplish during his time in Lincoln, but it's safe to say he passed his first test with flying colors.
Riley maintained 10 of Bo Pelini's 15 commitments, including four four-stars and all four early enrollees. The only two he truly lost were running back
Kendall Bussey
(who committed to four different schools during his recruitment, eventually ending up at Texas A&M) and defensive end
Reuben Jones
(Michigan). Offensive lineman
Mirko Jurkovic Jr.
visited Ohio State while still an NU commit, decommitted the day Pelini was fired and pledged to the Buckeyes the day Riley was brought on. Riley never had a shot to retain him.
Riley's ability to convince Pelini's recruits to stick around was impressive.
Eric Lee
,
Avery Anderson
and
Aaron Williams
all received in-home visits within the week and didn't waver in their commitments. Twins
Carlos Davis
and
Khalil Davis
took more convincing, but they cancelled a visit to Missouri in mid-January, and
DaiShon Neal
eventually turned down Michigan, Oregon and Oklahoma to stay true to his pledge.
The numbers look great in a vacuum, but how did Riley do against his fellow coaches changing venues? HuskerOnline spoke with Rivals.com websites for five other Division I schools undergoing coaching changes for a better look:
http-equiv="content-type">
Only Wisconsin's
Paul Chryst
was able to save as many old commitments, and only one of those 13 was rated higher than a three-star. Riley salvaged four four-stars and Carlos Davis.
Only Michigan lost fewer commits, though the Wolverines had seven prospects jump ship during the season as Brady Hoke's dismissal became imminent. Bringing in a trio of prospects from his old Oregon State class was critical for Riley as well - linebackers
Tyrin Ferguson
and
Adrienne Talan
and tight end
Matt Snyder
look to be impact players at positions of need.
In fairness, Nebraska's numbers are a bit inflated here because Riley had more time to complete his 2015 class.
Jim McElwain
was hired on the same day as Riley, but Chryst and
Jim Harbaugh
each had at least two fewer weeks to piece things together. Those extra days allowed Riley to made some headway with Pelini's commits and make official the long silent commitment of linebacker
Dedrick Young
.
But Riley continued to excel once the dead period ended and the playing field evened out again. It's very difficult to establish new relationships with top prospects this late in the process, but Riley sealed the deal with
Jalin Barnett
on Jan. 14. He added another seven new recruits of his own, including running back
Devine Ozigbo
, who committed Jan. 9.
Here's how each of the aforementioned six classes ended up:
http-equiv="content-type">

An interesting note: Riley and his staff have made it clear they want to
win the 500-mile radius
, yet none of the 11 non-Pelini commits hail from that area (Barnett is just barely outside). We'll see how it plays out, but expect this to be a one-year blip on the radar. When a staff has to scramble to fill out a class, it can't afford to be picky on where recruits are from. Nebraska's coaches had to use their previous connections to quickly identify and entice new talents regardless of locale. While the Huskers will continue to recruit nationally, expect Riley's future classes to have more local flavor as well.
It's far too early to pin Riley as any type of miracle worker, and we won't know the true impact of his efforts for a few seasons down the road. But building that first recruiting class with so little time is one of the most difficult things coaches must do, and few did it better than Riley this offseason.
This initial class is the first chapter in Riley's NU career, and the book is off to a pretty good start.
Just for fun, we asked each of our other Rivals contributors for this article to give the local take on their respective new hires. Here are their answers:
Jon McNamara, BadgerBlitz.com (Wisconsin)
: "Chryst came under a bit of fire. National guys were replaced by in-state prospects (
Jake Whalen
,
Alec Ingold
and
Zack Baun
) and former Pittsburgh commits (
Alex Hornibrook
and
Kraig Howe
). Academic standards was a hot topic when
Sam Madden
couldn't get into school at Wisconsin. His name was added to a casualties list that continues to grow over the years. But the late addition of four-star linebacker
Arrington Farrar
helped ease some of the pain and proved the staff could recruit at a high level. I think that was really, really key for this group moving forward."
Tim Sullivan, The Wolverine (Michigan): "The fan base is pretty accepting that Harbaugh only had a couple effective weeks to recruit, and expect that the results will be more impressive in 2016, when there's a full cycle to bring kids in. As well as Brady Hoke's staff recruited, the expectation is that, once he's been in town long enough, Michigan will recruit just as well if not better under Harbaugh. The results this year don't reflect what people expect - and people are slightly disappointed with how this one turned out."
Mark Wheeler, Inside the Gators (Florida): "Considering that just 10 days prior to National Signing Day Florida was ranked No. 102 in the Rivals Team Recruiting Rankings, it feels like the overall sense of the Gator Nation that climbing up to No. 23 overall was as about as well as you could expect from the new staff. One thing that is a major hindrance for new staffs - beginning this season - is the new 30 day dead period from mid-December until mid-January. In the past, there may have been 10 total dead period days in that time frame, now it is an entire month.
Angie Machado, BeaverBlitz.com (Oregon State)
: "While Oregon State's class isn't amazing on paper, it filled a lot of needs and balanced out the numbers. The fans at Oregon State were excited by the aggression and energy that
Gary Andersen
and his staff showed on the recruiting trail (with only two and a half weeks to hit the road as a unit). They also closed very strong, gaining signatures from four out of five signing day decisions, including the addition of athlete
Paul Lucas
, who was an Arizona State commit who will play receiver for the Beavers."
Jon Kirby, JayhawkSlant.com (Kansas): "I think with any class there is always enthusiasm no matter where the class is ranked. The Kansas fans seem to be positive about the class. Beaty and his staff found some kids who were under the radar that looked good on film. I don't think they could have done that without their ties to Texas. They had about four weeks to find new recruits and hold onto the ones they had. In that time they did a good job considering the whole staff wasn't assembled until early January."
[rl]

Click
Here
to view this Link.