Getting to know ST coordinator Bruce Read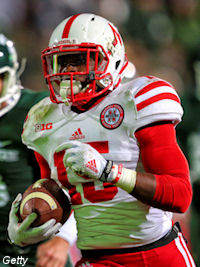 Click
Here
to view this video.
New Nebraska head coach
Mike Riley
's coaching staff is nearly complete - the receivers coach is the only spot left to fill - and the new hires met with the media for the first time Thursday afternoon. HuskerOnline.com spoke with all eight NU assistants and will be running the interviews to help fans get familiar with their new coaches.
Today we get to know new special teams coordinator
Bruce Read
, who has coached special teams units at various levels for the past 30 years. He spent seven years in the NFL and joined Riley's staff at Oregon State in 2009. Nebraska never had a full-time special teams coordinator under Bo Pelini, and the job of special teams coach changed hands several times during his tenure.
Was your response automatic when Riley asked you to come to Nebraska?
"I didn't really know (if he'd ask me to join him). I heard there was going to be a team meeting. It was called unexpectedly, so we knew something was going on, but we didn't know what necessarily. Shortly after that he called and told me what was going on, and did I want to join him? It was easy for me. This is a great spot. I jumped at it."
The previous staff didn't have a full-time special teams coordinator. What's the advantage to having someone like yourself on staff?
"It's mostly comfort for the head coach, knowing that he's got a guy that's going to cover all the bases and do all the work. You're never really comfortable going into a game because of all the things that can happen on special teams and the huge chunks of yardage that are involved in every play. But from a staff point of view, it allows the rest of the staff to really focus on their positions and the head coach to rely on a guy to cover all the parts of the personnel for the specialists and the recruiting of those players.
"There are nine full-time assistants, so you have to make a decision on who those nine guys are. A lot of coaches like to divide up the special teams and coach parts of it, but in the end, the guy that's coaching the receivers and the kickoff return, his primary concern is the receivers. Most of his energy is going to be there and it's not going to be on kickoff return. When you do that for your entire team, it's a second job for every guy and it's almost deemphasizing it instead of emphasizing it."
"He's outstanding. He's fun to watch. He's a guy that will make you think you can coach (laughs). It won't be that easy because everybody knows him now. Everybody is going to punt the ball out of bounds or on the ground. They'll limit his touches. I know that he's scary and very explosive and a game changer, and that's outstanding for us. But I think when you have a year like that, it doesn't go unnoticed and people will do all they can to eliminate him from getting his hands on the ball."
What's your philosophy on playing star players on special teams?
"I think it just depends on who the best guy is and what his health is. We like to put our best players out there, and often times your returners are your best players because they're the ones who can change the game. If you put a guy out with poor ball security you can turn the ball over.
"The thing about being a returner is there is a lot of pressure, and you need guys that have been in the bright lights and understand the consequences of something like that. We're not afraid to put our best foot forward. The more you can spread out roles within the team, the better it is because you become more involved. A guy that maybe was just a backup is now a starter on punt return teams. To him, that's the world. The whole week, he knows that's how he's going to help his team. The more guys you can enlist and find a role for, the stronger you are, the more interest there is and the more invested people are in it.
"You can't just play your best players and roll them out on all the teams. You have to be aware of injuries within your team, and that's why it's very tricky. You've got to be aware of what you're asking a guy to do."
As the special teams coordinator, how do you approach recruiting? Do you target specific players for your units?
"I'm not sure how we're going to break up recruiting here. That's yet to be determined, whether we're going to break up by area or by position. Other than a snapper, a kicker and a punter, we don't recruit a kid just to play on special teams. We look for a player that could be a receiver or a running back or a linebacker that could maybe contribute on special teams.
"Often times, some of these kids like that we'll look at and they'll ask me what a kid's special teams value is and what he can bring to the team. If we come down to two guys and we're not quite sure, we can go down that route to look at a guy. We don't solely recruit a guy to cover kickoffs."
Does this staff spend more time on special teams than the average staff?
"I don't think so. I've talked to a lot of guys and we're right in the norm with everybody. The thing that Mike always drives to us is to be super efficient, super organized and the onus is less time in the sense that he thinks we can do it in less time. A lot of times you can tell how much time people put into it by the volume of the things they do.
"If they have four different kickoff returns they run, that means they put in the practice for four different plays. You see some teams maybe have one kickoff return and you know they're not spending much time on special teams. You can kind of judge teams by the tape, who's putting time into it."
Click
Here
to view this Link.
[rl]