Gangwish grinds through anonymity to key role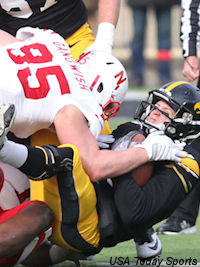 Gangwish was still waiting for his first career snap when Nebraska took the field against Florida Atlantic in the opener last season. Due to NU's lack of depth at defensive end, he had a good feeling that he would finally see some time, but figured it wouldn't come until the second half when the contest's outcome was well in hand.
That timeline was quickly accelerated when Randy Gregory lost his shoe after four or five snaps and had to come out for a play. The coaches began screaming at Gangwish, "Go, go, go!"
"Man, I just ran out there," Gangwish said. "I didn't know the call or anything. I barely knew which side of the ball Randy was on. I got out there and I don't think my hand was even on the ground yet when they snapped the football. Luckily I didn't screw up anything too bad that play."
"My thing about football and about life, whatever you're doing is, it's about pride," Gangwish said. "My whole thing is always to respect yourself, respect others and carry yourself like a man. If I don't think some of the guys are on the same page, I want to try and let them know how important it is.
"It may just seem like a football game, maybe even a game you can never win. But in this life, it's all about how you carry yourself."
***
Derek Garfield still vividly remembers the first time he saw Gangwish in pads. At 6-foot-2 and 215 points, Gangwish, then a sophomore transferring in from Grand Island HS, described himself as "gangly, awkward and weird." But it took just one practice for him to make an impact, and the Wood River staff immediately knew they had something special on their hands.
"The only way I can explain it is that it was like his hair was on fire," then-head coach Garfield, now at Fairbury HS, said. "He was 100 miles per hour every second of every practice. We thought right away that this kid was the real deal. He had a passion for the game that you couldn't match, and there was nothing stopping him."
"I just remember thinking, 'I can't hardly play football without falling down because I'm so uncoordinated, so I guess I'll just run around really hard all the time and hopefully I get there before I fall down,'" Gangwish said. "One thing that I started getting compliments on and encouragement for is my motor on the field.
"I embraced that, and in high school I thought, 'I may not know a whole lot about football and I may not be on the best teams, but one thing I can do is work really hard and try really hard all the time.'"
That desire was something forged early in Gangwish's rural upbringing. He found an innate love for football when he began playing in fifth grade, but his work ethic had been well established by that point.
"There is a lot of hard work going on, a lot of hard days, a lot of stress with agriculture," Gangwish said. "I think that translated well for me to sports. I think I'm a guy that nobody could ever say doesn't work hard. What I want people to first think of when they think of Jack Gangwish is that I'm tough, I'm a hard worker."
It didn't take long for Garfield and Gangwish's Wood River teammates to see this new kid was a different breed. The coaches likened him to a kamikaze pilot and Garfield said he often literally had to kick Gangwish out of the weight room.
But Garfield claims limiting Gangwish's abilities to his passion and motor is selling him short. Gangwish played guard on offense and middle linebacker on defense, serving as the unit's quarterback and taking on the responsibility of having everyone on the same page.
"His IQ is through the roof," Garfield said. "You can tell this kid something one time and he would know it and he would do it, and he's able to parlay it to the other guys on the team. I'm serious, I've never used this term for anyone else I've ever coached - he was a coach on the field."
Gangwish had a standout career at Wood River, topping out with 103 tackles and four sacks as a senior and earning honorable mention Class C-1 accolades. His performance made him a top target for Division II schools, most notably Chadron State. After seeing Gangwish's film, then-coach Bill O'Boyle called Garfield and said, "You get this kid to me now. I want this kid."
The decision wasn't an easy one for Gangwish. Kansas State was offering a walk-on opportunity, but he was really waiting on Nebraska. Gangwish had grown up a Husker fan and his father, Paul, had been a walk-on who lettered in 1985. But even when the walk-on spot was extended, some doubt lingered in Gangwish's mind - could he really do this? Would the payoff be worth it?
He could go to a smaller college for free and potentially start for four years, or toil for five years at Nebraska with no promise of ever seeing the field. Like so many walk-ons before him, Gangwish ultimately couldn't pass up the opportunity to suit up for his dream school.
"I pointed out that it will be one of the hardest things that he'll ever do in his life, and it may be successful and it may not," Paul Ganwish said. "There were a few sleepless nights talking about it, but he finally said to me, 'Dad, I'd rather be on the scout team for five years at Nebraska than play anywhere else.'"
Gangwish understood from day one that the road wouldn't be easy. After playing against C-1 athletes his whole career, he had no idea how he would match up with the high-caliber athletes at Nebraska. And while his time in the weight room had filled out his frame a bit, he was still thinner than he desired.
"It really came down to two things - one, if I didn't come (to Nebraska), I might regret it for my entire life, and I'd always wonder what could have been," Gangwish said. "And I don't think I could have looked myself in the mirror knowing that I had turned down an opportunity to compete at the highest level because I was unsure of myself. That's not my personality.
"That's not how I want to operate. I want to test myself against the best and try to be my best. Sometimes there's failure involved in that, but failure isn't always the worst thing either."
***
Gangwish says now that he never regretted his decision to join the Huskers, but there were days he wondered what he was doing with his life.
For the first three years of his career, including a redshirt season, Gangwish grinded away on the practice squad, which he called a lose-lose situation. Make a good play and the offensive coaches will yell at their players, not praise the defender. Mess up and face the wrath of the coaches who want their players to get a good look for the upcoming week.
"It's a situation where you can be working really, really hard but you're not making any friends," Gangwish said with a laugh.
That included his counterparts on the offensive line, who groaned every time they had to line up across from the Wood River fireball. Though the linemen grew to respect Gangwish as a competitor and a player, facing him in a drill was considered a necessary evil.
"None of us wanted to face Jack because we knew he was going to bring it 100 percent, 100 miles per hour every single play," former offensive tackle Jeremiah Sirles, now with the San Diego Chargers, said. "He was one of the those guys that would just throw his body into you with no regards for his body. He just tried to hammer you. It was tough, but it made you a better player because you saw that kind of motor all week, then you'd see some guys on game day that didn't have as high of a motor as he did.
"All of us were just like, 'Oh boy, Jackie Boy is out there. Gear up.' This is no longer is scout team where you're just running through your plays. It's full war with Jack."
Despite his fanatical play, Gangwish didn't even sniff the field for three years. He thought an opportunity might arise as a sophomore, but then Gregory arrived on campus and McMullen and Avery Moss emerged as redshirt freshmen, soaking up all the playing time behind senior Jason Ankrah.
After another season tethered to the sidelines, Gangwish began to wonder if there really was light at the end of the tunnel.
"Nebraska football is the best thing that's ever happened to me, but I went through the trenches here for three years and never played a single down," Gangwish said. "There are definitely times where I was discouraged and down. Quitting was never in my mind, but there was some uncertainty as to whether I would ever contribute at all.
"It's hard, and nobody understands. Your family doesn't get it. Your friends don't get it. Sometimes it seems kind of crazy that you're dedicating so much of your life, so much effort to this place and knowing that it may never pay off."
It may have seemed as if the coaches didn't notice Gangwish's effort, but they made a major move after his sophomore year that proved otherwise. Gangwish was awarded a scholarship, a true rarity for a player who had never seen the field.
"To know that they thought I deserved to be on scholarship solely because of my work in the offseason and in practice and in the weight room, it was an honor," he said. "That was huge for me. I was down there with 50 other guys that were just like me, and for them to pick me when I had never played a snap, that was pretty special."
The clouds finally began to clear prior to last season. Ankrah graduated and Moss was banned from campus due to an off-field incident. With Gregory and McMullen left as the only experienced ends, Gangwish started to feel some hope.
But the coaches never expressed to him what his role would be, so getting the call on the first drive of the FAU game still came as a shock. His impact on the stat sheet that contest - one assisted tackle - was minimal, but the moment was enormous.
Sirles texted an excited congratulations as soon as Gangwish went in, and most of his family was in tears when he met with them after the game. Later that night, father and son shared a long talk about the road Jack had traversed.
"I just told him, 'See buddy? It's finally paying off,'" Paul said. "'You've succeeded in a lot of ways and here it is up to you to see how much farther you'll go.' He never let up."
Turns out, the journey was just beginning. Gregory missed the next game with an injury, giving Gangwish his first start. He admits to being rattled during the bus ride to the stadium, waves of red-clad Husker fans screaming heartily and clogging the streets enough to even slow the police escort.
Then-defensive coordinator John Papuchis spotted his overwhelmed defensive end, who looked like he'd seen a ghost.
"Holy cow, Jack. You've got to relax," Papuchis said. "You're going to be fine."
The nerves subsided once the ball was snapped and Gangwish recorded five tackles, including four solo stops, and his role on the team was solidified. When Gregory played, Gangwish was a steady third defensive end, able to fill in on either side. But Gregory suffered several minor injuries, allowing Gangwish to start the final two games of the year.
He finished with the season with 19 tackles, including four for a loss, in 12 games. He recorded a half-sack against Northwestern and forced a fumble on the play. The numbers seem modest, but Gangwish's presence was crucial for a team perilously thin at his position.
To get that kind of production from a player who was almost a complete unknown at season's beginning was an unforeseen blessing, and one the Huskers absolutely needed.
"It's what Nebraska football is all about," Paul Gangwish said. "We're absolutely thrilled that he got the chance to get on the field that he deserved.
"This kid just keeps surprising us and amazing us. He has a passion and a dedication for football that's really tremendous."
***
For everything he has done and will continue to do on the field, Gangwish's biggest impact has come between games. He's always fit nicely into leadership roles, and his teammates reinforced their belief in him by voting him as one of six captains early last month.
It's uncommon for Nebraska to elect a former walk-on as a captain. But a player with just 12 games and three starts under his belt? It's nearly unheard of.
"Falling into a leadership position seems to come naturally to me," Gangwish said. "I'd already kind of experienced being a leader on the scout team and in the weight room and in some other aspects. I'd kind of anticipated being voted captain, but what's crazy is that I'm just a small-town kid from a country road. I just never thought I'd be in that position. Coming in, I'd never thought it would come this far."
Garfield brings to mind Wood River's game against Doniphan-Trumbull during Gangwish's sophomore year. It was a game the Eagles knew they needed if they were to make the playoffs, but they went into halftime down. Garfield says Gangwish delivered a "Knute Rockne type of speech" that turned the game around and helped Wood River win 36-26. That was just Gangwish's second game with his new team.
But even in that short span, Gangwish's leadership has stood out. He takes a lead-by-example approach that, according to Hughes, other players can't help but fall in line with.
"I would have no issue following Jack Gangwish if I'm a player on this football team," Hughes said. "He's not a guy that's just giving pep talks and not producing. He's a guy that goes out there and works his tail off every single day. He's not a guy that goes out there and tells you what to do. He goes out and physically does it himself.
"I've been impressed by Jack, and I know this - if I was a player or Jack walks in my office, I'm listening to Jack Gangwish. He's not coming in to talk about nonsense. He's straightforward and he's very forthright in what he says."
Gangwish believes his hard-nose approach to practice and his relentless nature on the field and in the weight room are the main characteristics that get teammates to follow him. But he also doesn't feel the need to be everyone's best friend, and if something needs to be said, Gangwish feels free to deliver that message, no matter how cutting it might be.
"I'm not always somebody who has to be good pals with anybody," Gangwish said. "I think that comes in handy as a leader and I think my teammates respect that. Sometimes when I want to get something done and somebody might be standing in the way somehow, I don't have to be best friends with them. My job is to make sure I get it done, and I think that's something my teammates identified."
***
All the leadership anecdotes and underdog storylines are fun, but Gangwish knows his true impact will be measured by what he does on the field this fall. His role will be vastly different than ever before, and he's got a new group of coaches to make an impression on now.
"I don't feel pressure to meet anybody's expectations or anything like that except for my own," Gangwish said. "My days aren't filled with thoughts of, 'Man, I hope I don't let everyone down.' It's more of trying to prepare myself and get myself ready to be as good as I can be. Last year I think I was kind of in an underdog position. If I was out there and I screwed up, it could have been my last play. They would have just gone down the line and got the next guy.
"It's not that way this year, but I definitely don't think I've gotten comfortable in my position at all. I don't look at that as something that can allow me to relax."
The new staff appears to have an early confidence in Gangwish despite not having an extended look at him. Sure, his inspired play and toughness stick out, but Hughes says describing Gangwish simply as a grinder doesn't tell the whole story.
"In terms of strength and explosiveness, he's very explosive, he's on the top end," he said. "There are athletes that are looser athletes, Randy Gregory-type guys, but Jack is a solid athlete all the way around.
"I look at it this way - Jack Gangwish is going to get better every day he shows up. That's his mental makeup, and I think he has an upside because he's played less game reps than other guys. There is no replacement for experience. I think Jack, because he's had less experience, will get better every time he's out there."
And despite having the assurance of playing time for the first time in his collegiate career, Gangwish hasn't changed his playing style. The same scout-team lion remains in his soul, but now he gets to unleash it on other teams on Saturday.
"He's still the same kid, and I think that's what makes him who he is," said Sirles, who keeps in regular contact with Gangwish. "He knew what he was coming in and he knew his role. He knew he was going to be a hard-working guy and he's followed that process the whole way through."
***
The most defining Jack Gangwish story might in fact come away from the football field. Garfield heavily encouraged Gangwish to start wrestling when he got to Wood River, saying it would improve his hand-fighting, footwork, explosiveness and power. Gangwish resisted but ultimately gave in.
By the time he was a senior Gangwish was competing for a state title. He ended up falling in the finals and finished second in the state tournament. The coaches gathered all the Wood River medal winners for a picture and told them to put their medals on.
There was just one problem - Gangwish didn't have his. He'd tossed it in the trash can on the way out.
"He said, 'I threw it away coach. It's the wrong color," Garfield said. "'I didn't get the gold. I don't want it.' That's the way he is. He went from not knowing anything about wrestling to wanting nothing but to do a state champion.
"That's Jack in a nutshell. He is such a competitor and he wants to be the best, and if he's not the best, it's not good enough."
It's the same mentality that possessed a 215-lb. string bean to balloon into a 265-lb. tank and 2014 Nebraska Lifter of the Year, the same mentality that caused Gangwish to turn down the security of a four-year scholarship for the gamble of contributing for the Huskers.
Even as he's "arrived", so much about Gangwish is unproven. He's still searching for his first unshared sack and, outside of the McNeese State contest, has never had more than one solo tackle in a game. And he's rarely been counted on to play major snaps - can his relentless style hold up over long stretches?
Given Gangwish's track record, good luck betting against him.
"I want to exceed expectations," Gangwish said. "I want to do better than anyone thought I could. That's something that's important to me."
[rl]