Final take: Huskers leave it all on the field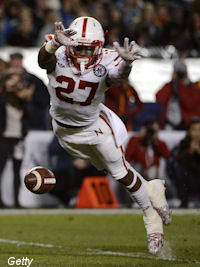 SAN DIEGO - Saturday was not the perfect ending for this Nebraska football team in 2014, but it was the type of effort and resiliency Husker fans have wanted to see all season in a big game.
NU went toe-to-toe for four quarters against USC's roster loaded with four and five star talent. They left it all on the field for four quarters, running 94 plays for 525 yards. They had multiple chances in the game's final minutes to win, but came up short 45-42.
Yes 2014 will go down as another 9-4 season, but this ending had a different feel - a feeling where everybody in Nebraska's locker room left San Diego's Qualcomm Stadium holding their head high.
"At the beginning of the game before we ever went out there we said we were going to play all four quarters the hardest we can," senior offensive line
Alex Lewis
said. "It's the last time this team is ever going to be together and that's what we did - we just kept battling through the thick and all the tough stuff. We kept on charging through and kept on fighting."
We saw offensive coordinator
Tim Beck
run the style of offense he's wanted to do for four years.
Beck snapped off plays at a rapid pace. USC wasn't ready for that kind of tempo, and by the fourth quarter they nearly ran out of gas.
"This was kind of what (Beck) envisioned for this game," sophomore wide receiver
Jordan Westerkamp
said.
The Huskers ran 27 plays for a 170 yards and outgained the Trojans 170 to 20 in the final quarter. Interim head coach
Barney Cotton
said they knew if they could get this game into the fourth quarter NU had a very good chance to tire out USC.
"We just wanted to play fast," Cotton said.
We also got to see a healthy running back
Ameer Abdullah
one final time at Nebraska.
Abdullah finished with 269 all-purpose yards and played his best football since suffering a knee injury in October.
"I couldn't be more proud of the team," Abdullah said. "We were dealt a pretty bad hand this last couple of weeks, but we played circumstance free and not circumstance based. That's what we wanted to do."
With the Bo Pelini book at Nebraska now officially closed, the
Mike Riley
era officially begins.
These next few months will be fun, but I was glad to see this coaching staff get one final chance to show what they can do and leave it all on the field.
These were some of the tougher circumstances we've seen at NU in quite some time. To mentally have this team prepared on Saturday says a lot about this coaching staff and the job they did.
"I told those guys we don't have anything to lose," quarterback
Tommy Armstrong
said. "We lost our coaches and we are all we've got. At the end of the day either you accept the score or you just keep fighting and I think that's what we did."
Now on to the post-game breakdown….
What I saw on Saturday
***It looked like the throw back play to
Alex Lewis
should not have been a penalty. It was a backwards pass behind the line. None the less NU still scored on the drive. Lewis told me he practiced that play three times over the last two weeks.
***Punter
Sam Foltz
capped off a great sophomore season on Saturday. He made several game changing punts in 2014.
***Eight of nine assistants on Saturday coached from the sidelines, including Beck. It was a unique curveball by the staff, but it allowed them to control the emotion levels in the game.
***Jeff Jamrog also had a big role in Saturday's game. He was activated to coach as an assistant, and coordinated most of NU's special teams. He did a lot of that stuff behind the scenes this season, but Saturday he was allowed to have more of an in-game coaching role.
***Defensive end
Randy Gregory
had no comment on his NFL future when I asked him after the game on Saturday.
***It was easy to see why Adoree Jackson was a five-star coming out of high school. He was arguably the reason why USC won this game. On six touches Jackson produced 203 all-purpose yards and scored two touchdowns.
***During the game on Saturday when Riley was walking to his seat
De'Mornay Pierson-El
saw him and went over and shook his hand and said hello before running out to the field to return a kickoff.
The final grades
Rushing offense: C-
Nebraska averaged just 3.3 yards per carry on the ground and produced just one run of 20 yards or more. Abdullah also averaged just 3.3 yards per carry on the ground to finish with 88 yards on 27 carries. Nebraska's injuries on the offensive line made it tough for the Huskers to establish the ground game.
Passing offense: A-
It was a career day for Armstrong, as he finished with 381 yards and three touchdowns. He also attempted a career-high 51 passes and played one of his better games. He was able to get several different receivers involved.
Rushing defense: D
USC isn't a team that's going to run the ball a lot, but they were very effective. Running back
Javorius Allen
finished with 152 yards on 26 carries and two touchdowns. The Trojans finished with 194 yards on 34 carries. There were just too many missed tackles for NU on run defense.
Passing defense: D+
Cody Kessler
was probably the best quarterback NU has faced this season. His ability to throw on the run gave NU problems, but they still got good pressure him at times and forced a rare interception from him.
Special teams: B
The Huskers blocked two punts, got great punting from Foltz and excellent field position in the kick return game. However, they did give up a kick return for a score to Jackson. Other than that play, NU controlled the special teams element of this game on Saturday.
Sean Callahan can be reached at sean@huskeronline.com and he can be heard each day at 6:50 am and 5:05 pm on Big Red Radio 1110 KFAB in Omaha during the football season. He can also be seen on KETV Channel 7 TV in Omaha during the fall and each week he appears on NET's Big Red Wrap Tuesday's at 7 pm.
[rl]