Final take: Darlington throws his hat in the ring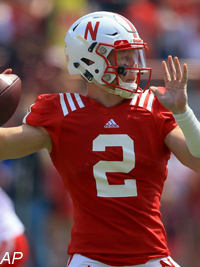 Click
Here
to view this video.
When spring practice started, redshirt freshman quarterback
Zack Darlington
saw his name listed No. 5 on the depth chart.
He could either explore his transfer options and quit or take on the challenge of starting at the bottom. In today's "instant gratification" society a lot of players would've explored their options and left. Not Darlington.
This kid has been through too much to get to this point. After committing to Nebraska over Ohio State and
Urban Meyer
in 2013, Darlington suffered multiple concussions and sat out his entire senior season.
When he got to NU last spring there were questions whether he could even play football. He redshirted the 2014 season and took minimal contact in a few August scrimmages. For most part he was under the radar, but little did we know Darlington was battling.
"People asked me all the time: 'Transfer? What do you want to do?' I was like, 'Man, I didn't come here for no reason,'" Darlington said. "I picked here because of the fans that we have, the support and the background that we have here, the education that we have and because I knew it just felt like it was a great place to be. Football is one thing, but you have to find other things in life to get you up in the morning."
Darlington certainly won over the 76,881 in attendance at Saturday's Red-White spring game. He finished an impressive 7-of-11 for 70 yards, including a 29-yard touchdown pass to
Jamal Turner
.
Darlington also had a 19-yard run that got him and the entire Red offense going. Heading into today nobody was talking about Darlington, but there's no question he has to be mentioned in this quarterback race going forward.
"My goal going into the spring was to work my way up," Darlington said. "I think I was able to work my way up. I think going into fall camp now I'm going to be able to put my name in the conversation a little."
Head coach
Mike Riley
was very impressed with what he saw from Darlington on Saturday, especially knowing the road he's traveled the last two years.
"I think Zack has, even during the game today - it's been so long since he's played much football live - I think as the game progressed and he got to playing, he got more comfortable," Riley said. "By the time he threw his touchdown pass I thought he was seeing things real well and playing very confidently. He has a nice, quick release, and he's a good athlete. Those are I think two of his main attributes."
After this spring Darlington hopes he's gained the respect of the team and he's looking forward to proving himself in the off-season.
If one thing is certain, work ethic and confidence are not lacking.
"I just need to connect with the team," Darlington said. "I need to let them know when we go through the off-season I'm going to be that guy fired up ready to go and ready to work. You'll never have to wonder if every day Zack Darlington is ready to work."
Three and out
***Defensive coordinator
Mark Banker
told me it was great to spend time with former defensive coordinator
Charlie McBride
this week. The two talked about a lot of things, including how the Blackshirt tradition works at Nebraska.
***Banker also told me don't be surprised if you see them add a late junior college linebacker for the class of 2015. They don't have enough depth or playmakers there right now, and he's definitely open to adding more.
***On Friday night Riley and his entire coaching staff spent the evening hosting a Letterman's Club event at Barry's Bar and Grill in Lincoln. One former player that was at the event told me Riley and the nine assistant coaches went out of their way to meet and talk to every former player there. He said in just a few months Riley has made the former players feel extremely welcomed around practice.
Sean Callahan can be reached at sean@huskeronline.com and he can be heard each day at 6:50 am and 5:05 pm on Big Red Radio 1110 KFAB in Omaha during the football season. He can also be seen on KETV Channel 7 TV in Omaha during the fall and each week he appears on NET's Big Red Wrap Tuesday's at 7 pm.
[rl]