Final take: A big step backwards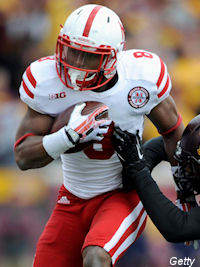 MINNEAPOLIS - After what appeared to be four-week stretch of progress, Nebraska took a major step backwards against Minnesota on Saturday.
As the Huskers leave Minneapolis following their 34-23 loss to the Gophers there are seemingly more questions about this football team than answers.
Maybe the toughest pill to swallow for Nebraska is they got whipped up front by players on Saturday that weren't good enough to get offered scholarships from NU out of high school. They got whipped up front by a team they've beaten 16 straight times and the last two years by a combined score of 79-28.
Bo Pelini
and his staff seemingly got out coached on Saturday by a team that didn't have its head coach on the sidelines. When Pelini's offense or defense needed to make a play they couldn't respond. Nothing Minnesota did was exotic or fancy. They lined up and played a traditional Big Ten football game and tested Nebraska's manhood.
"They were just running right downhill from A (gap) to A (gap)," redshirt freshman defensive end
Avery Moss
said. "They made a lot of cutbacks, but really ran the same plays - power and belly the entire time. It was just hard for us to stop that."
Offensively, in some ways the lack of execution we saw at Purdue showed up again on Saturday, the only difference was Minnesota was a much better team that could run the football.
In the Huskers win at Purdue there were plenty of assignment errors up front and four dropped passes. On Saturday, those things showed up again and it was something wide receiver
Quincy Enunwa
feared after what he called a "bad week of practice." In so many ways Nebraska thought they could just show up to TCF Bank Stadium and get a victory without earning it.
"You can't think just because you beat (Minnesota) two years in a row you are going to beat them again," Enunwa said. "That might have been on some guys minds. We came out here with probably too many guys thinking we were going to win the game and go onto next week.
"Obviously they came in with the mindset that they were going to beat us, just like they beat Northwestern. They played with some heart and they played well."
Then there's the question about quarterback
Taylor Martinez
's overall health. For the last month we were told by Pelini his injury was "turf toe." On Saturday Martinez said he didn't have turf toe and he didn't know why everybody kept saying that.
Martinez said his foot injury was much more severe than turf toe and that his shoulder injury also remains a problem. Both injuries happened during the Wyoming game, and you get the sense that if they couldn't heal up over five weeks, that they aren't going to get any better in the next month.
Pelini has a decision to make going forward. Do they continue to play a limited Martinez that looked out of sync and out of rhythm at times, or do they lean on redshirt freshman
Tommy Armstrong
for this final stretch run?
Martinez wasn't the main reason Nebraska lost this game on Saturday, but something about the offense was just missing. There was no tempo or rhythm.
Ameer Abdullah
ran hard, but there were too many negative yardage plays on early downs that put the Huskers behind the chains.
"I thought (Minnesota) out-physicaled us," Pelini said. "That's the most disappointing thing I saw. If you don't bring it, you are going to have problems. You can't hit a guy at the line of scrimmage and the next thing you know it's second-and-5 and second-and-4.
"When that happens, you are going to have problems and that's what happened today. It's hard to play defense when you are behind in the sticks and it's hard to play offense when you are behind in the sticks."
This next five week stretch against Northwestern, Michigan, Michigan State, Penn State and Iowa will obviously tell us a lot about Nebraska, but Abdullah said they can't think about that right now.
"Let's talk about the next week. Let's just talk about the next day. I don't like to look at the next five weeks," Abdullah said. "I'm thinking about tomorrow and I'm thinking about getting back into the film room and correcting what we made mistakes on today and then go onto Monday and Tuesday. We are not thinking about the next five weeks. We are thinking about today."
On to the post game grade out…

What I saw on Saturday
***This is the first time Nebraska has lost a Big Ten road game as a road favorite. In their other three road losses against Wisconsin, Michigan and Ohio State the Huskers were underdogs.
***Linebacker
David Santos
may have finished with a team-high 13 tackles, but don't be fooled by his stat line. It was a very tough day for Santos, as he struggled with tackles and Minnesota's play action pass game.
***One of the biggest positives for the Huskers on Saturday was the play of kicker
Pat Smith
. He finished the game a perfect three-of-three on field goals and showed he has solid leg strength.
***Heading into Saturday the Huskers had only allowed three sacks all season - a Big Ten best. NU gave up four sacks to Minnesota and it was clear the presence of All-American offensive lineman
Spencer Long
was missing.
Mike Moudy
and
Jake Cotton
are solid linemen, but they are a big step down from what Long brought. Minnesota's front four controlled the line of scrimmage for most of the game.
***I would've liked to have seen Nebraska take more shots down field in the passing game. Minnesota was playing NU's receivers with single-man press coverage for a lot of the game and it felt like there was some big play opportunities there.
***Not only did Minnesota dominate up front on Saturday, the Gophers didn't fumble the football once. They shortened the game and played fundamentally sound football. Nebraska needed to capitalize more on their 10-0 lead, because they would've put pressure on Minnesota to get out of what they wanted to do. Instead, they let them back into the game and the momentum shifted when the Gophers drove it 75 yards on 13 plays.
The final grades
Rushing offense: C
Abdullah finished with 165 yards on 19 carries, but had a costly fumble that led to a Gopher field goal in the first half. The run game was very up and down on Saturday and NU found themselves in a lot of second-and-longs because of the running game inconsistencies.
Passing offense: F
Martinez finished just 16-of-30 for 139 yards and was sacked four times. There were also at least two charted drops, and several questionable passes that could've gone either way. Enunwa and
Kenny Bell
caught just six of 18 passes thrown their way on Saturday.
Rushing defense: F
Minnesota ran for 282 yards on 54 carries. It was a steady diet of downhill running that the Huskers young defensive front did not have an answer for. There were too many misreads and missed tackles. Minnesota virtually did everything they wanted to in the running game.
Passing defense: D
Minnesota finished just 8-of-17 in the passing game, but the Huskers were bailed out by multiple drops by the Gopher receivers. Minnesota's passing game did exactly what they needed it to do. They kept drives alive and used the play action to their advantage. The fourth-and-10 touchdown pass from
Phillip Nelson
over safety
Harvey Jackson
was also inexcusable and one of the bigger plays of the game.
Special teams: B
Smith gave the Huskers a perfect day by making all three of his field goals and
Mauro Bondi
put five of his six kickoffs through the end zone for touchdowns.
Sam Foltz
shanked a fourth quarter punt that give Minnesota a short field. Long snapper
Gabe Miller
got a facemask penalty when making a tackle on a punt return.
Sean Callahan can be reached at sean@huskeronline.com and he can be heard each day at 6:50 am and 4:50 pm on Big Red Radio 1110 KFAB in Omaha during the football season. He can also be seen on KETV Channel 7 TV in Omaha during the fall and each week he appears on NET's Big Red Wrap Tuesday's at 7 pm.