Fastbreak: Webster, Thorbjarnarson reflect on Senior Day
Nebraska head coach Fred Hoiberg and seniors Kobe Webster and Thorir Thorbjarnarson met with local media on Friday to preview their upcoming home game vs. Minnesota and this weekend's Senior Day vs. Northwestern.
Here is a full recap of what they had to say...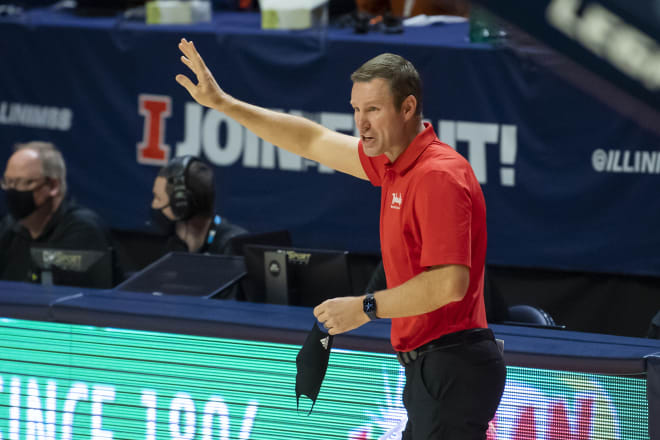 Head coach Fred Hoiberg
***Hoiberg said Thorbjarnarson was "such a stabilizing force" during a challenging transition last season when the new staff took over.
Hoiberg said Thor had been "just a rock out there who has done everything asked of him," and it was great to see him finishing the year on a high note individually by playing his best basketball of the season.
***Hoiberg said one of Webster's most valuable qualities was his leadership and how he was willing to hold his teammates accountable by "getting on guys" in practice.
Hoiberg said Webster's work ethic was "as good as anyone" on the team, and he was proud of how Webster accepted his role coming off the bench after being a three-year starter at Western Illinois.
***Hoiberg said one of Webster's goals this year was to prove he could play at the highest level of college basketball, and he accomplished that. Hoiberg called Webster "a guy who will be successful no matter what he does."
***Hoiberg said he'd had discussions with Webster and Thorbjarnarson about the free year of eligibility current seniors next season but said nothing would be determined on that until after the season.
***Hoiberg announced that redshirt junior Derrick Walker would also be honored during Nebraska's Senior Day ceremony. Walker will earn his degree this spring and become the first person in his family to graduate from college.
Hoiberg said he anticipated that Walker would still be back for his senior season next year. NU wanted to recognize his academic accomplishment and have his mother and younger brother be there to see it.
***Hoiberg said the loss at Illinois on Thursday night was his team's most disappointing performance since losing at Ohio State. He said the "mindless" turnovers and mental mistakes were as bad as they'd been all season.
"To me, for the first time, we looked fried out there.." Hoiberg said. "You look at them after the game and just see that blank stare."
***Hoiberg said, "I don't think any team in the country has gone through as much adversity as we have," with all NU has faced on and off the court this season. He said it spoke volumes about his team how the Huskers had continued to compete despite many setbacks and challenges.
***Hoiberg said fatigue was now a more significant issue than ever, and it's now become a task of figuring out the best balance between practicing hard enough to correct mistakes while also not burning his team out even further.
Hoiberg said Nebraska only shot free throws and skill work on Friday to give the players a mental and physical break. NU will get some more work in on Saturday morning before the game vs. Minnesota.
***Had the Huskers fully practiced on Friday, Hoiberg said at least three guys would not have been able to go. He said he hoped all three would be able to return for the game on Saturday.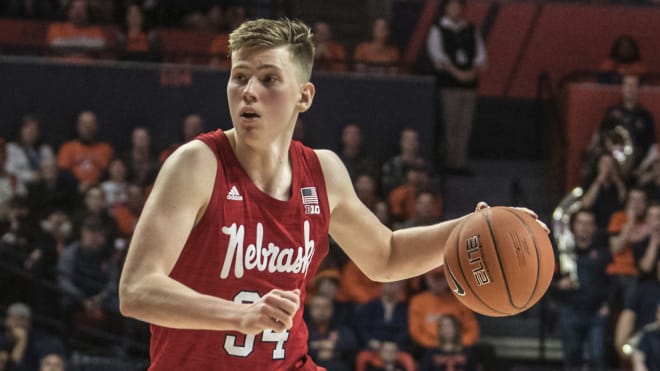 Senior guard Thorir Thorbjarnarson
***Thorbjarnarson was honest in saying this season was "not how I imagined it would go." He said it had been a tough year in many ways, but he'd learned a lot about himself as a player and a person in the process.
***Thorbjarnarson said his career had been full of ups and downs with a lot of great memories and "a lot of bad losses." He said not making the NCAA Tournament despite finishing fourth in the Big Ten in 2017-18 was a low point, and the coaching change from Tim Miles to Hoiberg was a complicated process.
But he added that the faith Hoiberg and staff showed in him gave new life to his career.
***Beyond basketball, Thorbjarnarson said the experience of living in another country by himself for four years helped him grow as a person as much as anything.
When reflecting on his four years at Nebraska, Thorbjarnarson said: "I think I've had about 40 teammates" since his freshman year.
***As for whether he planned to come back next season, all Thorbjarnarson would say was that it was "something I'm looking into." He wanted to wait until after the season to say anything more because "a lot of thinking needs to go into it."
Senior guard Kobe Webster
***Webster said his proudest accomplishment this season was that he proved to himself and others that he could play at the Big Ten level.
***On whether he might come back for another season next year, Webster said he wasn't "totally sure right now." Like Thor, Webster will discuss his options with family and coaches after the season
***Looking back on the past 12 months, Webster said, "all journeys come with challenges and obstacles," and he knew this season would be different than any other when he first entered his name in the transfer portal right when COVID-19 was hitting the United States this spring.
***Webster said going from a three-year starter at WIU to coming off the bench here was "all about embracing it" and doing whatever he could to help his team. He said he always wanted to push his teammates and be a leader.