Experienced BYU has high hopes for 2015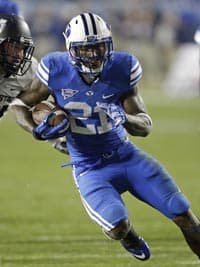 With spring practices finally all wrapping up around the country, HuskerOnline.com begins our look at where each of Nebraska's 12 opponents in 2015 currently stand coming out of spring ball and heading into the summer. Today, we start things off by checking in on the Huskers' first matchup of the season in the Brigham Young Cougars, who come to Lincoln on Sept. 5.
To get a feel for where the Cougars stand heading into their 11th season under head coach
Bronco Mendenhall
, we spoke with
Kacey Robbins
of CougarNation.com to get his thoughts and perspective on the team and what to expect once the season gets underway in a few months.
Spring overview
Maybe one of the most interesting aspects of BYU's spring practices was the situation at quarterback. There's certainly no competition for the starting job, as senior
Taysom Hill
returns for his fourth season as a starter under center. However, Hill is still recovering from a season-ending leg fracture he suffered five games into the 2014 campaign, and he only participated in minimal drills this spring.
Sophomore
McCoy Hill
was set to see the bulk of the team reps, but he suffered a sprained foot. That left sophomore
Hunter Moore
as the only healthy QB on the roster. BYU needed to get creative, and boy did it ever. The Cougars ended up bringing back graduated senior
Christian Stewart
, who filled in for Taysom Hill after his injury, and he was able to be cleared by the NCAA to participate in spring drills since he was still enrolled in classes for the spring semester.
BYU will eventually add two incoming freshmen at quarterback in
Tanner Mangum
and
Beau Hoge
, but neither will be on campus until the fall. Taysom Hill is expected to be back to 100 percent by the start of fall camp, but the Cougars certainly had to get through an unusual quarterback situation this spring.
Returning starters
On defense, BYU brings back six of its starting front seven, including all three defensive linemen. But as it's been seemingly every season for the past decade, BYU's secondary is arguably the thinnest position group on the team right now based on returning experience.
Offensive star: QB Taysom Hill
Even though he was limited to 7-on-7 work and individual drills all spring, there is no question that Hill will be BYU's heartbeat this season. The Cougars were 4-0 to open last season prior to his injury, including wins over UConn, Texas and Virginia. When he was lost for the year in a loss to Utah State, though, BYU would go on to drop four games in a row.
Along with his unquestioned leadership role on the team, Hill is one of the more productive players in the country when healthy. He had racked up 1,400 all-purpose yards and 15 total touchdowns in five games last season after passing for nearly 3,000 yards and rushing for more than 1,300 with 29 combined scores as a sophomore in 2013.
Defensive star: DB Morgan Unga
At 6-4, 205, freshman defensive back
Morgan Unga
immediately stands out in BYU's secondary based on his stature alone. But with his performance over the course of his first spring in Provo since his redshirt year as a true freshman in 2012, Unga made it almost a certainty that he will be a mainstay on the Cougars' defense for years to come.
Unga, who spent the past two years on his Mormon mission in Richmond, Va., is the first cousin of BYU's all-time leading rusher, Harvey Unga.
Spring surprise: DB Eric Takenaka
A junior college transfer who enrolled this spring, it was already expected by many that
Eric Takenaka
would compete for playing time and possibly even a starting job right away given BYU's depth issues in the secondary this year.
But the former Snow (Utah) College standout hit the ground running from his very first practice with the Cougars, and it appears likely he and Unga will man the safety positions when BYU arrives in Lincoln in September.
Best spring position battle: Offensive line
On one hand, BYU returns a wealth of talent and experience on its offensive line this season. On the other, the Cougars are still trying to figure out the best combination to use with a versatile group of linemen who can play multiple positions up front.
Because BYU's o-line has so many interchangeable pieces that can not only player either the left or right side but also guard or tackle, the unit featured some of the most heated competitions during spring ball, which will continue to on into fall camp.
Biggest question: Will the defense carry its weight?
Mendenhall decided to mix things up a year ago by taking the defensive play calling responsibilities off his plate and giving them to defensive backs coach
Nick Howell
. After giving up 27.5 points and nearly 400 yards of total offense per game, Mendenhall decided to take back control of the defense going into 2015.
Mendenhall's defenses have traditionally always been stout, so the hope is his oversight will get the Cougars back on track to keep pace with what should be a loaded offense. However, BYU has some notable depth concerns in the secondary and is still trying to lock down its starting nose guard in its 3-4 scheme, so a drastic turnaround definitely isn't a given at this point.
Early outlook on BYU vs. Nebraska
Robbins:
"It's the first game of the season, so everyone's expectations are high. I think if I were looking at what is the advantage for BYU in this matchup, it's just the senior leadership that they have at running back, at quarterback, at wide receiver - they're just pretty stacked on the offensive side. So I think that bodes well for BYU. They've done pretty well in opening games on the road, and I think the other thing that might be a key factor is with Nebraska just coming in with a whole new coaching regime, first game for Coach
Mike Riley
, you never know how that first game is going to go for a new coach.
"Also, Bronco has played Mike Riley so many times over the past 10 years. I'd say they've played four or five times. But that's the same thing with Mike Riley, he knows Bronco's defense and they kind of know each other well. I won't make a prediction on the game yet, but I will say I think it will be won in the trenches between the offensive line and defensive line. Obviously Nebraska has a stellar secondary, BYU has a very good offense, but I think that's where on both sides of the ball for Nebraska and BYU, whose o-line dominates and whose d-line can match up."
Overall 2015 win-loss expectations
Robbins: "If I were to take just a total guess out of this year, I see BYU going 2-2 in the first four games. Obviously Nebraska is one of those, UCLA is another, Michigan, and Boise State. I don't know which two they win and which two they lose, but just projecting, I'd guess they go 2-2 out of those games. The rest of the season, I think BYU always does well when they have a senior quarterback, and that's what Taysom Hill is. I think they'll do really well and I think they'll get one more loss on the season. So right now if I were to guess I would pick BYU at 9-3."
Click
Here
to view this Link.
[rl]