Buckeyes beat up NU 70-60 in third straight defeat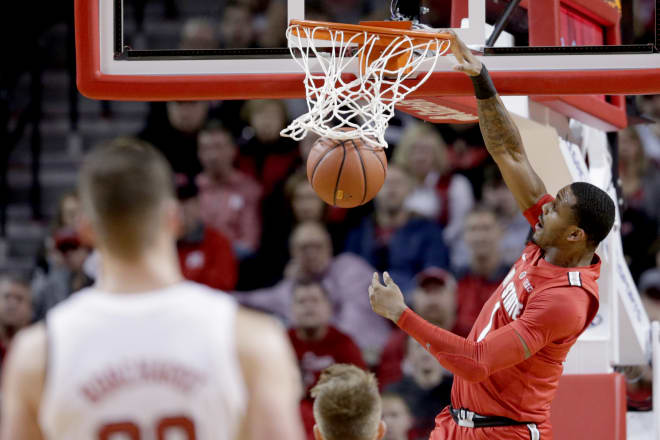 If it wasn't time to the hit the panic button after Nebraska had lost four of its past six games, the effort in Saturday's 70-60 home defeat to Ohio State just might have been it.
The Huskers, who have now dropped five of their past seven games after an 11-2 start, were sloppy and seemingly uninspired in a game they had to win against a Buckeye team that had lost five in a row coming in.
Nebraska (13-7 overall, 3-6 Big Ten) shot just 36 percent from the field and was out-rebounded 45-31 (14-7 on the offensive glass) for a 14-2 deficit in second-chance points. It didn't attempt its first free throw until three minutes into the second half and trailed for the final 15:14 of the game.
Much of the announced crowd of 13,493 at Pinnacle Bank Arena headed for the aisles with several minutes still to play, and the quiet murmur from those who stayed until the final buzzer felt much louder than any of the occasional choruses of boos.
"What it looks to me and feels to me is we just can't get out of our own way," head coach Tim Miles said. "I thought we looked like a frustrated team and a team that's just not mentally focused on, 'hey, let's play with great effort, let's play with great energy.' We've seen these guys play so well, but we can brain freeze ourselves…
"We can't have that, and it just looks to me like that's what it is. Unless there's something undiagnosed right now that I don't know about, which I don't think that's the case."
Nebraska jumped out with an 8-0 run to start the game but immediately gave up a 7-0 spurt to the Buckeyes (13-6, 3-5). That was the theme of the first half, as the teams traded six runs of five or more points before Ohio State took control as the half wore on.
The Huskers only managed to score five points over the final 9:50 to allow OSU to go into halftime on a 12-2 rally and take a 29-24 lead that felt much bigger. Nebraska shot just 34.5 percent from the field, didn't attempt a free throw, got out-scored 20-10 in the paint, and was out-rebounded 25-12 in the opening frame.
That led to the Huskers posting their lowest point total in a half this season, which was previously 26 in both halves against Texas Tech.
"We started off slow, and we didn't play with a lot of energy," senior point guard Glynn Watson said. "We made our run, but it wasn't enough. We've just got to get better."
Even after senior forward Isaac Copeland was sidelined for the rest of the game a minute into the second half with a left knee injury, Nebraska quickly reclaimed the lead at 34-33 on a 3-pointer by James Palmer Jr. But Ohio State once again responded with an 8-0 run while NU went four minutes without a point.
Things would only get worse from there, as four straight 3-pointers by OSU gave it its largest lead yet at 56-43, as NU made one basket in a span of 10 minutes.
Six unanswered points by Watson would give Nebraska one last surge and cut the deficit down to 56-49 with 5:20 still to play, but Luther Mohammad answered with a 3-pointer that hit every part of the rim and off the backboard before dropping in as the shot clock expired.
The Huskers pulled within two possessions two times in the final minute but couldn't get any closer than six points, as Ohio State hit seven of its 11 made free throws over the final 74 seconds.
"They were just getting what they wanted pretty easily," said junior forward Isaiah Roby, who finished with seven points and a team-high nine rebounds. "We were too at first, but they started locking up better than we did. Obviously, they made their run, and that's how they won the game."
Palmer led NU with 19 points and four assists while Watson followed up with 18 points. But that wasn't nearly enough to overcome 37.9-percent shooting and six turnovers in the second half.
Mohammad, who came in averaging 9.1 points per game, scored a game-high 24 points to the lead the Buckeyes.
Nebraska will return to action on Tuesday night when it plays host to Wisconsin for a 7 p.m. CT tip on Big Ten Network.
"There's nothing more sickening for a coach than to empty your home arena," Miles said. "I hear the groans. God, I'm groaning. It's just sickening. It just makes me physically sick."
3-POINT PLAY
1. Huskers are in a bad place mentally

You could see it on the faces and in the body language of every Nebraska player once the game began to shift in Ohio State's favor. The looks of, 'Here we go again,' made it seem like the Huskers had already resigned to the fact that they were going to lose and stopped trying to make the winning effort plays that are so critical to comebacks in this sport. Guys like Watson and Roby had no answers for why they've suddenly looked like a completely different team from where they were the first two months of the season. Miles didn't either, saying he'd tried about all the motivational tactics he could think of to snap his players out of their current funk. But something absolutely has to change. Nebraska can't continue to feel sorry for itself when the ball bounces the other team's way, and it needs to pick up its intensity, execution, and attention to detail for the NCAA Tournament to even have a chance at remaining an attainable goal.
2. More bench, same results

Nebraska tried to shake things up a bit today by going to its limited bench early and often. The Huskers' reserves ended up playing a combined 52 of the game's 200 minutes on Saturday, but the production didn't change much even compared to games where NU didn't even substitute in the second half. The five bench players who saw the floor managed a total of three points (all from senior Tanner Borchardt, who did add eight rebounds) on 1-of-9 shooting while committing six fouls and just one assist. Miles said he might need to do more to get his backups more involved when they're in games, including drawing up specific plays for guys like sophomore Nana Akenten to try and get them to provide something on offense.
3. Copeland's injury could be huge
As if the third straight loss wasn't enough, Nebraska is bracing itself for even worse news yet regarding Copeland's injury. The senior had his left knee buckle less than a minute into the second half, and he immediately fell to the floor. Copeland limped to the bench but was able to walk a bit, and he eventually headed to the locker room for further examination. He returned to the bench several minutes later but did not re-enter the game. Miles gave an update on Copeland's status after the game, and it was anything but positive.
"We don't know the severity of it. It could be severe," Miles said. "We're going to get an MRI; I believe we're going to get that done this afternoon, so we'll know a lot more in the coming hours."
THEY SAID IT
"When I get to my kitchen at home, I'm going to hear the same things you read on Twitter. Nobody's happy. I want them to be upset, but I want them to hang in there with us, because I believe in these guys and I think we can do it… I understand why fans would (panic), but at the same time, we've got a lot of equity that we've built over the course of the season. It's the course of a full season, but a double and triple bogey don't make anybody feel very good."
— Head coach Tim Miles on fans hitting the panic button on the season.