Blackshirts thriving in new defensive scheme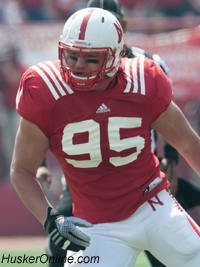 [rl]If there was one major theme to take away from Nebraska's annual fall camp press conference on Wednesday afternoon, it was that it's been a while since the Blackshirts have been this amped up going into a season.
Why? For one, the Huskers' new coaching staff has brought a new energy and an opportunity for a clean slate that were both desperately needed after seven seasons under the previous regime.
Gangwish said there were times last season that he had to slow himself down during plays to make sure his technique was as close to perfect as possible while also worrying about making a wrong decision and getting himself out of position. As was seen so often in recent years, when one player was in the wrong spot on a given play, it could quickly result in a touchdown for the opposing offense.
That means players are able to focus far more on their own jobs and getting to the football as opposed to knowing what everyone else around them is doing as well. As a result, Banderas said incoming freshmen should have a much easier time picking up the defense than those in years past did.
"We get one read and then you go," Banderas said. "It's just like high school was. There's no thinking. Before in our old defense, it kind of got you paralysis by analysis. You start thinking too much and you freeze up. That's what kind of caught some of us. But this defense is new. You guys are probably going to think we're blitzing every play."
However, given the natural swagger of most cornerbacks and safeties, the unit looks to be more than up for the task.
"I think when you play corner, you want to be out there playing man," Davie said. "That's part of the position, is covering. I enjoy it, and that's something I've been working on throughout the summer. That's part of the challenge."