Bielema denies reports hes been contacted by NU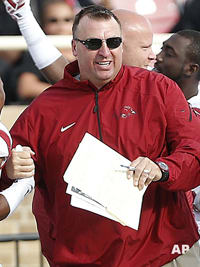 UPDATE
Talked to Bret Bielema and he said he's not going to Nebraska and that he's all Hog.- Chris Low (@ClowESPN)
December 3, 2014
According to the popular coaching search website FootballScoop.com, Nebraska Athletic Director Shawn Eichorst may have a leading candidate.
Scott Roussel
of FootballScoop.com reported on Wednesday that Eichorst has targeted second-year Arkansas head coach
Bret Bielema
, who spent the previous seven years before that working at Wisconsin. Bielema worked with Eichorst at Wisconsin from 2009 to 2011.
"Per sources, Nebraska is targeting Arkansas's Bret Bielema and is in serious talks with him," Roussel reported. "Eichorst and Bielema have an extensive relationship from their time at Wisconsin and from what we hear this got serious quick."
Bielema reportedly makes $3.2 million at Arkansas according to the latest salary database put together by USA Today. His current buyout is $2.5 million, and goes down to $2 million after Jan. 1. Former Nebraska head coach
Bo Pelini
made just under $3.1 million at NU this past season.
Bielema left Wisconsin for Arkansas with a 68-24 record and winning three-straight Big Ten titles because of the lack of pay the school was willing to give him for assistant coaches. Bielema went through a run where he lost several staff member to the SEC due to large pay increases the school was unwilling to match.
In his second season at Arkansas, Bielema has a record of 9-15, but has gotten the Razorbacks to a bowl game this season with a 6-6 record after late season wins over LSU and Ole Miss. They lost to top-ranked Alabama by just 1 point, and four of their six losses in the SEC were by 7 points or less.
His thinking might be the road to a conference championship would be much more favorable in the Big Ten West vs. the SEC West which features Alabama, Auburn, LSU, Texas A&M and Ole Miss among others.
Bielema is originally from Big Ten land as well, growing up in Illinois and playing his college football at Iowa.
He also believes in a more disciplined power-based offense that might fit the personnel around this region better than NU's current spread-based system.
Coincidentally in 2004, former Athletic Director Steve Pederson also went after an Arkansas head coach in Houston Nutt for the NU opening.

Click
Here
to view this Link.
[rl]