Bells journey has him set for bounce-back 2014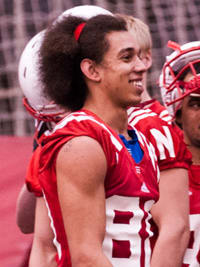 The drop was the least of Bell's worries at the moment - his shoulder was on fire.
Bell was wearing a lighter version of shoulder pads because it made moving his arms and catching passes easier, but they lacked the protection he needed at that moment. He woke up the next morning with his shoulder and collarbone so swollen that they were nearly touching his chin.
The injury wasn't a quick heal. Bell found he couldn't lift his arm above his waist on the day after games. He spent each Sunday and Monday rehabbing, but the thought of missing a contest never entered his mind.
That attitude, combined with Bell's clear talent, outgoing personality and veteran leadership have made him one of the Big Ten's most fascinating players coming into this season. Whether Bell rewrites the receiving portion of Nebraska's record book or falls short of his goals, one thing is certain - it won't be boring.
***
Tom McCartney has been coaching football for 20 years, and he's never quite seen a player like Bell. McCartney is the coach at Fairview High in Boulder, Colo., which Bell attended from 2006 to 2009. Bell's intangibles were apparent immediately - "everybody loved Kenny once they spent a few minutes with him," McCartney says - but it didn't take long to realize Bell's obvious talent, either.
"When you saw him jump and you saw him run, you said, 'Most people can't do this,'" McCartney said. We felt like we had something special pretty early. We obviously don't know everything with a crystal ball, but when you have the bloodlines like he had with his father (who played four years in the NFL), and then Kenny is running 4.2 hand-helds (40-yard dashes) for us and jumping over 40 inches…
"I've been here 20 years and you don't get those numbers very often. He's the only one."
After spending his first year on the freshman squad, Bell blossomed as a running back and defensive back before getting injured and missing half of his sophomore campaign. He returned with a strong junior season, then began his senior year by returning the opening kickoff of the season for a touchdown.
But later that quarter, Bell was tackled out of bounds and broke his collarbone, knocking him out for the next seven weeks. He returned to help Fairview seal the conference championship by returning an interception for a score, but McCartney was just as impressed with Bell's maturity during his absence as he was with what Bell did on the field.
"You saw all those weeks that he was sitting out he was at every practice and he was building guys up and encouraging them," McCartney said. "He was their biggest supporter. Any time he ever spoke, people listened. He always commanded the field, whether it was on the practice field or pregame or the sidelines."
Fairview ended up falling in the semifinals, ending Bell's high school career. Missing so much time in his senior season could have torpedoed Bell's recruiting prospects, but one day in Lubbock, Texas, assured that wouldn't be the case.
***
When Bell stepped on a plane one fall Saturday in 2009 at 5 a.m. to attend a camp at Texas Tech, he had no idea how the trip would change his life. Bell was a lightly-recruited prospect at that point, but one of the graduate assistants at Fairview had a connection with the Red Raiders got Bell into a camp one weekend. So Bell, fresh off playing a game Friday night, boarded a plane early the next morning and got into Lubbock around 7 a.m.
The next several hours flipped his recruitment on its head.
Fresh off the plane and with little time to stretch or warm up, Bell ran in the low 4.4's in the 40-yard dash and posted a 40-inch vertical leap. He spent the day alternating between receiver and defensive back in one-on-one drills, dominating on both sides of the ball.
"He was electrifying," McCartney said. "He was just so, so talented. Most people can't (post those numbers) even without the plane ride. They, immediately after he leaves camp, offer him a scholarship. We at Fairview were able to see that pretty early."
"That was when my recruiting started," Bell adds. "I had a great camp. That's when Texas Tech offered me. That was my third or fourth offer, but it was my first big offer. That was when Colorado, Colorado State, Arizona, Arizona State, Nebraska, Oregon, that's when they started recruiting me."
Colorado should have been a slam dunk to nab Bell. His mother had gone there, and he'd spent his entire life in Boulder. Even now Bell admits having an affinity for the Buffaloes.
But then-coach Dan Hawkins dropped the ball, and Bell visited Lincoln on Nov. 15, 2009 to see the Huskers beat Kansas State. He got to walk out of the tunnel and was shocked to hear fans already chanting his name. The experience left an imprint on him, and Bell committed to Nebraska on Dec. 11. Unlike so many prospects these days, there was no wavering.
"It was everything I wanted in a university and a football team, but I had promised myself that I would step back and take a second and not make a rash decision," Bell said. "But I loved Nebraska from the second I stepped on campus."
***
"Love" wasn't always the word Bell would use to describe Nebraska during his first year on campus, when he redshirted and played on the scout team. But he admits that time was necessary for his development, and he immediately became a fixture in the offense the next season.
After hauling in 32 passes for 461 yards as a freshman, Bell exploded for 50 catches, 863 yards and eight touchdowns as a sophomore, earning first-team All-Big Ten honors in the process. His speed left opponents in the dust, as Bell had 10 catches of 30 or more yards.
After the season, Bell was leafing through the NU media guide and noticed no Nebraska receiver had amassed 1,000 yards in the season. He made it his goal to become the first.
He got off to a decent start with 170 yards in the Huskers' first three games, but then came the shoulder injury against South Dakota State. Six weeks later against Northwestern, he pulled his groin and had to remove himself from the game. Though he never missed a full game and chose not to discuss his aches publicly, Bell was a wreck physically for much of 2013.
"I felt terrible every single game since South Dakota State," Bell said. "My shoulder was so hurt."
Quarterback Taylor Martinez, with whom Bell had forged a great on-field relationship over the past two seasons, also got hurt and played just four games. Bell didn't have the same rapport with Armstrong or Ron Kellogg III, who split reps under center after Martinez went down, and fellow wideout Quincy Enunwa broke out in a monster senior season. Those factors, combined with Bell's injuries, caused his numbers to drop dramatically in 2013.
"There's a lot of stuff that went into that," Bell said. "No. 1, Quincy had a huge year, and in our offense, when one receiver is having a big year, it's not likely another receiver will. And we had a rotation of quarterbacks, and that's not an excuse. You have to have chemistry with your quarterback. That's just the reality of playing the game."
Bell actually had two more catches than in 2012, but amassed only 577 yards and saw his yards per catch fall from 17.3 to 11.1. But just like during his injury-riddled senior season, Bell found a way to impact the team in other ways.
***
Bell never won a state title at Fairview, but his old school made the finals last fall. The receiver called McCartney and asked if he could speak with the team (the seniors had been freshmen during Bell's senior year). McCartney was more than happy to oblige.
"We like to educate our team about the past and the history and the lessons and the former Knights that came through here," McCartney said. "It's great when you can tell stories, and we've told Kenny's story a lot. For the guys that didn't really know him, they could actually see him in person and see him take time out of his busy schedule to meet with them and speak to them and encourage them.
"It was pretty special, and that's just the kind of guy he is."
Bell only spoke for about five minutes, and Fairview would fall in the championship. But the moment was just another example of the leadership that has made him such a major cog on the Nebraska squad.
Bell has worked hard on his image and building his brand, which he figures will help him in one way or another once his NU career is over. An ethnic studies major with double minors in sociology and history, Bell would like to play in the NFL, but he's not losing any sleep over his professional future.
"It'd be really cool to be paid to play football," he said with a smile. "Who wouldn't want to do that? Nobody wants to hang up their cleats before they have to."
Bell doesn't really have a plan if the NFL doesn't come calling, but that's not his concern right now. Unlike his senior campaign in high school, he'd like to end his Nebraska career with a title, and everything he does goes towards that goal.
Of course, he has side goals as well. Bell is 33 catches and 578 yards away from breaking the career marks in those categories at Nebraska. That wouldn't have seemed to even be a remote possibility seven years ago, when the skinny high school junior was struggling to get even the attention of the local university.
But Bell has made it to this point, and he doesn't want anything to get between him and the NU record book. Given the journey he's made and the work he continues to put in, it might not be smart to bet against him.
"I want to shatter every receiving record Nebraska has," Bell said. "It's going to take a lot of hard work and a lot of dedication. It's going to take more than just waking up every morning and working hard. That's what you're supposed to do. That's being a man - waking your ass up and going to work.
"The little things - studying film, getting with Tommy, that little bit of extra work every day… those are the things that will make that stuff possible."
[rl]